Integrity Music Launches New Instrumental Series With Debut Album, Still: Volume 1
Featuring Indie UK Band Rivers & Robots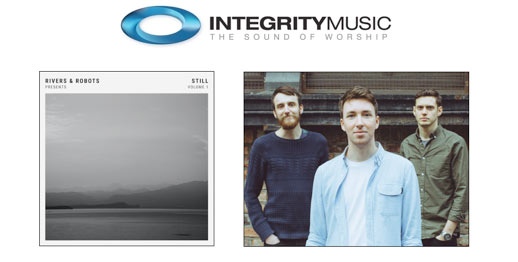 NEWS SOURCE: Integrity Music
January 5, 2017
Integrity Music announces the January 13 release of Still: Volume 1, the debut album in a new instrumental series that will feature guest "artist-producers," giving each project its own unique aesthetic. Guest producers for Still: Volume 1, which was recorded in various locations in the UK and mastered at the legendary Abbey Road Studios, are the acclaimed Manchester, UK-based independent band Rivers & Robots.
Still is emotive and reminiscent of a film score, combining strings, brass elements and electronic instrumentation, making it an ideal backdrop for moments of prayer and meditation for individuals and churches. The tracklist includes new interpretations of worship songs from artists and writers including Martin Smith, Brenton Brown, John Mark McMillan and Matt Redman as well as original compositions from Rivers & Robots. From creating an atmosphere for soaking prayer, to offering a sonic oasis during the rush hour commute, the album calls listeners to still their hearts before God.
"When Integrity Music asked us if we'd like to produce the first in their series of instrumental worship albums called 'Still,' we jumped at the opportunity," says Rivers & Robots frontman Jonathan Ogden. "As guys who love listening to instrumental music in those times of prayer and meditating on the Bible, we were excited by the opportunity to create that kind of album."
"We put some bare-bones ideas together over a few days and then set about recording it, working through each instrument, starting with drums, bass, guitars, piano and then extra layers like synths, strings, brass and percussion," explains Ogden. "Every day we started with prayer, to ask God for inspiration and creativity, and to make sure that everything we played was done as an act of worship. Often worship songs are defined by their lyrics, but we're firm believers that any form of art can be worship."
Still: Volume 1 will be available globally beginning January 13. For more information on Rivers & Robots, visit http://riversandrobots.com. For more information on Integrity Music, visit http://integritymusic.com.

Integrity Music is part of the David C Cook family, a nonprofit global resource provider serving the Church with life-transforming materials. With offices in Nashville, Tennessee (US) and Eastbourne, East Sussex (UK), Integrity is committed to taking songs of substance to the local church and its leaders around the world. Integrity publishes many of the top songs in the Church, including the No. 1 radio hit "We Believe" (Newsboys) as well as church standards "Great Are You Lord," "Revelation Song," "Open The Eyes Of My Heart," "Your Great Name" and "I Am Free." Additional information can be found at www.integritymusic.com.
###
For more info on Rivers & Robots visit the JFH Artists Database.