BEATITUDES ALBUM FEATURING INDUSTRY-LEADING ARTISTS RELEASES APRIL 21
First Single, "Oh Blessed," Releases Today As Cover Art, Track Listing Are Revealed

Companion Words From The Hill Book Releases In April,
View From The Hill Film In Production Now

The Beatitudes Project Serves As Reset Button
In A World Plagued With Violence, Division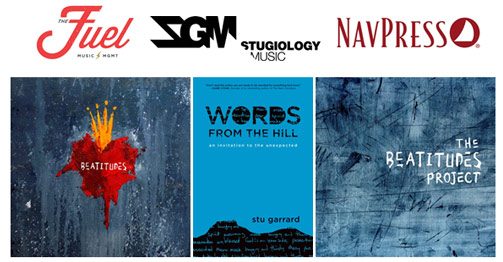 NEWS SOURCE: Hoganson Media
February 10, 2017
Many of today's top recording artists, leaders in their respective genres in the field of Christian/Worship music, have been tapped for Beatitudes, a full-length album releasing from Stugiology Music April 21 with management, marketing and distribution through The Fuel Music. The first single from the project, "Oh Blessed," releases today to iTunes, Spotify and everywhere great digital music is sold, while the artists, album cover art and track listing are being revealed for the first time.
The recording is part of The Beatitudes Project, which is also a book, Words From the Hill (An Invitation to the Unexpected) from NavPress releasing in April, and a documentary film, View From The Hill, currently in production. The project reveals a wide world of connected stories: real people from all faiths and walks of life who embody mercy, poverty, meekness, the hungry and thirsty, the peacemakers, the mourners, and the pure in heart—as seen, heard and experienced through a 21st century lens.
Featured on the Beatitudes album are Amy Grant, Michael W. Smith, Hillsong UNITED, Matt Maher, John Mark McMillan, Audrey Assad, All Sons & Daughters, Amanda Cook, Propaganda, The Brilliance, Anthony Skinner, Terrian Bass and Becky Harding (spoken word), as well as Martin Smith and Stu Garrard (Stu G), which marks the first time these two have recorded together since their band, the RIAA Certified Gold-selling, GRAMMY-nominated and Dove Award-winning British band Delirious?, disbanded in 2009. Collectively, these artists have sold more than 62 million records, won 11 Grammy, 90 Dove Awards and amassed dozens of hit songs and millions of followers on social media.
In addition to Garrard and cowriter Skinner, the first single from Beatitudes, "Oh Blessed," features The McCrary Sisters, widely known for singing backup with Elvis and Bob Dylan.
"'Oh Blessed' is the introduction song to The Beatitudes Project and is the only song so far that speaks of all the themes in the Beatitudes," says Garrard. "When things are broken and when things aren't working out, God is on our side and fully present with us. We can lift our heads and hear the invitation to carry on."
Over a decade in the making, The Beatitudes Project is the culmination of guitarist, songwriter and author Garrard's excavation of these "blessings at the bottom of life."
"The Beatitudes Project is meant to be a reset button in a world plagued with violence and division," says Garrard, who also authored the book. "These upside-down Jesus announcements on a hillside by the Sea of Galilee in Matthew 5 where Jews, Greeks, Romans and people of all ethnicities were gathered are a reminder that there is another way."
Representing the Beatitudes visually, noted musicians/artists Jimmy Abegg and Cory Basil collaborated to create eight different paintings that became the basis for the Beatitudes cover art and most of the artwork for the project.
Watch for more information on The Beatitudes Project soon, including a launch event and more.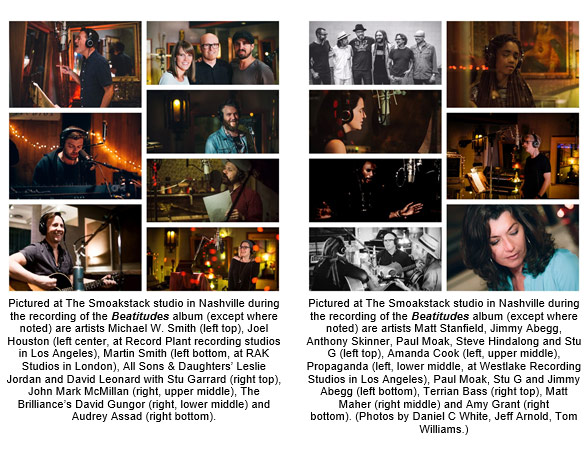 The full Beatitudes track listing with featured vocalist follows:
Listen pt 1 – Becky Harding
Oh Blessed – Anthony Skinner
You Will Make A Way – All Sons & Daughters
Listen pt 2 – Becky Harding
Carry On – Michael W Smith
Heaven Is Around Us – John Mark McMillan
Let My Dreams Fly – Terrian Bass
I Will Be Your Home – Audrey Assad feat. Hassan Al Zoubi (Syrian refugee)
Listen pt 3 – Becky Harding
Oh Mercy – Matt Maher, Audrey Assad
Morning light – Amy Grant
Undivided – Amanda Cook
In The Middle – Stu Garrard
Make a Little Trouble – Propaganda
Holy Troublemakers – Martin Smith
Listen pt 4 – Becky Harding
The View from Here – Hillsong UNITED
Listen (full version) – Becky Harding

BONUS DIGITAL
Makers of The Peace (View From The Shepherd's Field) – The Brilliance
Oh Mercy Demo (View From The Writer's Room) – Matt Maher
* Final track listing will be different for physical and digital albums.
About Stugiology Music:
Stugiology Music is a record label formed by Stu Garrard, who is perhaps best-known as the guitarist / songwriter for the RIAA Certified Gold-selling, GRAMMY-nominated and Dove Award-winning British band Delirious?. He is also a founding member of One Sonic Society (although no longer with the band) and recorded and released his first solo project in 2013, Of Burdens, Birds, and Stars. When not touring with Michael W. Smith or adding his sonic paint to Casting Crowns, Chris Tomlin, Matt Redman, Meredith Andrews, All Sons & Daughters, Amy Grant and many others' recordings, Garrard is writing, recording, speaking, leading worship and working with JHS on a custom line of guitar pedals. He lives in Nashville with his wife Karen. For all the latest Stu Garrard news and tour information, go to www.stugworld.com.
About The Fuel Music:
Established in 2008, The Fuel Music & Management, LLC, is a leading artist management and artist solutions company thatindependently distributes music internationally. Based in Tennessee, the Fuel team brings nearly 70 years of combined music industry experience in record label operations, major label distribution and marketing, and artist management for artists ranging from upstart bands to GRAMMY Award nominated, multi-platinum artists. More information on the company can be found at www.thefuelmusic.com.
About NavPress:
The NavPress mission is to advance the calling of The Navigators by bringing biblically rooted, culturally relevant, and highly practical products to people who want to know and love Christ more deeply. Through The Message Bible and other insightful resources, NavPress seeks to bring positive spiritual movement to peoples' lives. In January 2014, NavPress entered into an alliance with Tyndale House Publishers to strengthen and better position NavPress and its rich content for the future. NavPress provides books and other content that bring spiritual impact, life transformation, and help lead in the mission of making disciples. A NavPress resource published in alliance with Tyndale House Publishers, Inc., NAVPRESS and the NAVPRESS logo are registered trademarks of NavPress, The Navigators, Colorado Springs, CO.
###