Robert Randolph and The Family Band to Headline SouthSide Arts & Music Festival April 28
Acclaimed Guitar Player Joins Festival Lineup Featuring Rusted Root, Steve Forbert, Coco Montoya, Everyone Orchestra & More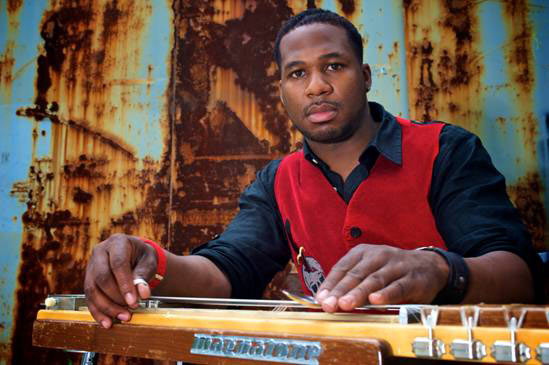 NEWS SOURCE: ArtsQuest
March 13, 2017
BETHLEHEM, PA--American funk and soul group Robert Randolph and The Family Band, led by acclaimed pedal steel guitarist Robert Randolph, is joining the dynamic musical lineup taking part in the SouthSide Arts & Music Festival April 28-29 in Bethlehem. Randolph will headline the festival April 28 when he performs at 10:15 p.m. in the Musikfest Café presented by Yuengling, located in the ArtsQuest Center at SteelStacks, 101 Founders Way, Bethlehem.
The SouthSide Arts & Music Festival features 30 performers, including Rusted Root, Steve Forbert, Coco Montoya and Everyone Orchestra, performing in five different venues on Bethlehem's SouthSide. Festival passes, which provide access to all five locations, are only $30 per day or $50 for both days. They're on sale now at www.bananafactory.org and 610-332-3378. ArtsQuest Members can take advantage of special pricing with $28 for a day pass and $45 for a two-day pass.
Inspired by 1970s funk bands such as Earth, Wind & Fire and Sly & the Family Stone, Robert Randolph and The Family Band first gained national attention with the release of their debut album, Live at the Wetlands, in 2002. The band followed with three studio recordings over the next eight years: Unclassified, Colorblind and We Walk This Road, which, together with tireless touring and unforgettable performances at such festivals as Bonnaroo, Austin City Limits and the New Orleans Jazz and Heritage Festival, won them a passionate fan base. Named as one of Rolling Stone's 100 greatest guitarists of all time, Randolph has collaborated with and shared the stage with some of music's biggest names including Eric Clapton, Dave Matthews, The Roots and Jack White. His most recent release is 2017's Got Soul, which features guest appearances by Darius Rucker, Cory Henry and Anthony Hamilton.
Highlighting south Bethlehem's arts district, the SouthSide Arts & Music Festival features two days filled with live music and arts programming designed to encourage guests to visit the city's shops, restaurants and arts venues. By purchasing a pass to the festival, attendees enjoy access to more than one dozen musical acts each night. Other festival acts include Pablo Batista, Hector Rosado, Sun Parade, Ceramic Animal, Caleb Haley, Alexis P. Suter Band, April Mae & the June Bugs, Hannah Gill and The Hours and more.
Festival hours are 5-11:30 p.m. Friday and noon-11 p.m. Saturday. For the full lineup of concerts, programs and activities, visit www.bananafactory.org.
COMPLETE SOUTHSIDE ARTS & MUSIC FESTIVAL PERFORMER LINEUP:

April 28
Musikfest Café presented by Yuengling
6 p.m. Sarah Borges and the Broken Singles – Rock 'n' Roll
8 p.m. Everyone Orchestra – Improv/Jam
10:15 p.m. Robert Randolph and The Family Band – Funk/Soul
National Museum of Industrial History
6:30 p.m. Prateek Kuhad – Folk Pop
8 p.m. The Ballroom Thieves – Folk Rock
9:30 p.m. Caleb Hawley – Soul
Touchstone Theatre
6 p.m. Students of the Lesson Center – Various
7 p.m. Jeremiah Tall – Folk Rock
9 p.m. Cale Tyson – Indie/Country/Soul
Holy Infancy
6 p.m. Pablo Batista and His Latin Jazz Ensemble – Latin
8 p.m. Hector Rosado – Latin/Salsa
Godfrey Daniels
6 p.m. Caleb Hawley – Soul
7:30 p.m. Motherfolk – Indie Rock
9 p.m. Alexis P. Suter Band – Blues
April 29
Musikfest Café presented by Yuengling
5 p.m. Lesson Center – Various
6 p.m. Ceramic Animal – Indie Rock
8 p.m. Coco Montoya – Blues
10 p.m. Rusted Root – Rock
National Museum of Industrial History
5:30 p.m. Blair Crimmins and the Hookers – Ragtime Jazz
7 p.m. Hannah Gill and the Hours – Pop/Rock
9 p.m. Sun Parade – Pop/Rock
Touchstone Theatre
5 p.m. Lehigh Valley Charter High School for the Performing Arts
6 p.m. Sing, Bird of Prey – Rock 'n' Roll
7:30 p.m. Gracie and Rachel – Indie
9:30 p.m. The Associated Mess – Improv Comedy
Holy Infancy Catholic School Auditorium
5:30 p.m. Anthony Gomes – Blues Rock
8 p.m. The Mighty Manatees – Party/Covers
Godfrey Daniels
5 p.m. April Mae and the Junebugs – Swing/Rockabilly
7 p.m. Steve Forbert – Pop
9 p.m. Blair Crimmins and the Hookers – Ragtime Jazz
###