EMERY LAUNCHES CROWDFUNDING CAMPAIGN
LP Number 7 This Fall
"At some point, you have to figure, there's no plan B." - Matt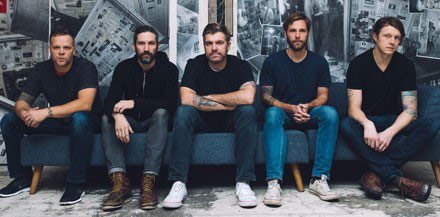 NEWS SOURCE: BC Music
March 17, 2017
Some call them the real Seattle's best. Some say they're southern transplants who taught the Northwest how to rock. Some say their best years are in front of them. The mighty Emery is back for round seven, and this time it's personal. And by personal we mean that once again Emery wants to invite you to be a part of their new record, coming this fall. Check the Indiegogo Campaign below to check out some great incentives and see Josh, Dave, Toby, Matt and Devin reflect on the past 15 years of Emery.

EmeryLP7.com
"I'm the biggest fan of Emery" –Toby
By participating early in Emery's 7th LP, fans can choose from a variety of unique and fun backer incentives, including early previews from Aaron Lunsford book on the band, acoustic versions of classic songs and more.
"I'm 37 years old, still never really played the keyboard" –Josh
Help Emery make the best album possible by picking up an exclusive pre-order package! Crowdfunding is a democratic way to support the fundraising needs of your community. Make a contribution today!
"I'm not even sure this is gonna work" -Devin
Follow Emery:
Twitter: @OfficialEmery
Facebook.com/Emery
Instagram: @emeryofficial
For more info on Emery, visit the JFH Artists Database.