EARTH GROANS:
SIGN WITH SOLID STATE RECORDS!
RENOVATE EP 5/12/17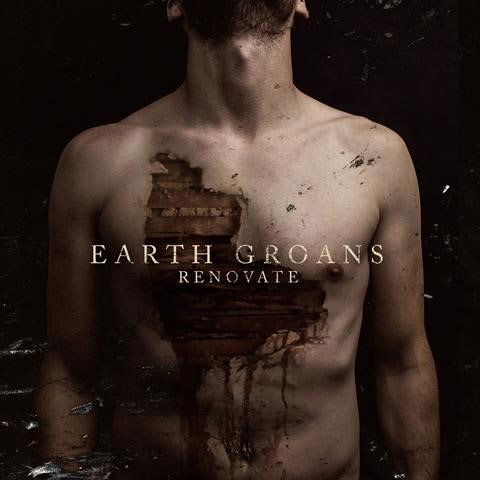 NEWS SOURCE: Solid State
May 4, 2017
Solid State Records has announced the signing of South Dakota quartet Earth Groans. Over the past two years, the band has enthralled audiences across the continental U.S. with their music and message.

'We want to be a ministry first, and a band second' says vocalist Jeremy Schaeffer. The debut EP Renovate (which will have its Solid State release next Friday 5/12) is five songs of chaotic and dissonant metallic hardcore but deeply introspective.

The genesis of Earth Groans was during a deeply tumultuous period in Schaeffer's life. As he details 'I was going through what a lot of young people go through as they grow up. A lot of things I thought I was enjoying just turned out to be empty. Things in my life both professionally and personally just weren't fulfilling to me anymore. That's what Renovate is about, doing work on yourself and getting down to the bare foundation. For me that foundation is my faith.'

Rounded out by Brady Mueller (drums), Zachariah Mayfield (guitar) and Kaden Burton (bass), Earth Groans has toured relentlessly, many times on their own.

As Schaeffer relates 'South Dakota gets skipped a lot on big national tours. As a result we don't have a huge scene for our style of music but we love playing shows anywhere. When people complain about their scene and say it's kind of dead, we say the scene isn't dead until we are.'

Case in point, Earth Groans will be embarking on their own One Dollar Brawler headlining tour. This entire Midwest run (5/13-5/28) will just cost $1.00 to attend. (Dates and EP pre-order link below).

More Info: https://www.facebook.com/earthgroansband/

Earth Groans One Dollar Brawler Tour Dates

5/13 Rapid City, SD @ Black Hills Vinyl
5/14 Bismarck, ND @ Side B
5/15 Fargo, ND @ Crawdad House
5/16 New Port, MN @ Opinion Brewery
5/17 Duluth, MN @ The Encounter
5/18 La Crosse, WI @ The Warehouse
5/19 Milwaukee, WI @ Mosh Haus
5/20 Lansing, IL @ Royal Skate Shop
5/21 Indianapolis, IN @ Showroom
5/22 Cincinnati, OH @ Q's Dungeon
5/23 Louisville, KY @ Spinelli's
5/24 Peoria, IL @ The Rail
5/25 Cedar Rapids, IA @ Groundswell
5/26 Lawrence, KS @ Jackpot
5/27 Omaha, NE @ Lookout Lounge
5/28 Sioux Falls, SD @ Icon Lounge
###
For more info on Earth Groans, visit the JFH Artists Database.