Christian Winners Announced in 2016 International Songwriting Competition (ISC)
Judges Include Jordan Feliz, Matt Maher, Jason McArthur (Provident Label Group), Josh Bailey (Word Entertainment), and More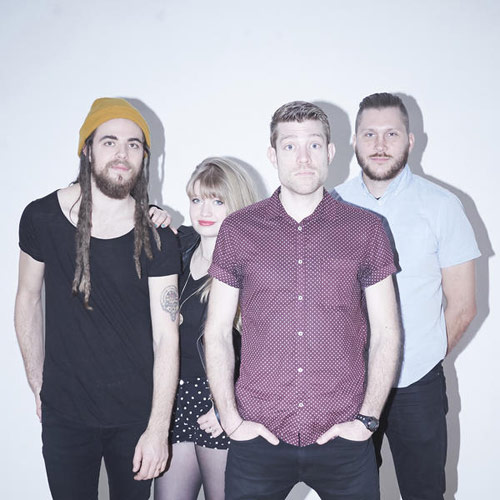 First Place Winners, Attaboy
NEWS SOURCE: International Songwriting Competition
May 17, 2017
May 17, 2017 -- The International Songwriting Competition (ISC) is pleased to announce its 2016 Christian winners. Now in its 16th year, ISC is the world's largest international songwriting competition, receiving more than 16,000 entries from 137 countries throughout the world. More than $150,000 in cash and merchandise is awarded to 71 winners in 23 categories, covering all genres of contemporary music, including Christian, EDM, Jazz, Latin, Rock, Pop, R&B/Hip-Hop, and much more.
First Place in the Christian category goes to the band Attaboy -- Ryan Payne, Jeff Edgel, Christian Morris, and Melanie Morris (Huntington, IN, USA) for the song "Come Alive." Second Place is awarded to Jaylene Johnson (Winnipeg, MB, Canada) for "Fallin'," and Third Place goes to Troy Kokol and Tenille Nadkrynechny (Calgary, AB, Canada and Grand Prairie, AB, Canada) for "I'll Be."
Candace Avery, Founder and Director of ISC, says, "It is not surprising that in the last few years the Christian category has seen an increase in ISC entries. Its reach into mainstream pop culture, especially in TV and film, has really impacted ISC entries, and it has been exciting to watch this genre's growth."
The 2016 Christian winners include:
FIRST PLACE
Garnering First Place are Ryan Payne, Jeff Edgel, Christian Morris, and Melanie Morris (Huntington, IN, USA) for the song "Come Alive." Channeling the infectious indie-pop music that has landed them radio success and sustained years of full-time touring, the band has performed for more than 1,500 audiences in North America and Europe. Several of their songs have received national radio airplay, including four singles that landed on Billboard's Top 30 for Christian Contemporary Hit Radio. The winning song "Come Alive" is off their album Vitals, released in 2015, and then was released as a remix in April, 2017.
SECOND PLACE
Second Place is awarded to Jaylene Johnson (Winnipeg, MB, Canada) for "Fallin." Several years ago, singer/songwriter Jaylene Johnson suffered a vocal injury that took nearly two years to treat, so the ability to sing again is a gift she doesn't take for granted. A professional songwriter for more than 15 years, she has released four studio albums and has had title tracks and cuts with several other artists, including Amy Sky and Luke McMaster. Her co-written song "Mine" debuted in the Top Ten for iTunes Country in New Zealand in 2015. She also has had placements in major network TV shows, including Pretty Little Liars and So You Think You Can Dance. The song "Fallin" was recently nominated for Folk Song of the Year by the Canadian Gospel Music Association, and her new, Juno-nominated release Potter & Clay was nominated for a total of seven CGMA Covenant Awards.
THIRD PLACE
Third Place honors go to Troy Kokol and Tenille Nadkrynechny (Calgary, AB, Canada and Grand Prairie, AB, Canada), for their song "I'll Be."
Troy Kokol is an award-winning songwriter, producer and artist manager with over 200 cuts to his name in a variety of music genres. A two-time CCMA Songwriter of the Year nominee and recipient of the SOCAN Award for Country Music, as a professional musician and road manager, he has toured extensively with major label artists for several years and has established a home base in Calgary where he continues to write, produce and grow his publishing and artist management business.
Tenille Nadkrynechny is a country music singer who co-wrote the winning song "I'll Be" with Troy Kokol. At the age of 17 she was the youngest ever nominee for a 2012 Canadian Country Music Award for Female Artist of the Year and the youngest recipient for a 2012 CCMA Slaight Music Humanitarian Award. She has raised over $775,000 for Sunrise House, a shelter for homeless youth in Alberta, Canada, through her annual fundraiser, Big Hearts For Big Kids. She released her first album, Real, in June, 2011 and appeared on the national television show Canada AM in August, 2011, performing her single "Real Me." She released her second album, Light, in March of 2013.
In addition to these winners, 11 other Christian songs garnered Honorable Mentions:
"A Million Stars" – Brant Pethick, Jaylene Johnson, Arun Chaturvedi (Ottawa, ON, Canada
"All I'll Ever Need" – Logan Prescott (Desoto, TX, USA)
"Caving In" – Dave Saxby (Mackay, QLD, Australia)
"Made To Dance" – Kyle Bowen, Christopher Carrion, Cameron Stymeist, David Thaw / Undone (Winters, CA, USA)
"Never Leave Or Forsake Us" – Thomas Drakeford Lanier / Drakeford (Chattanooga, TN, USA)
"She Could Fly" – Wayne V. Rachel / Love Rain (Suffolk, England)
"So Alive" – Michael Morehead / Circa 71 (Benton, AR, USA)
"Stand For Love" – Wayne V. Rachel / Love Rain (Suffolk, England)
"Unthinkable" – Jason Earley, Ryan Kennedy (Sharps Chapel, TN, USA)
"Whole With Him" – Nick Allen (Star, NC, USA)
"Wonder" – Michelle V / MILOU (Gold Coast, QLD, Australia)
Many other deserving songs also share in the prestige and kudos of winning their respective categories in ISC. Winners hail from all over the world (59% of this year's winners come from outside the USA), representing diverse cultures and ranging from talented amateurs to seasoned songwriting veterans..
For the first time in the history of the competition, the Grand Prize is awarded to Canadian songwriters. It is with great pleasure that ISC bestows its highest honor to Canadian troubador Matt Epp and Morocco-born Manitoba-raised 16-year old phenom Faouzia for their co-written song "The Sound Ft. Faouzia," entered in the Folk/Singer-Songwriter category. The Grand Prize winners take home $25,000 in cash (USD) and over $45,000 in additional prizes.
For a complete list of all ISC 2016 winners, go to:
http://www.songwritingcompetition.com/winners
The complete panel of 2016 judges includes:
Recording Artists: Chris Cornell; Lorde; Tom Waits; Ziggy Marley; American Authors; Donovan; Bastille; Joe Bonamassa; Martie Maguire (Dixie Chicks); Keane; Hardwell; India Arie; Kaskade; Danilo Perez; Jay Farrar (Son Volt/Uncle Tupelo); Vijay Iyer; Sara Evans; Afro Celt Sound System; Jesse & Joy; Gerald Casale (Devo); Mike Stern; Carlos Vives; Joy Williams (Civil Wars); Rickie Lee Jones; Ray Benson (Asleep At The Wheel); Ana Barbara; Salif Keita; John Mayall; Fat Joe; Luis Fonsi; Art Alexakis (Everclear); Nicholas Gunn; Ryan Bingham; Amadou & Mariam; Jordan Feliz; Matt Maher; Mariana Vega; and Femi Kuti.
Industry Executives: Craig Kallman (Chairman/CEO, Atlantic Records); Dan McCarroll (President, Warner Bros. Records); Seymour Stein (Chairman/CEO, Sire Records); Ed Vetri (President, Wind-Up Records); Craig Balsam (Owner, Razor & Tie/Washington Square/Kidz Bop); Daniel Glass (President, Glassnote Records); Steve Yegelwel (Senior Vice-President, Island Records); John Esposito (Chariman & CEO, Warner Music Nashville); Afo Verde (Chairman, Sony Music Latin); Jason McArthur (VP of A&R, Provident Label Group/Sony Music Entertainment); Bruce Iglauer (Founder/President, Alligator Records); John Burk (President, Concord Label Group); Mike Easterlin (President, Fueled By Ramen/Roadrunner Records); Angel Carrasco (Latin Music Consultant/Producer); Aaron Bay-Schuck (President of A&R, Interscope Records); Richard Stumpf (CEO, Atlas Publishing); Steve Greenberg (CEO, S-Curve Records); Gordon Kerr (CEO, Black River Entertainment); Nate Albert (EVP of A&R, Capitol Records); Kim Buie (VP of A&R, New West Records); Albert Schilcher (VP of Music and Music Marketing, MTV International); Nick Burgess (Sr. VP of A&R, Virgin/EMI); Josh Bailey (Sr. VP of A&R, Word Entertainment); Chris Eckman (Co-Founder, Glitterbeat Records); Colin Barlow (Managing Director, RCA UK); Peter Weber (Co-Founder, Glitterbeat Records); Jacob Edgar (Founder, Cumbancha); Laura Margolin (Publishing, Glassnote Records); Benjamin Groff (Founder, The Brill Building); Golnar Khosrowshahi (President, Reservoir Media Management); Sas Metcalfe (President, Global Creative, Kobalt Music); Carianne Marshall (Partner, Songs Music Publishing); Rich Goodman (President, Rip Tide Music Group); Chris Van Belkom (VP, Combustion Music); Tamara Conniff (EVP, Roc Nation); Jerome Spence (VP Film/TV, Secret Road); Jamie Masada (Owner, Laugh Factory); Julie Kertes (General Manager, National Parenting Publications Awards, NAPPA); Claire S. Green (President, Parents' Choice Foundation); Cyndi Nelson (General Mgr, Zanies Comedy Club); Leib Ostrow (Founder/CEO, Music For Little People); and Cory Robbins (Founder/President, Robbins Entertainment).
Sponsors include: Adam Professional Audio, Berklee College of Music, Big Joe Stomp Box Company, CAD Audio, Celebrity Access, D'Addario, Dark Horse Institute, Disc Makers, Fran's Chocolates, Gauge Precision Instruments, Gig Salad, Graph Tech, Irie Magazine, Klotz, LANDR, Lewitt, Lowden Guitars, Lurssen Mastering, Marshall, Merch Cat, Musicians Institute, ONErpm, OWC, PRA Audio, SongU.com, Sweetwater, and Thalia.
Entries are now open for the 2017 competition. For more information and to enter, go to http://www.songwritingcompetition.com
###
For more info on Jordan Feliz, visit the JFH Artists Database.
For more info on Matt Maher, visit the JFH Artists Database.