THE CITY HARMONIC COMES FULL CIRCLE WITH FIRST LIVE ALBUM,
BENEDICTION LIVE, RELEASING JUNE 23
PledgeMusic Preorder Campaign Offers Instant Download Of New Song, "Honestly"

Songs Gather Hundreds-Of-Millions Of Listeners,
Hundreds-Of-Thousands Of Album And Single Sales Internationally

Band Plays Final U.S. Concert May 20 in Pearisburg, VA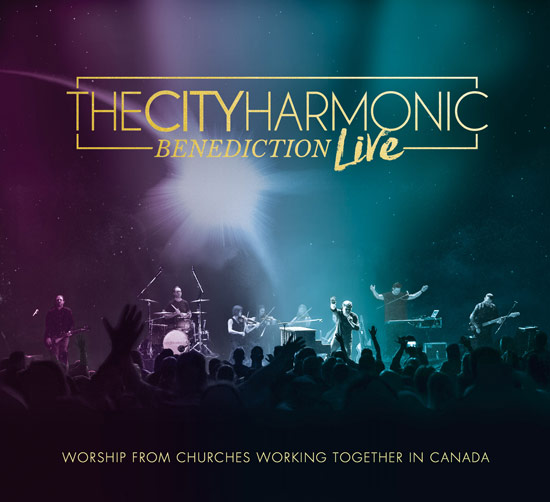 NEWS SOURCE: Hoganson Media
May 18, 2017
Award-winning worship band The City Harmonic comes full circle with its first live album, Benediction Live: Worship from Churches Working Together in Canada, releasing independently June 23 with management, marketing and distribution through The Fuel Music and with support from FACTOR. The 14-track album was recorded April 29, 2017 in the town where it all started for the band, Hamilton, Ontario, and celebrates the songs and unifying worship movement that became a soundtrack for worshippers around the globe.
The City Harmonic fans are encouraged to preorder Benediction Live now through the band's PledgeMusic campaign. The band's final new song, "Honestly," is available for immediate download with each preorder. This crowd-funding campaign also offers the opportunity for pledgers to receive all kinds of memorabilia, including hand-written lyrics from the band, signed CDs, tee shirts and posters, a commemorative plaque, and even instruments the band used on stage and in videos through the years.
From a crucible of small churches of various denominations in Hamilton calling themselves TrueCity, the heart and line-up of The City Harmonic was fused through the sweat, joy and tears of urban mission. Grappling with the struggle of everyday people and writing songs for worship fueled by a "together for the good of the city" ethos, The City Harmonic returned to its roots to record its fourth and final album, Benediction Live, meant to be both a blessing and a sending, not an end.
"A benediction isn't a goodbye--It's a blessing, a 'sending.' At the end of every worship service, a pastor will often say something that's known as a Benediction. It's not a parting thought, it's a way of sending us out into the world to be the church -- the hands and feet of Jesus to a hurting world," says The City Harmonic's Elias Dummer (lead vocals, keys).
"Even as we gathered with so many friends and family the night that we recorded Benediction Live, there was this incredible sense of the vitality of the work of Christ. Why? Because hundreds of students had been out getting their hands dirty in mission all day!" continues Elias. "These weren't just songs we sang, these were declarations of what God had been doing through us all day. That's what this whole thing is about!"
In addition to "Honestly," Benediction Live also includes The City Harmonic's "Manifesto," "Praise The Lord," "Holy (Wedding Day)," "Mountaintop," "A City On A Hill," "I Am" and more of the band's best-loved modern worship anthems of longing, hope and celebration.
"Singing these songs of worship at the top of our lungs together was an incredible, full-circle moment for me," recalls Elias. "The same worship and missions event I had helped to start well over a decade ago [CrossCulture, which is part of the wider TrueCity movement] was not only still going, but was part of our last show in Canada.
"There was this awesome moment as the crowd raised their hands in prayer to bless us as we step forward in faith, and there we were with all our families, blessing the folks with us there to continue being the church in powerful ways," adds Elias. "Local churches working together in our hometown--the kingdom at work--is what brought us together in the first place, and to have many of those same people sending us onward into a new season was incredible."
The full Benediction Live track listing follows:
1) My God
2) Maranatha
3) Yours
4) Praise The Lord
5) Honestly (New)
6) A City On A Hill (new version)
7) I Am
8) Mountaintop
9) Holy (Wedding Day)
10) What I Want
11) Let There Be Light
12) Manifesto
13) Doxology
14) Benediction
While Benediction is the final recording from The City Harmonic, the men behind-the-music – Elias and bandmates Eric Fusilier (bass), Josh Vanderlaan (drums) and Aaron Powell (guitars), have spawned a "family tree" of roots, with each band member moving into new avenues of ministry. In addition to working on a new solo worship project, Elias is involved in a church plant in Nashville (The Village UMC) that has become one of the fastest growing Methodist church plants in the country. Eric planted and is pastoring an Anabaptist church in Hamilton (Reunion Hamilton). Aaron is also working on new music and has taken a staff position as Worship Director at an Anglican church in Hamilton (The Rock on Locke) while Josh is leading the tech team at his home church.
"At the end of the day, we're church guys," says Elias. "It's no accident that all four of us have found ourselves heavily involved in our local churches right away. It was about the kingdom when we started and it's about the kingdom as we go on to start new things."
Following the band's last tour in Canada that wrapped up in Hamilton, The City Harmonic will play its final concert in the U.S. during the Common Ground 2017 event held in Pearisburg, VA at Giles High Auditorium Saturday, May 20. The event is free for students, and there is a $10 admission at the door for everyone else.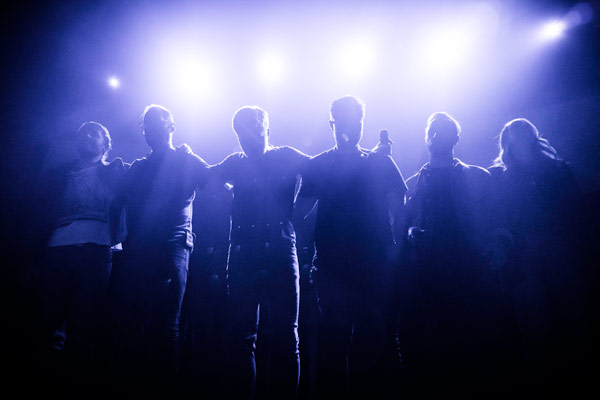 About The City Harmonic:
Born out of a church unity movement in the blue-collar steel town of Hamilton, Ontario, The City Harmonic formed in 2009 after leading worship for inter-denominational student events. By 2011, the band had become the best-selling new artist, won its first Gospel Music Canada Covenant Award, accidentally written the theme music for a National Day of Prayer promotional campaign and had its music played at Major League Baseball stadiums. Nine more Covenant Awards (including two "Group Of The Year" wins), a Juno Award and a Dove Award nomination followed as the band released the critically acclaimed albums I Have A Dream (It Feels Like Home), Heart and We Are that sparked hundreds-of-thousands of album and single sales internationally as well as endorsements from Tommy Shaw (Styx), Mac Powell (Third Day), Peter Furler, Matt Redman, Kyle Korver (Chicago Bulls) and Seth Smith (Colorado Rockies).
The albums also introduced the songs "Manifesto," "Praise The Lord," "Holy (Wedding Day)," "Mountaintop" and "A City On A Hill" and more to churches and radio stations internationally garnering hundreds-of-millions of radio listeners and streams on Spotify, YouTube and more. The band further appeared at virtually all major Christian festivals across the US and Canada, toured Europe and Guatemala, toured with Franklin Graham and Newsboys, led at the National Worship Leader Conference, and made appearances on "Beyond A.D." (NBC.com), CBC's "The National," Huffington Post, RELEVANT and hundreds of other media outlets internationally.
For additional information related to The City Harmonic, visit www.thecityharmonic.com,
Facebook, Twitter, Instagram and Youtube.
About The Fuel Music:
Established in 2008, The Fuel Music & Management Co., LLC, is a leading artist management and artist solutions company that independently distributes music internationally. Based in Tennessee, the Fuel team brings nearly 70 years of combined music industry experience in record label operations, major label distribution and marketing, and artist management for artists ranging from upstart bands to GRAMMY Award nominated, multi-platinum artists. More information on the company can be found at www.thefuelmusic.com.
###
For more info on The City Harmonic, visit the JFH Artists Database.