MUSIC EXECUTIVE SHAWN CHRISTOPHER'S SIX19 MUSIC INKS DISTRIBUTION DEAL WITH DREAM LABEL GROUP AND
CAPITOL CHRISTIAN DISTRIBUTION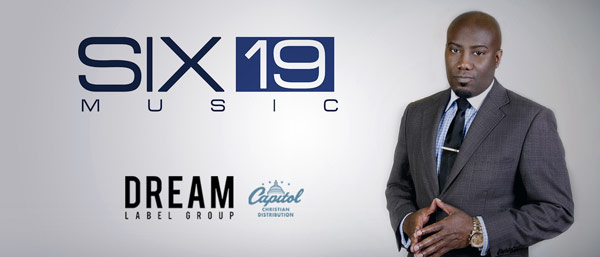 NEWS SOURCE: The J Hardy Agency LLC
May 22, 2017
HOUSTON, TX (Monday, May 22, 2017) - - Music executive Shawn Christopher, President and Founder of Six19 Music and CEA (Christopher Entertainment Agency) has announced today, a distribution deal with Dream Label Group/Dream Records LLC who is distributed by Capitol Christian Distribution.
Shawn Christopher states, "I am so grateful for this opportunity to team with Dream Label Group for this awesome journey with SIX19 Music! Thanks to David Hanley and the Dream staff for allowing SIX19 Music and it's roster of artists the platform to reach believers across the world!"
David Hanley, Founder and President of Dream Label Group adds: "DREAM is excited and honored to join in ministry together with Shawn, Christopher Entertainment Agency and SIX19 Music!"
SIX19 Music plans to release new music this year from their roster of artists including, 4-time Stellar Award nominated quartet group, The Brown Boyz in July and New Contemporary Christian recording artist Kevin Ward this fall with full length projects from both artists to follow. SIX19 Music also plans to release a compilation project 1st quarter 2018.
Shawn Christopher was once the leading voice of radio in Savannah, Georgia and the Southeast region. With over 20 years of experience in the Radio Industry, his voice and personality had become a staple in the area. In 2013, Shawn relocated to Houston,Texas and accepted the position as Executive Producer of the Nationally Syndicated Gospel and REACH Media radio show, The James Fortune Show hosted by Award-winning gospel artist, James Fortune. Shawn now has his own company, The Christopher Entertainment Agency, a full-time artist management, booking and event production company with clientele including, Tim Bowman Jr., The Showers, James Fortune, Gaye Arbuckle, Angel Taylor (formerly of Trin-I-Tee 5:7) and Darwin Hobbs.
About Six19 Music:
Houston-based record label, Six19 Music, a subsidiary of parent company CEA (Christopher Entertainment Agency) was founded by 20 year radio veteran turned music executive Shawn Christopher in 2017. Six19 Music is home to 4-Time Stellar Award nominated group The Brown Boyz and emerging Christian artist Kevin Ward. Six19 Music is distributed through DREAM label group.
About Dream Label Group:
DREAM was founded in 2008 by David Hanley, founder and lead singer of PRESS PLAY, to provide artists with a genuine approach to how real artist development should be done. By allowing for a partnership as a business model, Dream's artists empower themselves to develop and carry out a real vision for their lives as they affect other people's lives with their music and message. DREAM LABEL GROUP is truly setting a New Standard in the music and entertainment industry, while reaching thousands of lives each day. DREAM is honored to represent over 50 artists and ministries worldwide such as Life.Church (Pastor Craig Groschel), Dadra Greathouse, T.D. Jakes' Dexterity Sounds(GRACE), Lakewood Church(Joel Osteen/Cindy Cruse Ratcliff), Satellites and Sirens, and many more.
About Capitol Christian Distribution:
Capitol Christian Distribution is the market leader in Christian and Gospel music distribution, and also represents a diverse range of chart topping Christian films and books, reaching the US Christian specialty and general retail marketplace and physical and digital retailers in more than 50 countries around the world. Since 1994, Capitol Christian has had more charting titles annually on Billboard's Top Christian charts than any other Christian distributor and has been named Billboard Magazine's Top Christian Music Distributor 15 times in the last 18 years.