THE ROCKET SUMMER
to Release First Ever Double Vinyl LP of
DO YOU FEEL for 10th Anniversary of Record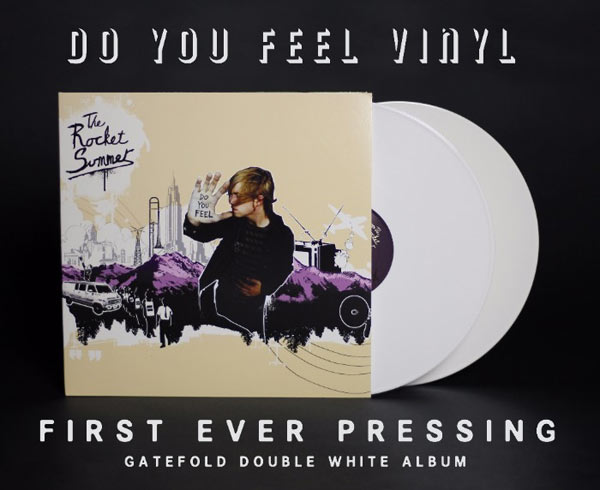 NEWS SOURCE: Reybee
May 26, 2017
"Do You Feel is a special album within the Rocket Summer community," says THE ROCKET SUMMER's own BRYCE AVARY, "Fans have been asking since the album's original release 10 years ago if it would ever finally come out on vinyl. I think I've been longing for it maybe just as much."

On June 2nd, Avary will be answering the call with a vinyl release of DO YOU FEEL (online, Amazon, indie retail stores, as well as on tour). The record gets the stunning packaging it's earned, after worming it's way into the hearts of every The Rocket Summer fan, with a gatefold sleeve and double white LP's. The pre-sale begins on Bryce's online store TODAY, May 26th. In addition, a limited edition double purple vinyl will be available only for VIP ticket purchasers on tour.

GRAB THE RECORD HERE:
http://therocketsummer.merchnow.com/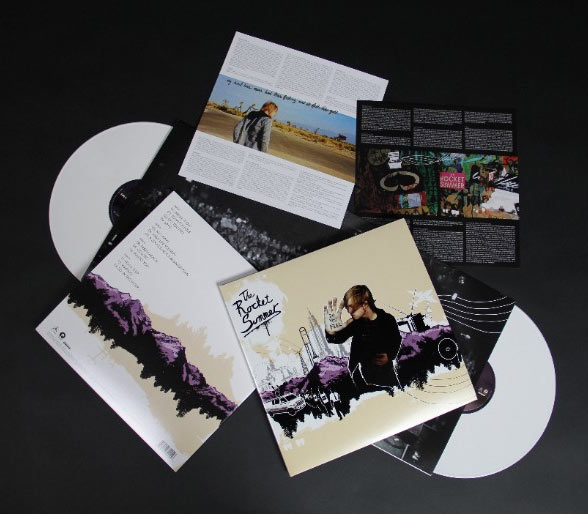 "As a vinyl collector myself, there's just something about the experience of connecting to the music in a more tangible, almost spiritual way," continues Avary. "So now after 10 years, getting to actually hold it, open the gatefold and know that fans will hear these songs off this white vinyl from their turntables is kind of a cathartic feeling that fills a long-standing void; both a mental one and a physical void on the actual record shelf where there's been a space right in the middle of the TRS LPs. It took a long time to get to this point. So to finally see it is wonderful."
Sometimes, to see how far you've come, you have to look back at your beginnings. For multi-instrumentalist, Avary, his evolution into the powerpop/indie rock powerhouse that he is becoming has origins in his dynamic and explosive entrance into the mainstream ten years ago with his breakthrough album Do You Feel. Before he embarks into his evolution forward, Avary will be stepping out of the studio where he is working on new music to celebrate the 10 year anniversary of a special album for TRS fans by performing the album for the first time ever in its entirety.

The Do You Feel 10 Year Anniversary Tour kicks off in his home state of Texas on July 20 at Austin's Antone's and circles North America, hitting venues such as Dallas' Trees (July 21), NYC's Gramercy Theatre (August 3), Toronto's The Mod Club (August 8), Chicago's The Bottom Lounge (August 12), SF's Slim's (Aug. 24), and Los Angeles' The Roxy (August 25). All tickets are currently available at http://www.therocketsummer.com/tour/. (full dates below).

Celebrating the album which earned them the cover of Alternative Press who hailed him as "merging Cheap Trick's hard pop hooks with Dashboard Confessional's earnestness", Avary will be playing Do You Feel along with an additional set of fan favorites from Hello, Good Friend, Of Men and Angels, Calendar Days, Life Will Write The Words, and Zoetic and spiking it with some brand new material that he's working on.
His first major label release via Island Def Jam, Do You Feel launched him out of the underground and into mainstream consciousness. Do You Feel balanced melody, meaning, and musicianship, embodying Avary's forte of infusing passion into pop music with a variety of instruments and influences. From the cutting, rocking industry criticism of "A Song is Not a Business Plan", to the bouncy calls to consciousness of "Break It Out" and "Do You Feel", to the R&B-tinged, saxophone-backed "So Much Love" which featured the horn section that played on Stevie Wonder's Sir Duke album, to the epic, layered closing track "So, In This Hour", Avary made it clear that he was uninhibited both from musical and lyrical standpoints. Furthermore, the recurring message and focus on re-sensitizing and retaining identity amidst a world of cruelty and conformity found throughout Do You Feel still rings true today as it did 10 years ago.

Check out the dates below and be sure to catch The Rocket Summer's North American Do You Feel 10 Year Tour when it comes to a city near you!
7.20 Antone's Austin, TX
7.21 Trees Dallas, TX
7.22 Warehouse Live [Studio] Houston, TX
7.25 The Social Orlando, FL
7.26 Crowbar Tampa, FL
7.28 Masquerade Atlanta, GA
7.29 Exit/In Nashville, TN
7.30 Visulite Theatre Charlotte, NC
8.1 Rock & Roll Hotel Washington, DC
8.3 The Gramercy Theatre New York, NY
8.4 Brighton Music Hall Boston, MA
8.5 The Foundry at the Fillmore Philadelphia, PA
8.6 Rex Theater Pittsburgh, PA
8.8 The Mod Club Toronto, ON
8.10 Skully's Music Diner Columbus, OH
8.11 The Loving Touch Detroit, MI
8.12 Bottom Lounge Chicago, IL
8.13 Cabooze on the West Bank Minneapolis, MN
8.15 Wooly's Des Moines, IA
8.16 The Riot Room Kansas City, MO
8.18 Marquis Theatre Denver, CO
8.19 Club Sound Salt Lake City, UT
8.22 The Crocodile Seattle, WA
8.24 Slim's San Francisco, CA
8.25 The Roxy Theatre West Hollywood, CA
8.26 Beauty Bar Las Vegas, NV
8.27 The Holding Company San Diego, CA
8.29 Crescent Ballroom Phoenix, AZ
###
For more info on THE ROCKET SUMMER, visit the JFH Artists Database.