TIM TIMMONS RELEASES WHO I AM SEPTEMBER 22
All New Recording Presented by 10,000 MINUTES Kids
Shares Love, Forgiveness and Freedom;
Encourages Kids to Walk with Jesus All Week Long

Who I Am Project Inspired by 10,000 MINUTES Movement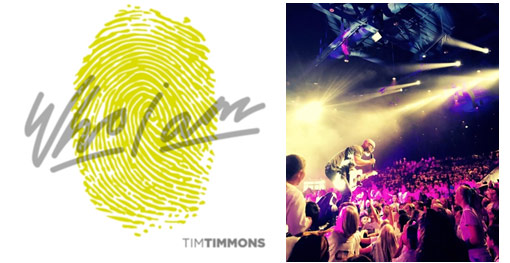 NEWS SOURCE: Hoganson Media
August 30, 2017
NASHVILLE, Tenn. – Singer/songwriter, worship leader and record producer Tim Timmons independently releases his second children's project, Who I Am, Sept. 22. Available for preorder beginning Sept. 8 at iTunes, Amazon.com and other digital retailers internationally, and available directly at www.TimTimmonsMusic.com (digital and CD), this energetic Bible-based, "kid-tested" and "parent- approved" debut came together as a result of Timmons' 10,000 MINUTES Movement and his personal life story.
Launched in 2015, 10,000 MINUTES is a non-profit organization that exists to invite, inspire and equip people to know and follow Jesus all week long.
"My hope behind this record, Who I Am," says Timmons "is that kids (and even us parents) would be reminded of who we are in Jesus and then what it could look like to practice following Him every day! What if our kids learned early on that they have the same spirit, power and authority that raised Jesus from the dead in them ALL WEEK LONG?
"There are 10,080 minutes in a week. We spend 80 in church. But what about the other 10,000?" asks Timmons. "I am simply inviting the world into the movement that Jesus started 2000 years ago! Jesus' revolution is bigger than any religion, stronger than any institution, more covert than human eyes can see, more powerful than the forces of hell and goes way beyond the 80 minute gathering."
Produced by Timmons and Christian Hale, Who I Am features 10 fully-charged pop songs intended for kids and parents "to pray all week long." With all songs either written or co-written by Timmons, each song was carefully crafted with the question in mind, "what do we want our kids to pray?"
Timmons' bold approach to life has been shaped by a compelling backstory following a terminal cancer diagnosis in 2001 when he was given only five years to live. Sixteen years later, Timmons miraculously continues to press on and live out the message of the gospel regardless of his medical diagnosis. In the Who I Am title track, Timmons sings:
I'm alive, I'm alive 'cuz you're living in me
I'm a child, I'm a child of the one true King
I am loved, I am loved, I'm forgiven and free
It's true—It's the WildLife – That's who I am in You.
Setting the tone for the theme of the record, the title song deals with identity, gratitude, power over fear and how to walk with Jesus all week long. Timmons invites listeners to not just "do church" but to "be the church" in the name, power, leadership and authority of Jesus. In the song, "Reflections of You," Timmons encourages kids to be reflections of Jesus, not out of duty, but out of a response of knowing Him.
Other standout tracks include "A Beautiful Thing" based on Psalm 139, "The Name of Jesus" co-written with Matt Hammitt (Sanctus Real), and "We Know" championing God's unending love for us referenced in Romans 8. The album also features the rhythmic guitar-driven "King of Forever," the contemplative "I Surrender" and the remix of "All I Really Want" from Timmons' critically acclaimed studio album, Awake Our Souls. There will further be a live version of the song "Everywhere I Go" available as a digital bonus track. This song was originally featured on Awake Our Souls and released as the official 360º Music Video from the album.
Additionally, songs from Who I Am were recently premiered during the annual Vacation Bible School (VBS) at Mariners Church in Irvine, California, where Timmons served as Worship Leader for 15 years. With approximately 2,500+ children in attendance, the Mariners Irvine campus was turned into a Wildlife Animal Park complete with Bible stories, games, crafts and the opportunity for kids to learn about God's love and His Kingdom as Timmons led the kids in daily worship. All-new VBS curriculum, as well as resources for children's ministry, homeschooling, etc. are currently being developed as part of 10,000 MINUTES Kids and will include video, digital apps and more to be announced later this year.
Jen Epperson, Children's Pastor at Mariners Church (Irvine, CA) shares, "Tim's music is not only great music and has a sound that kids enjoy, but each song is packed with foundational truths from God's Word. It's music that I actually want to listen to (as an adult) and my kids love it, too! The songs are easy to learn with positive, Godly messages that my kids can't stop singing! It's perfect for listening to in the car as a family, and we also sing them in our children's church. Tim's music hits all age groups–Kids from young to old will engage in this style of music, all while learning and singing important truths about who God is."
The full Who I Am CD track listing follows:
1) Who I Am
2) Reflections Of You
3) A Beautiful Thing
4) I Surrender
5) I Will Follow You
6) The Name of Jesus
7) All I Really Want (remix)
8) King Of Forever
9) We Know
10) Center Of It All
*Everywhere I Go* (Digital Bonus Track)

About Tim Timmons/10,000 MINUTES Kids:
Tim Timmons is a singer, songwriter, worship leader and founder of 10,000 MINUTES, the non-profit equipping ministry led by Timmons and executed through various creative outlets such as live performance, blog, podcast, video, songwriting, devotionals, worship leader interaction, speaking, film/TV production and conferences. 10,000 MINUTES/10,000 MINUTES Kids exists to invite, inspire and equip people to know & follow Jesus all week long. To learn more about 10,000 MINUTES or to read Timmons' latest blog, visit http://www.10000minutes.com.
For all the latest information on Tim Timmons, including music, touring, etc., go to www.TimTimmonsMusic.com, Facebook, Twitter, Instagram and YouTube.
###
For more info on Tim Timmons, visit the JFH Artists Database.