Christian Singer-Songwriter Stephanie Joy Releases Debut EP, Walk Your Road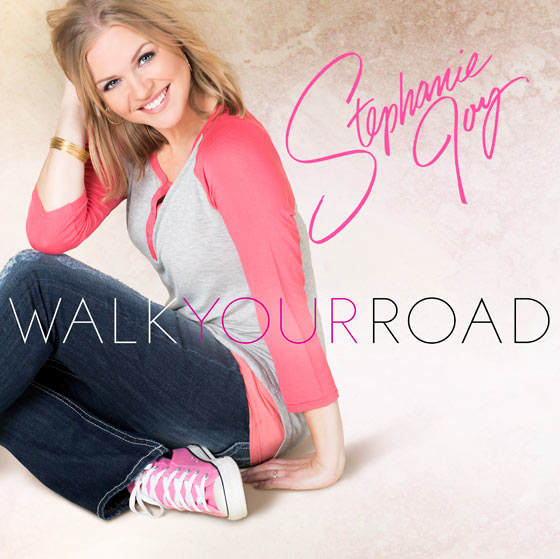 NEWS SOURCE: Nashville PR
October 3, 2017
Tuesday, October 3, 2017 — Christian recording artist Stephanie Joy released her debut album, Walk Your Road, on September 22nd via Novanglus Records. The 6 song collection of timeless pop contemporary music, was produced by GRAMMY Award-winning producer Val Garay, whose credits include hitmakers like Bonnie Raitt, James Taylor, Linda Ronstadt, Dolly Parton, Kenny Rogers and Bette Midler to name a few.
From an early age, Stephanie enjoyed acting and singing. Her bubbly personality caught the attention of casting agents who placed her on the Cheerios box and in commercials for major brands like Pop Tarts, Best Buy and Cost Cutters. She quickly found starring roles in regional theater in her home state of Minnesota, including Broadway hits like Annie, Cinderella and The Music Man.
When Stephanie was offered the lead role in a feature film where she would be asked to do things that conflicted with her faith, things came to a screeching halt. Standing at a crossroad, she was faced with a choice… Live out her faith or pursue fame and fortune.
Stephanie turned down the film and opted to tour the country performing Christian music and speaking to teen girls. Focused on ministry, she was determined to not just entertain but perform with a purpose. "I see looking back what the Lord spared me from and what He saved me for, to lead others to Him," says Stephanie.
The daughter of a Pastor, Stephanie sees her music as an important vehicle to share her faith. "No matter what road you are on, or wherever you are at in your journey, we must all come to the realization that we are in need of a Savior, and that this world will not deliver," says Stephanie of her debut EP. "We are nothing without Jesus Christ and every song I sing is birthed out of testimony and will speak directly to the heart of the listener."
These days, Stephanie balances her life as a wife and mother of 4 wonderful boys, with a budding music ministry that continues to have demands of it's own. But she strives to maintain a single perspective. "I want both young and old to find Jesus," says Stephanie. "I was put on this earth for God's glory and to lead people to Christ. If my music helps me do that, then I have accomplished my purpose."
Stephanie's debut single, "Everything's Gonna Be Alright," is impacting Christian radio now.
For more information, visit the official website at www.StephanieJoyMusic.com.
###