Project 86 To Release 10th Studio Album, Sheep Among Wolves Dec. 5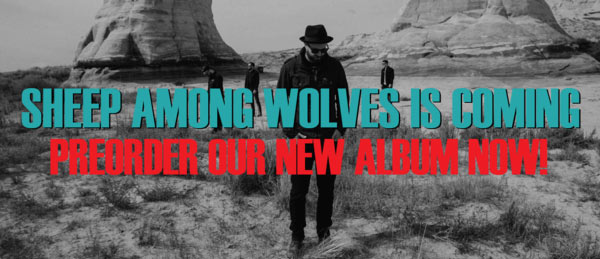 NEWS SOURCE: Project 86
October 9, 2017
October 9, 2017 Orange County, CA ... Orange county's seminal post-hardcore/rock champions Project 86, in celebration of their 20th year as a band, announce their 10th album release worldwide on December 5th, 2017. The Pledgemusic funded project highlights a lengthy career with an impressive, genre-defying milestone of ten songs, titled Sheep Among Wolves.
"How many bands make ten records?" Comments front man and songwriter Andrew Schwab. "And how many bands can confidently say their later releases can even compete with their earlier material? We honestly believe these songs are strong enough to turn the ear of even the most apathetic listeners who still have a place in their hearts reserved for rock music."
The Album is lean, mean, and diverse as ever. Hammering tracks such as "MHS" and "Dead Man's Switch" promise to please the diehard P86 faithful, while moodier tracks such as "Freebooter," "Copper Wish" and "Metempsychosis" are emotive and haunting. The lyrics, while as contemplative as ever, address some of the most poignant issues of our time, to the spiritual division in our nation to transgenderism to mental health.
Listen to eight songs from the album now BY PREORDERING HERE, AND RECEIVE THEIR 5-SONG INFLUENCE EP IMMEDIATELY.
Tracklisting:
1. MHS
2. Dead Man's Switch
3. Imaginary Me
4. Freebooter
5. By Constantine
6. Copper Wish
7. Sheep Among Wolves
8. Into Another
9. The Great Escape
10. Metempsychosis
###
For more info on Project 86, visit the JFH Artists Database.