TENTH AVENUE NORTH CELEBRATES THE HOLIDAYS WITH CONCEPT ALBUM, DECADE THE HALLS VOL. 1
COMPASSION INTERNATIONAL PRESENT "DECADE THE HALLS" TOUR WITH ZACH WILLIAMS AND MEREDITH ANDREWS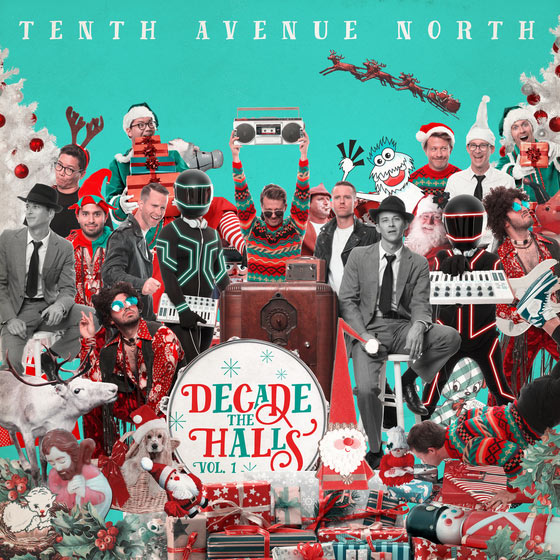 NEWS SOURCE: Merge PR
October 10, 2017
NASHVILLE, TENN. (OCTOBER 10, 2017) Tenth Avenue North has announced their upcoming holiday record, Decade The Halls Vol. 1 (Remade Records), which will release on November 10th. This unique concept-album is a musical walk through the last 100 years of Christmas music with each song featuring a different decade starting in the 1920s all the way to present day. This album displays the band's creative and musical talent as they explore different instrumentation, rhythms, and tones specific to each decade and genre of that time period.
"We couldn't decide what era to emulate when recording this album," shares Mike Donehey. "There's so many beautiful Christmas songs that span so many decades and genres, we decided to do all of them. Also we wanted to make something that might actually hold our attention. It's easy to get bored with an album, particularly a Christmas record when you're already familiar with so many of the songs. We feel this keeps the listener engaged and full of wonder. What's the next song gonna sound like?"
The band will be taking this concept album on the road in December with Zach Williams and Meredith Andrews. Tour dates and ticket information can be found at tenthavenuenorth.com/tour. Compassion International present "Decade The Halls" tour will feature the stylistically different songs with full wardrobe changes to coincide with the different decade for a memorable holiday event. See the promo video below about the special holiday tour.
ABOUT TENTH AVENUE NORTH: Tenth Avenue North (Reunion Records) made their national debut in 2008 with their first RIAA gold certification album Over and Underneath, which spawned the hits "Love is Here," "By Your Side" and "Hold My Heart." Tenth Avenue North won the Gospel Music Association Dove Award in 2009 for New Artist of the Year and in 2010 "By Your Side" was named Song of the Year. The band gained further momentum with 2010's The Light Meets the Dark and The Struggle in 2012, which continued to populate radio and the church with such memorable songs as "Healing Begins," "You Are More," "Losing" and "Worn." In November 2014, the band released their fourth studio project, Cathedrals, with the first radio single "No Man Is An Island." Their most recent project, Followers, has produced the No. 1 singles "What You Want" and "I Have This Hope." For more information, please visit TenthAvenueNorth.com.
Decade The Halls Vol. 1 Track Listing:
Good King Wenceslas (1920s)
O Come All Ye Faithful (1930s)
O Holy Night (feat. Jon McLaughlin) (1940s)
The First Christmas (feat. Zach Williams) (1950s)
Deck the Halls (1960s)
We Three Kings (feat. Britt Nicole) (1970s)
Go Tell It On The Mountain (1980s)
The First Noel (feat. Colton Dixon) (1990s)
Mistletoe (The Christmas Sweater Song) (2000s)
God Rest Ye Merry Gentlemen (feat. Sarah Reeves) (2010s)
###
For more info on Tenth Avenue North, visit the JFH Artists Database.