GOSPEL SONG RECORDS PARTNERS WITH THE WELCOME WAGON

"LIGHT UP THE STAIRS" RELEASING OCTOBER 20TH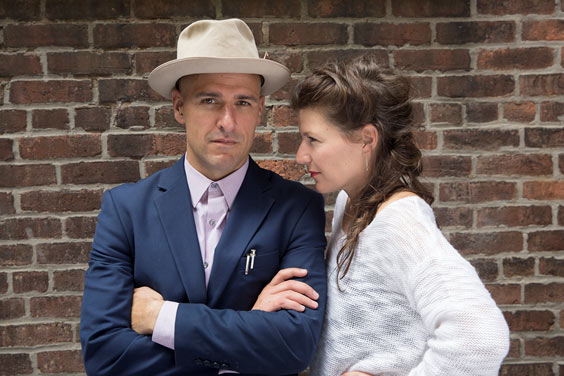 NEWS SOURCE: Gospel Song Records
October 11, 2017
Seattle, WA—Gospel Song Records announces their partnership with The Welcome Wagon.

The Welcome Wagon—made up of Presbyterian pastor Thomas Vito Aiuto and his wife Monique—was first introduced as a homespun, gospel-infused folk duo whose most comfortable venue was their own home. Although many of those qualities remain true, their current sound is somewhat of a new construct—one that no longer fits within the walls of a small living room.

Their first two projects, Welcome To The Welcome Wagon and Precious Remedies Against Satan's Devices, were released on Sufjan Stevens' label Asthmatic Kitty. The records were primarily filled with repurposed and rearranged hymns and gospel songs. Their newest release, Light Up The Stairs, continues their tradition of sacred material, while adding more songs that incorporate original lyrics. The album is an urgent, lively endeavor, largely made so by the work of producer Jeremy McDonald.

The Welcome Wagon's first single, "All These Trees," is an example of the band's venture into transparency. "One of the reasons I started writing retuned hymns from old hymnals was because I loved that there were words out there I could sing that weren't mine. I didn't have to hear my own thoughts. This time around we were more willing to share ourselves, share something that's inside of us. I was nervous to do that in the past, but a little less so now." explains Aiuto. "'All These Trees': That song is a collage of thoughts from the mind of someone who feels hopeful one minute, and desperate to make it through the day the next, which is true of me some of the time. And I felt ready to sing about that."

"All These Trees" was released to digital on October 6th. Light Up The Stairs will be released on Gospel Song Records on October 20th.

ABOUT THE WELCOME WAGON: The Welcome Wagon is based in Brooklyn, NY. The duo, comprised of Thomas Vito Aiuto and his wife Monique, are best known for their hybrid of gospel, indie pop, and folk songs. After ordering a guitar online, the couple taught themselves to play, write, and arrange music. Their artistic intuition, coupled with Monique's history in art design and Vito's past in poetry, led to the release of their debut record, Welcome to the Welcome Wagon, in 2008. The album was produced by Sufjan Stevens, and released on his Asthmatic Kitty label, as was their following project, Precious Remedies Against Satan's Devices in 2012. Their newest project, Light Up The Stairs, is set to be released October 20th on Gospel Song Records.

###