DOVE AWARD-WINNING, PLATINUM-SELLING ARTIST MARK SCHULTZ
ANNOUNCES A 'DIFFERENT KIND OF CHRISTMAS' TOUR
WITH LOVE & THE OUTCOME
Presented by Holt International, Annual Holiday Tour Kicks Off Dec. 1
Tickets On Sale Now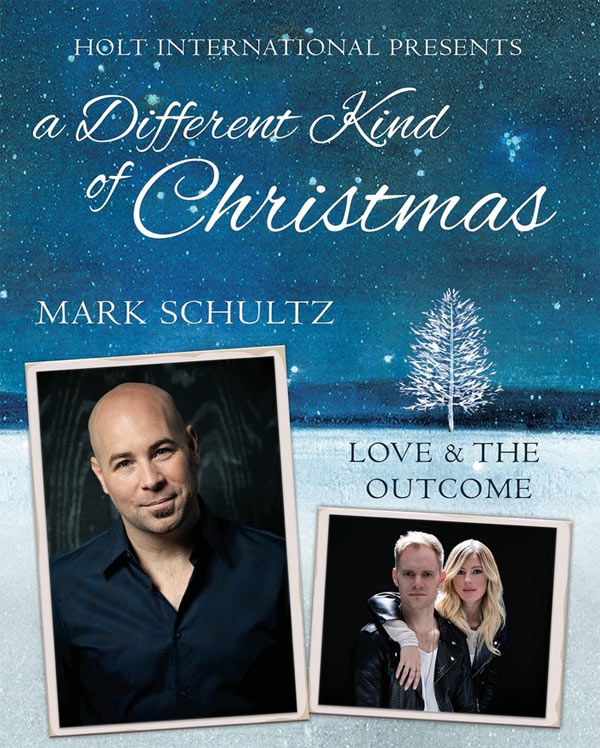 NEWS SOURCE: Southside Entertainment
October 23, 2017
NASHVILLE, Tenn. – Oct. 23, 2017 – GMA Dove Award-winning and platinum-selling artist Mark Schultz will launch A Different Kind of Christmas Tour this December, joined by husband-and-wife duo Love & the Outcome. The annual holiday tour is in its third year and gets its name from Schultz's #1 holiday-themed radio single, "Different Kind of Christmas." The single went viral in December 2014, and its accompanying video has since been viewed more than 24 million times on Facebook and shared over 900,000 times. The song was inspired by the life of Schultz's father-in-law and was penned shortly after his passing.

A Different Kind of Christmas Tour will kick off Dec. 1, and hit cities in Michigan, Wisconsin, Ohio, Maryland, Tennessee, North Carolina, and possibly more. Audiences will be treated to Schultz's masterful storytelling, paired with Love & the Outcome's pop-rock stylings. Together, they'll create the perfect blend to ring in the Christmas season.

Tickets for A Different Kind of Christmas Tour are on sale now, and a special VIP ticket package is available in most markets, including early entry and a pre-show Q&A with the artists. For up-to-date information and to purchase tickets, visit www.markschultzmusic.com.

The Different Kind of Christmas Tour is presented by Holt International, which provides the tools and resources to uplift children and strengthen families in some of the world's most impoverished communities. Founded in 1956, Holt International is dedicated to finding and supporting permanent, loving families for orphaned, abandoned and vulnerable children. Holt is recognized as a leader in child welfare and permanency planning, providing services and advocating for the best interest of children while always upholding the highest ethical practices. Today, Holt International maintains active partnerships and programs in 13 countries. Visit www.holtinternational.org to learn more.
A DIFFERENT KIND OF CHRISTMAS TOUR - 2017
* Dates, markets and venues subject to change without notice.
Dec 1 – Otisville, MI – Richfield Church of the Nazarene
Dec 2 – Waukesha, WI – Fox River Christian Church
Dec 3 – Massillon, OH – Rivertree Church
Dec 9 – Perry Hall, MD – Perry Hall Family Worship Center
Dec 10 – Mt. Vernon, OH – Mt. Vernon Nazarene University
Dec 15 – Milan, TN – First Baptist Church Milan
Dec 17 – Burlington, NC – Harvest Baptist Church of Burlington
For ticket information and the most up-to-date list of concerts, please visit www.markschultzmusic.com.
ABOUT MARK SCHULTZ
During the past decade, turning real life experiences into heartfelt anthems of hope and redemption has made Mark Schultz one of the Christian community's most acclaimed singer/songwriters. Originally hailing from Colby, Kansas, Schultz moved to Nashville to realize his musical ambitions and found inspiration while working as a youth pastor. Schultz booked the city's famed Ryman Auditorium, and with the overwhelming support of friends and family, his show there was a sell-out. This virtually unheard-of feat for a new artist landed Schultz a record deal where he went on to sell over 1.3 million albums and garner 13 No. 1 singles to date. He has landed the top spot on Billboard magazine's Christian Adult Contemporary Songwriter list and has been featured on 48 Hours, Extreme Makeover: Home Edition, CNN and more. His album Mark Schultz Live: A Night of Stories & Songs was certified Platinum by the R.I.A.A. and earned Schultz his first GMA Dove Award.
Connect with Mark Schultz
Website: www.markschultzmusic.com
Facebook: www.facebook.com/markschultz
Twitter: www.twitter.com/mschultzmusic
Instagram: www.instagram.com/mschultzmusic
ABOUT LOVE & THE OUTCOME
Winnipeg-born Love & The Outcome (L&TO) is the husband/wife duo of vocalist Jodi King and bass player Chris Rademaker. The couple signed with Nashville-based Word Entertainment in Spring 2012 and have quickly emerged as one of the most dynamic and exciting new voices in the Contemporary Christian Music genre. The duo's eponymous 2013 debut LP came on the heels of their debut single, "He Is With Us," which peaked at No. 7 on Billboard's Christian Songs chart and has sold more than 121,000 copies in the U.S. to date, racking up another 3.5 million streams on Spotify and 5 million views (cume) on YouTube. Their 2013 debut has now sold over 80,000 units to date and earned the band a Dove Award nomination for Best New Artist as well as GMA Canada Covenant Awards in 2014 for New Artist of the Year, Song of the Year, Recorded Song of the Year and Pop/Contemporary Song of the Year. Their 2015 Covenant Awards included Album of the Year and Group of the Year wins. The duo's sophomore set, These Are The Days, has sold over 20,000 copies since it's release in September 2017. This fall, L&TO will debut a Christmas EP.
Connect with Love & The Outcome
Website: www.loveandtheoutcome.com
Facebook: www.facebook.com/loveandtheoutcome
Twitter: www.twitter.com/loveandoutcome
Instagram: www.instagram.com/loveandtheoutcome
###
For more info on Mark Schultz, visit the JFH Artists Database.
For more info on Love & the Outcome, visit the JFH Artists Database.