DREAM Announces Samson: Songs From And Inspired By the Motion Picture Coming Out February 2nd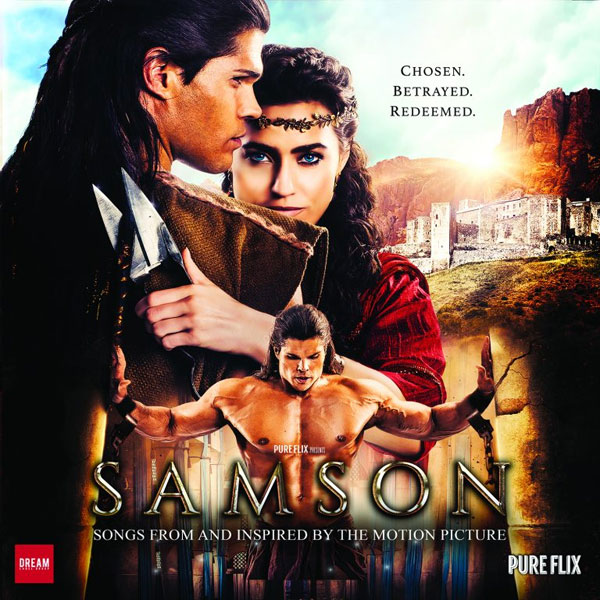 NEWS SOURCE: DREAM Label Group
December 6, 2017
Los Angeles, CA (December 6, 2017) -- DREAM Label Group and Pure Flix Entertainment are proud to announce the release Samson: Songs From And Inspired By the Motion Picture, available February 2nd with pre-orders starting on January 19th. The accompaniment album is in connection to the nationwide release of the Pure Flix Entertainment film Samson which releases February 16th.
SAMSON is based on the powerful, biblical epic of a champion chosen by God to deliver Israel. His supernatural strength and impulsive decisions quickly pit him against the oppressive Philistine empire. After being betrayed by a wicked prince and a beautiful temptress, Samson is captured and blinded by his enemies. Samson calls upon his God once more for supernatural strength and turns imprisonment and blindness into final victory.
The album will feature 10 emotionally powerful songs from a wide range of worship leaders and churches all inspired by the release of the film's biblical story.
Track listing:

1. The Rock Music - One More Time (feat. Steele Croswhite)
2. Emmanuel Church - Stronger (feat. Eunice Rodriguez)
3. Seacoast Worship - Strength And Victory
4. Cindy Cruse Ratcliff - Call Down Power
5. April Nevels - Nothing To Lose (from The Potter's House)
6. MUSITRY - Reconciled (feat. Joel Kibble of Take 6)
7. New Season Christian Worship Center - Forbidden Love (feat. Elmer Canas Jr.)
8. Encounter Worship - Redemption (feat. Alfonso Hernandez)
9. The Cloud Music - Home
10. Cindy Cruse Ratcliff - Keep The Faith
Check out the film's trailer:


From the creators of GOD'S NOT DEAD comes SAMSON, an action-packed biblical epic. Starring Billy Zane, Rutger Hauer and Jackson Rathbone, Samson's journey of passion, betrayal, and redemption inspires audiences to realize that life's failures need not define their future.
For more information on Samson please visit:
Trailer: https://www.youtube.com/watch?v=5TXaC3GjuJo
Website: https://samsonmovie.pureflix.com
Facebook: https://www.facebook.com/SamsonMovieOfficial
Twitter: https://twitter.com/Samson_Movie
Instagram: https://www.instagram.com/samsonmovieofficial/
About Pure Flix Entertainment:

Founded in 2005, led by Michael Scott, David A.R. White, Elizabeth Travis and Alysoun Wolfe, Pure Flix is the leading independent faith and family studio in the world. Its recent releases include: The Case for Christ, God's Not Dead 2, God's Not Dead, Do You Believe?, Woodlawn, A Question of Faith, and Same Kind of Different as Me. With offices in Los Angeles and Scottsdale, Pure Flix has produced, acquired, marketed and distributed over 100 faith and family-friendly films. Aligned with their vision to influence the global culture for Christ through media, Pure Flix is the industry leader in creating high-quality inspirational feature film content. The studio's official website is Pureflixstudio.com. The company also features a leading streaming video on demand service, with thousands of movies, originals, TV shows and more emphasizing faith, family and fun. For more information, go to Pureflix.com.
ABOUT DREAM LABEL GROUP:
DREAM was founded in 2008 to provide artists with a genuine approach to how real artist development should be done. By allowing for a partnership as a business model, DREAM's artists empower themselves to develop and carry out a real vision for their lives as they affect other people's lives with their music and message. Incorporating social media, press, radio and touring, this allows the artists to grow together as a family.
###