Worship Leader Corey Voss Explores The Transformative
Power of Praise With Full-Length Album Debut,
Songs of Heaven & Earth, Available Jan. 26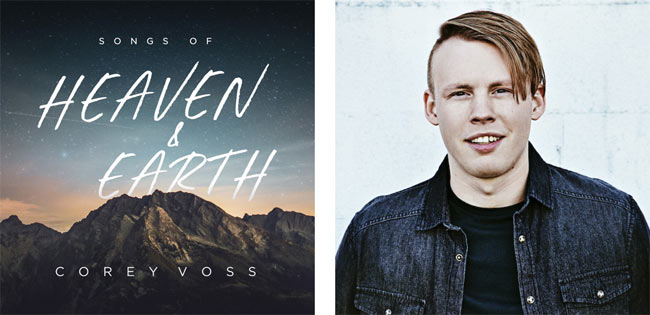 NEWS SOURCE: Integrity Music
December 11, 2017
Integrity Music announces the January 26 global release of the live recording Songs Of Heaven & Earth from Tennessee-based songwriter and worship leader Corey Voss. The album, Voss' full-length debut, explores the transformative power of praise, celebrating the Creator with lyrical imagery drawn from scripture and inspired by His creation.
Songs Of Heaven & Earth follows the critically acclaimed Songs of Heaven & Earth digital EP from Voss, the writer behind Selah's radio hit "I Got Saved." Voss includes "I Got Saved" and another favorite, "Praise The King," on Songs Of Heaven & Earth while his voice also showcases the work of other noteworthy writers and collaborators. This includes the church-ready, Dove Award nominated "God Who Moves The Mountains" from Dustin Smith, Richie Fike and David Leonard (All Sons & Daughters) and "As It Is In Heaven" penned by Voss' labelmates Alisa Turner and Michael Farren who guest on the song.
In addition, Dove Award winning writers Krissy Nordhoff and Jennie Lee Riddle, country artist Crystal Yates, newcomer Rhyan Shirley and Voss' producer, Kyle Lee (Leeland, Bryan & Katie Torwalt) co-author songs. The complete tracklist for Songs Of Heaven & Earth, which will be available for pre-sale beginning Jan. 5, is as follows:
"Lift Oh Gates"
"Praise The King"
"As It Is In Heaven" (Featuring Michael Farren & Alisa Turner)
"Nothing Is Impossible" (Walk Through Fire)
"Canyons" (Featuring Krissy Nordhoff)
"I Got Saved" (Featuring Crystal Yates)
"You Promised"
Voss, the Worship and Creative Arts Pastor for Shelbyville's Gateway Church, has written and recorded with Paul Baloche, Lauren Daigle, Jared Anderson, All About Worship, People & Songs and The Rain Collective. Additional information is available at CoreyVoss.com or by following Voss on Facebook and on Twitter and Instagram (@coreyvoss).
###