Zach Williams' Whirlwind Year Wraps With Second GRAMMY® Nomination, Named Billboard's Top Christian Male Vocalist And New Artist Of The Year;
"Old Church Choir" Continues To Hold At No. 1 For 18 Weeks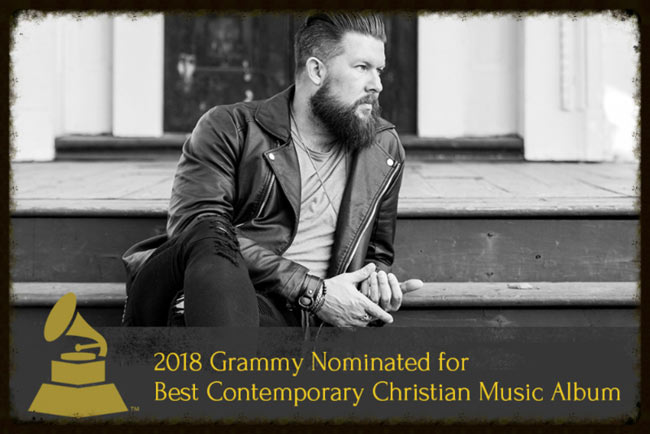 NEWS SOURCE: Merge PR
December 18, 2017
18 December 2017 - Nashville, Tenn - With a year that kicked off with a GRAMMY® nomination and now ends with another GRAMMY nod, from winning awards to topping the radio charts, there is no question that Zach Williams has had an astounding, and unforgettable, 2017.
It was this time last year when Williams' chart-topping single "Chain Breaker" was first recognized by the Recording Academy for a GRAMMY nomination for Best Contemporary Christian Music Performance/Song. Now, his album Chain Breaker (Provident Label Group/Sony Music) is nominated for Best Contemporary Christian Album for the upcoming 60th Annual GRAMMY Awards®, which will be held on January 28 in New York City.
It was also recently announced that Williams was named Billboard's Top Male Christian Artist, Top New Christian Artist and No. 6 Top Christian Artist for 2017. Along with his significant placement in the Top Christian Albums and Songs categories, both "Old Church Choir" and "Chain Breaker" made the Top 25 Rock Songs of the year chart, No. 19 and No. 25 respectively.
Williams recently spoke with Billboard Magazine, sharing his thoughts about these recognitions and his whirlwind year, which can be read here.
Following his initial GRAMMY nod, his 2017 continued with more awards and nominations. "Chain Breaker" received a Billboard Music Award nomination for Top Christian Song, and Williams was named New Artist of the Year at the GMA Dove Awards. The GMA Dove Awards also recognized "Chain Breaker" as the Pop/Contemporary Recorded Song of the Year. At this summer's K-LOVE Fan Awards, "Chain Breaker" won for Breakout Single of the Year.
"Chain Breaker" was Williams' debut single to hit radio, holding at No. 1 for an astounding 15 weeks. His follow-up single "Old Church Choir" has been No. 1 for 18 weeks and continues to hold the top spot again this week, according to the Billboard Christian Airplay chart.
K-LOVE also named "Old Church Choir" the network's top performing song of 2017, sharing "We thought 2016 was the year of Zach Williams, but the sequel has been just as exciting. Following up the success of last year's 'Chain Breaker,' the bearded singer has released another anthem that gets our hands clapping and feet stomping yet again. 'Old Church Choir' has been sitting at the top of the charts since last spring and there's no signs of it slowing down anytime soon." To view the song's music video and for the rest of the list, please click here.
Williams officially made history, according to Billboard, as the first debut artist to have two back-to-back No. 1 singles. "Old Church Choir" also received national recognition thanks to a young girl feeling the spirit of the song during a performance at her church in Tennessee. At press time, the video, which can be viewed here, has received more than 52 million views.
Just last month Williams debuted his first original Christmas song, "The Call of Christmas," which can be downloaded here or heard via streaming here. Williams shared the song, along with a few other holiday favorites, during Tenth Avenue North's Decade The Halls Christmas Tour, which just wrapped this weekend. Williams will join the Rock & Worship Roadshow in the spring, and further tour plans are well underway for next year. Stay tuned by visiting his tour page here.
ABOUT ZACH WILLIAMS: As a husband, father, singer, recording artist, songwriter and worship leader, the GMA Dove Awards winner for New Artist of the Year Zach Williams is already making history. Achieving two consecutive radio No. 1 hits as a debut artist ("Chain Breaker," "Old Church Choir") Williams' music comes from a place of humility and honesty as his songs are a direct reflection of God's redemption in his life. "Chain Breaker" has already impacted millions of people around the world and even earned him his first of two GRAMMY® nominations (Best Contemporary Christian Music Performance/Song, 2017; Best Contemporary Christian Album, 2018) and a Billboard Music Award nomination (Top Christian Song). He won a GMA Dove Award for "Chain Breaker" as Pop/Contemporary Recorded Song of the Year and a K-LOVE Fan Award ( for Breakout Single).
On September 15, he released Chain Breaker: Deluxe Edition (Provident Label Group/Sony Music). This deluxe version includes four new songs in addition to the 2016 debut of Chain Breaker, including his rendition of "Midnight Rider" by The Allman Brothers Band.
Apple Music chose him as Artist of the Week in December 2016, while "Chain Breaker" was the top track of 2016 on iTunes' Christian Songs chart and also reached No. 12 on Billboard's Hot Rock Songs chart. He has already toured with Chris Tomlin, Rend Collective, Big Daddy Weave and many more.
For more information, please visit ZachWilliamsMusic.com
###
For more info on Zach Williams, visit the JFH Artists Database.