GRAMMY® WINNER BERNIE HERMS CONCLUDES MILESTONE YEAR WITH MORE GRAMMY® NOMINATIONS
Performs as music director and pianist for Josh Groban for the CBS 19th annual "A Home for the Holidays" special airing tonight, December 19th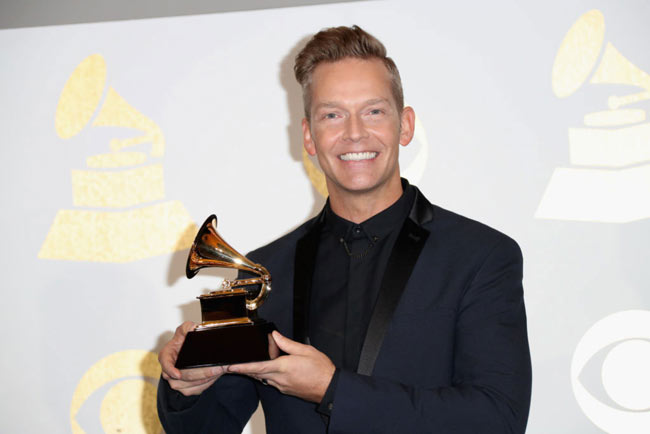 NEWS SOURCE: Wortman Works
December 19, 2017
NASHVILLE, Tenn. (December 19, 2017) - Bernie Herms has had a career-defining year in 2017. The GRAMMY® award for Best Contemporary Christian Music Performance/Song for "Thy Will" (co-written with Hillary Scott and Emily Weisband), two GMA Dove Awards (Producer and Songwriter of the Year, respectively), and the 2017 BMI Christian Awards "Songwriter of the Year" win have set the stage for 2018 to be another career-defining year for the prolific songwriter/ producer.
The recently announced 60th Annual GRAMMY® nominations saw Herms adding two more nods to his growing list. Officially, Herms is nominated as a songwriter for Best Contemporary Christian Music Performance/Song for "Oh My Soul" that he co-wrote with Casting Crowns' front man, Mark Hall. Additionally, the following GRAMMY® nods offer Herms' credits, which may result in more gramophones on the mantel for the producer and songwriter:
Best Contemporary Christian Music Album
Rise - Danny Gokey
Bernie Herms - Producer
Hills and Valleys - Tauren Wells
Bernie Herms – Producer
The 60th Annual GRAMMY® Awards will be held January 28, 2018 and broadcast live on CBS from Madison Square Garden in New York City.
Herms has spent a good part of this year cutting a swath across numerous genres as both a writer and producer, including working with Josh Groban, exciting new artists such as Travis Greene and Tauren Wells, and fan favorites Casting Crowns. Tonight, Herms will perform as both pianist and music director for Groban on the CBS television network special, "A Home for the Holidays" (8pm ET/7pm CT). He also recently produced Groban's Christmas Spotify Sessions, "Happy Xmas-War Is Over," and produced five new masters for the newly re-released deluxe edition of Groban's Noel Christmas album. Additionally, Herms has spent multiple weeks in 2017 producing Groban's upcoming full-length studio project.
"I am blessed beyond my wildest imagination," says Herms. "2017 brought some of the most extreme highs, and also the most daunting, challenges of my life; but, God's faithfulness, healing, and generosity to my family and my career blows my mind! To be able to create music and build relationships with such amazing artists and gifted songwriters is a profound gift. I'm literally brimming with excitement about all the music waiting to be discovered in 2018."
About Bernie Herms:
Bernie Herms is an award-winning composer, songwriter and producer who has worked with artists including Andrea Bocelli, Kelly Clarkson, Josh Groban, Selena Gomez, Hillary Scott, Barbra Streisand, Natalie Grant, Casting Crowns, Danny Gokey, David Foster, Brad Paisley, Steven Curtis Chapman, Amy Grant and many others.
His stratospheric production and songwriter career includes highlights such as 30 #1s in the U.S. and many global #1 hits. He has won 1 GRAMMY®, 10 GMA Dove Awards, including Producer of the Year (2009, 2016, 2017) and Song of the Year. He is also the reigning BMI Christian Songwriter of the Year.
###