BadChristian Music Launch Kickstarter for Christian Music Documentary
"What Would Jesus Sell?" To Expose Dark Side of the Christian Music Industry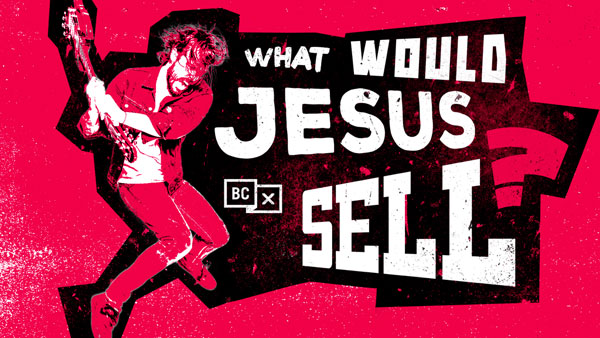 NEWS SOURCE: Jesusfreakhideout.com / BadChristian Media
February 12, 2018
Anyone who's ever been involved with the Christian music market for some time knows that not everyone working behind the scenes has pure intentions. BadChristian, a company started by members of the band Emery, have launched a Kickstarter campaign to fund a documentary film, called What Would Jesus Sell?, that will expose the darker side of the Christian music industry.
On the Kickstarter campaign page, BCM writes:
What We're Doing
We're making a feature-length documentary about the history, culture, and inner-workings of the Christian music industry, through the lens of those involved. We hope this exploration will create space for reflection, discernment, and honest conversations.
Why We're Making It


As musicians (Emery, As Cities Burn, The Classic Crime) who contributed to and benefitted from the subversive indie/punk scene that was a response to "mainstream" Christian music, we often found ourselves at the intersection of many different genres, giving us a unique perspective on how each distinct business culture operates within the Christian music industry.

Our experiences were eye-opening, and taught us that despite the general consensus of its clientele, the Christian music industry is a business that functions like any other; on the principle of profit. What makes it unique, is that the profit incentive is often motivated by religious image & language control. As the music industry has declined over the past few decades, dwindling returns have incentivized the profit-securing practice for Christian artists and labels to project an image that is often contrary their individual values.

Our goal is to craft a documentary that

Uncovers the truth about dishonest image control
Explores the profit motives that influence faith-based music
Redeems the honest aspects of the industry & artists involved

We believe there is a need to fully explore, as objectively as we can, the history of how art, faith and business have converged over the past several decades.

BadChristian Media is a co-op producing and distributing podcasts, books, music, and more - all with the desire to have open, real conversations about faith, art and life. http://badchristianmedia.com
###
For more info on Emery, visit the JFH Artists Database.
For more info on As Cities Burn, visit the JFH Artists Database.
For more info on The Classic Crime, visit the JFH Artists Database.