ANNIE MOSES BAND HOSTS ANNUAL ANNIE MOSES SUMMER MUSIC FESTIVAL JULY 8 - 15
Event Marks 15th Anniversary of Popular Summer Music Festival,
A Performing Arts Intensive for Young Musicians

Band Spreads Message of Artistic, Spiritual Excellence Across America Through Annie Moses Foundation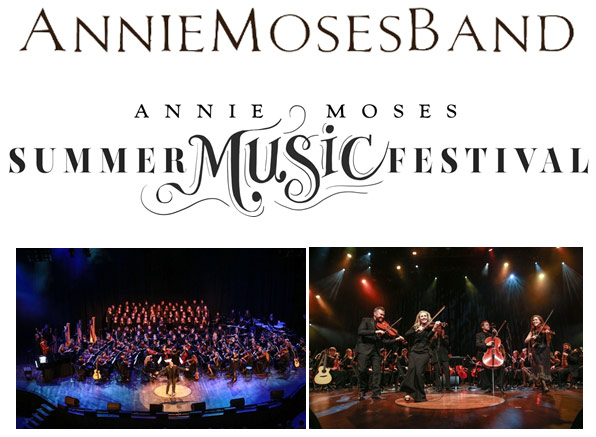 NEWS SOURCE: Hoganson Media
March 13, 2018
NASHVILLE, Tenn. – Nashville-based award-winning, Juilliard-educated Annie Moses Band, known for its impeccable artistry and genre-defying music, announces today that it will host its highly-anticipated annual Annie Moses Summer Music Festival this July 8 -15 in Franklin, Tennessee.
Offering exceptional instruction, as well as live performance opportunities at premier Nashville venues, the Annie Moses Summer Music Festival is a performing arts intensive for young musicians designed to give students life-changing experiences of real-world excellence, while building life-long friendships and taking their art form to the next level.
This flagship event, which has become the centerpiece for the band's vision for the arts and the mission of the Annie Moses Band's music education 501C3 non-profit – the Annie Moses Foundation, will be held at The Factory at Franklin, conveniently located just south of Music City. Celebrating its 15th year, the Annie Moses Summer Music Festival was founded by the Annie Moses Band, whose members write, direct and arrange the performances for the 200+ young performers who will gather to put on five shows over a single week.
The shows are genre-specific and include Jazz, Americana, Singer/Songwriter and Classical. This year's festival will feature the world-premiere of a brand-new Broadway-style musical by Robin Donica Wolaver and Bill Wolaver, Merry Christmas Uncle Scrooge! based on the Charles Dickens classic story and Broadway Show A Christmas Carol. The week's events will culminate with a final gala featuring all of the performers from the festival alongside Annie Moses Band and special guest artists to be announced soon.
"When we began investing in young performers almost 15 years ago, we never dreamed that Annie Moses Foundation would grow to be the extraordinary ministry that it is today," says Annie Wolaver Dupre, founder, lead singer and violinist of Annie Moses Band. "Being a musical family, we found that many families wanted to experience the joy of playing music together. Annie Moses Foundation was our answer – an artistic ministry that would give young musicians life-changing experiences of real-world excellence."
The Annie Moses Summer Music Festival takes a kaleidoscope of instruments and artistic disciplines and fuses them together in a series of professional shows through exceptional instruction from faculty that includes alumni from prestigious music programs such as The Juilliard School, Boston College and Belmont University. The Upper Division of the Annie Moses Summer Music Festival is for ages 11-21and offers Tracks of Study for instrumentalists, vocalists and dramatists. Each performer must choose a Track and submit an audition video. Based on their audition, students are cast in at least two live shows that are written and arranged by the Show Creators.
For ages 10 and under, the Younger Division educates children in voice, drama and a variety of instruments. Featuring a holistic approach to discovering and developing the artistic talents of each child, this program is a high-energy event that combines the excitement of musical theater with foundational technical study.
Furthermore, specialty courses of study include the Creator Program, which is geared to help aspiring composers and songwriters, and the Artist Development Program designed for aspiring music artists.
The Annie Moses Band believes passionately in the power of music and faith to unite families and communities, while equipping and empowering the next generation of musical leaders to elevate society through discipline, grace and beauty. Because of the band's life-long studies at classical conservatories and its time touring professionally, Annie Moses Band has experienced the power of music to inspire and a way to give back to communities across American through its Annie Moses Foundation. Annually, Annie Moses Foundation has granted $35,000-worth of scholarships to underprivileged students, much of it not underwritten.
"Too many musicians stagnate inside practice rooms, handicapped by low standards and poor information," laments Annie. "Performance opportunities are rare, especially in professional venues. The Annie Moses Summer Music Festival exists to change that. We know first-hand how powerful it can be to perform with professionalism alongside people you love. That's the experience we want to share with you.
"The arts are transformational to society," adds Annie. "The stages of the world open up to individuals marked by excellence. Our vision is to see those stages occupied by extraordinary artists driven by a love for the good, the true, and the beautiful - a love for God. We were created to create, and the Annie Moses Foundation programs are an opportunity for us to fulfill our purpose - together."

About Annie Moses Band
Genre-defying and unforgettable, the Annie Moses Band has been thrilling audiences for over a decade with a sweeping virtuosity and musical spirit that remains bright and poignant. Named for their great-grandmother, the all-sibling, Juilliard-educated ensemble enchants with electrifying instrumental flair, rich arrangements and shimmering layered vocals. Having graced the stages of Carnegie Hall and the Grand Ole Opry House, the band's Warner Bros. album "American Rhapsody" topped the charts while their popular PBS specials, "Christmas with the Annie Moses Band" and "The Art of the Love Song" have broken records and been nominated for an Emmy. These are true musicians of the highest caliber drawn together by the bonds of family, faith and love for their audience.
About the Annie Moses Foundation
The Annie Moses Foundation has impacted the lives of hundreds of students each year since the Annie Moses Summer Music Festival began in 2003. Students have come from over 30 states, as well as foreign countries to participate in the Annie Moses Summer Music Festival. The Annie Moses Foundation has awarded nearly $300,000 through the Annie Moses Summer Music Festival Scholarship Fund since 2010 and the Annie Moses Conservatory is pioneering a brand-new paradigm of music education, setting the standard for other programs around the US.
About the Annie Moses Conservatory
Annie Moses Conservatory, a mentor program for aspiring pre-college artists, specializes in solo instruction, commercial music theory, group performance and artist development. Led by the musicians of the Annie Moses Band, the Conservatory nurtures the unique identity of each artist and prepares them for professional level involvement in the world of the arts.
To view the official Annie Moses Summer Music Festival Trailer, go to https://youtu.be/puuzPkKRq2A.
For more information on or to register for the Annie Moses Summer Music Festival, visit https://anniemosessummermusicfestival.com/ and for all the latest information on Annie Moses Band, including music, touring, Annie Moses Foundation, etc., go to www.anniemosesband.com, Facebook, Twitter, Instagram and YouTube.
###