BREAKTHROUGH, THE SOPHOMORE LIVE ALBUM FROM CHRIS MCCLARNEY, DEBUTS TODAY, TOUTED AS "GENUINE" AND A "COHESIVE WORSHIP EXPERIENCE"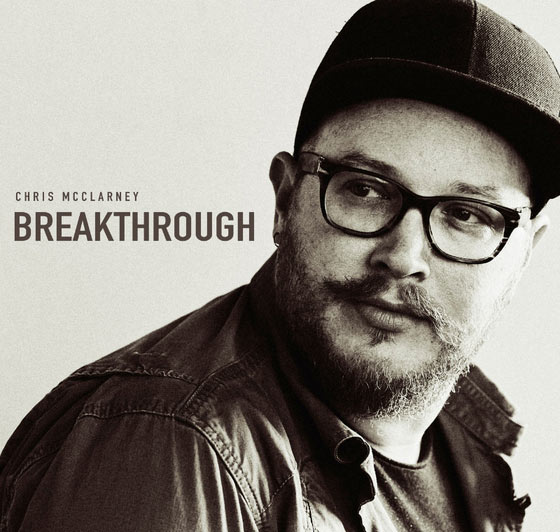 NEWS SOURCE: Merge PR
June 15, 2018
15 June 2018 - Nashville, Tenn - Breakthrough, the sophomore live project from Jesus Culture artist Chris McClarney, is out now (Capitol CMG). The ten-song album was recorded live in Sacramento, CA at Jesus Culture Church and is the follow-up to McClarney's critically-acclaimed 2015 debut with Capitol CMG/Jesus Culture Everything And Nothing Less.
Reviews have been coming in, touting McClarney's genuine vocals and beautiful melodies, and the songs as a cohesive worship experience, offering praise, hope and truth in Christ.
"If worship is a way of life, the artist's purpose is well-achieved in this album...McClarney intends for these songs to meet people where they are, whatever they're facing in life to remind them that there is hope, love, and shelter in Christ. Breakthrough is a collection of songs to be sung in the storms of life, offering truths and reminders that God is faithful in and through difficult times." - Jesus Wired
"With Breakthrough, listeners are sure to be satisfied and fulfilled. The songs...easily invite an attitude of worship and create a musical sanctuary for praising God. The melodies are beautiful and easy, and the vocals are true, genuine and perfectly on-pitch. The tracks, while each slightly different, complement each other well and form a cohesive worship experience. - The Christian Beat
_________________________
"Breakthrough is a collection of songs I hope people hear to help them overcome obstacles," McClarney shares. "Whatever is keeping them from finding joy and peace, I hope this album helps guide listeners to put their trust in God alone, that hope is in Him no matter the circumstance. I wanted to write songs that people can sing if they are going through a loss, divorce, a cancer diagnosis. And I also wanted songs that celebrate how good God is."
McClarney is best-known for penning such songs as "My One My All," "Yes And Amen," and "Your Love Never Fails," which has become one of the most popular songs in America's churches as reported in the TOP 25 of CCLI, and a No. 1 song on the Billboard Christian chart.
Along with appearing at conferences and youth camps, McClarney continues to tour around the U.S. and just returned from a trip to South Africa with Jesus Culture. For more information, please visit ChrisMcClarney.com
ABOUT CHRIS MCCLARNEY: Well-known for his powerful worship anthem, "Your Love Never Fails," as recorded by both Jesus Culture and Newsboys, Chris McClarney grew up in the church as the son of a youth pastor and met Jesus at a very young age. At just 14 years old he began leading worship for a small group, which then turned into full-time ministry in local churches and inner-city ministry across Nashville, Tennessee. His powerful debut LP with Capitol CMG, Everything And Nothing Less, was recorded live at the 2015 Jesus Culture Sacramento conference.
Chris McClarney currently resides in the Nashville area with his wife and three daughters.

"Breakthrough" Live Video
###
For more info on Chris McClarney, visit the JFH Artists Database.