VOCAL FEW RELEASE VIDEO FOR "STAY"
GRAND PRE EP COMING AUGUST 17TH
HOMECOMING LIVING ROOM TOUR ROLLS ON
Hear It Now at
VocalFew.com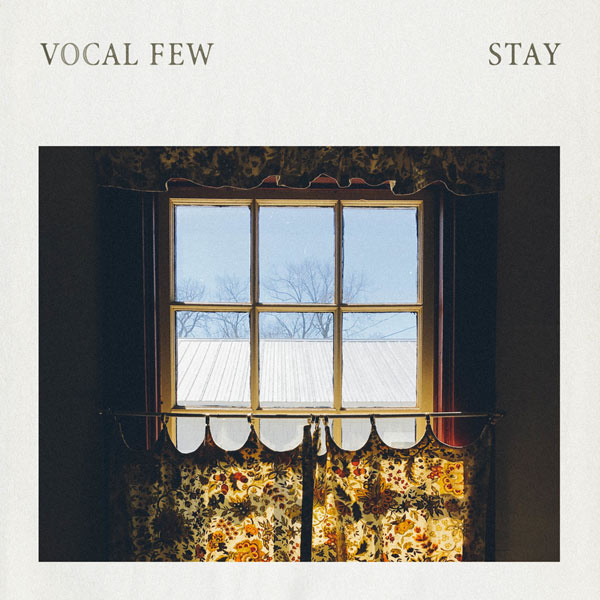 NEWS SOURCE: BC Music
July 16, 2018
Vocal Few have released the third song from their Grand Pre EP, coming August 17th.
A Story Behind Stay
We landed in Grand Pre, NS after two months of travel with our family. The idea of stopping was difficult for our psyche to process, as we had been moving, literally and figuratively, for almost two years. It had created a sort of mania in which we became dedicated more to the next hurdle than to each other.
Cracks in our relationship started to reveal themselves. We'd been moving out of necessity, placing small slights aside so we could continue to "function" (you can hear about this on a podcast). My small critiques and her small retreats added to the pressure we both bore alone, due to our inability to process these minor conflicts. It grew to a head, and I made a decision. I had to change the way I was interacting with time. I had to learn to be in the present.
I spent over a month waking at dawn to walk to the top of the hill near our house and watch the sunrise. After my walk I would write down what I saw, what I smelled, how I felt, what was different. The process of walking engaged all my senses, because I knew that after each walk I would need to fill at least a page of happenings, regardless of the fact that nothing "dramatic" occurred. It helped me to begin to return to the present, to stop looking ahead and sacrificing the current moment for some future goal. I began, slowly, to be able to engage with my kids, and most importantly, my wife. It was the process of learning to be in one place that birthed this song. The idea that while sometimes it's necessary to go, it's equally valuable to learn how to stay .
Our new album Grand Pre is bookended by these songs (the first track being Go, the last being Stay). These concepts run throughout, because these two modes of being created the tension that birthed the album.
Hope to see you soon,
Matt
Have a listen on:

Spotify
If you like high-res digital downloads, you can pre-order Grand Pre on Bandcamp at vocalfew.bandcamp.com
P.s. - Here's where we'll be this week and next:
@vocalfew
VocalFew.com
###
For more info on Vocal Few, visit the JFH Artists Database.