GRAMMY®-AWARD WINNING CASTING CROWNS RELEASES BRAND NEW SINGLE, "ONLY JESUS"
NEW ALBUM, ONLY JESUS, COMING THIS FALL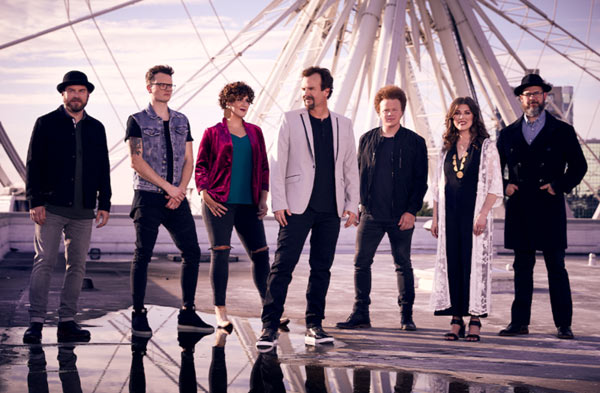 L to R :Chris Huffman, Josh Mix, Megan Garrett, Mark Hall, Brian Scoggin, Juan DeVevo, Melodee DeVevo

NEWS SOURCE: Merge PR
August 10, 2018
NASHVILLE, TENN. (AUGUST 10, 2018) GRAMMY-Award winning and multi-Platinum selling band CASTING CROWNS has released a brand new single, "Only Jesus." This song is the title track of the upcoming studio project to be released this fall. "Only Jesus" is available for purchase and can be heard at the digital outlets here.
"There's much talk these days about legacy," shares Casting Crowns' frontman Mark Hall about the new song. "How do we want to be remembered? The more I think about it the more I'm reminded that anything in me that's worth remembering are the things that Jesus has worked on, and is still working on in me. On my own I have nothing to offer the world, but Jesus does - so don't mind me. Jesus is the only name to remember.
The single is being released today at radio, and program directors are already speaking praises of "Only Jesus."
"Another song from Casting Crowns that will surely connect with listeners," states Todd Stach, Network Program Director, WAY-FM. "It sounds authentic, relatable… it's like a cry from the heart… and gives people a reason to listen to your station."
It has been more than two years since the award-winning group released their full-length album, The Very Next Thing (2016). It was this album that produced multiple radio singles including "One Step Away," "God of All My Days," and the personally poignant and GRAMMY-nominated song, "Oh, My Soul." True to their beginnings, Casting Crowns serves in and continues to be rooted in the local church. It is their true connection to their fans and listeners that has sustained this top-selling band who has surpassed more than 11 million albums sold.
Casting Crowns will wrap up their the summer tour dates where they've performed at various festivals and State Fairs on October 1st before heading straight into the last leg of "The Very Next Thing" tour, which kicks off on October 2nd with special guest I Am They. Casting Crowns will conclude their 2018 with the "It's Finally Christmas" tour with guest Hannah Kerr. Check out their tour dates for 2018 here: http://castingcrowns.com/tour/.
ABOUT CASTING CROWNS: Prolific CCM band Casting Crowns has achieved sales milestones with more than 11 million album sold including one RIAA 2x multi-Platinum album, five RIAA Platinum albums, two RIAA Platinum DVDs, seven RIAA Gold albums, four Gold DVDs, one RIAA Platinum certified single and five RIAA Gold certified digital singles. The band currently holds the position as Billboard's top-selling act in Christian music since 2007. ?
Casting Crowns has also been honored with four American Music Awards (out of seven total nominations), a GRAMMY Award for its 2005 album Lifesong, and seven GRAMMY nominations. In addition, the group has garnered 18 GMA Dove Awards and two Billboard Music Awards from 11 total Billboard Music Award nominations.
Casting Crowns' seven band members all remain active in student ministry in the Atlanta area and tour according to their local church commitments. Serving his 25 plus years in youth ministry, lead singer/songwriter Mark Hall maintains his role as the student pastor at Eagle's Landing First Baptist Church in Atlanta.
###
For more info on Casting Crowns, visit the JFH Artists Database.