NASHVILLE CHRISTIAN SONGWRITERS PREPS FOR NCS WEEKEND INTENSIVE SEPT. 27-29
Three-Day Event Promises Hands-On Song Coaching, Networking, and Inspiration from Established Industry Veterans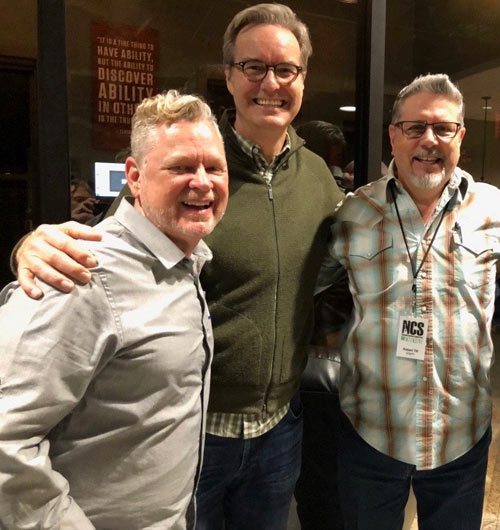 NCS Weekend Intensive attendees have the opportunity to connect one-on-one with industry pros, including (L to R): John Chisum (NCS Founder and Managing Partner), John Mays (Centricity Music Director of A&R) Robert Till (NCS Partner), pictured here at the Summer 2018 NCS Weekend Intensive. (NCS photo)

NEWS SOURCE: McCain & Co. PR
August 29, 2018
NASHVILLE, Tenn. (August 29, 2018) - Nashville Christian Songwriters (NCS), a coaching and resource company dedicated to empowering Christian songwriters worldwide, is prepping for its upcoming NCS Weekend Intensive, which will run from September 27-29, 2018, in Franklin, Tennessee. The three-day event is specifically designed to serve worship leaders, singer-songwriters, aspiring Christian music artists, and songwriters at any stage of their career who are passionate about making their songs more powerful, memorable, and more able to connect emotionally with listeners.
Attendees will enjoy three full days of intensive teaching, mentoring, and one-on-one song coaching with some of Nashville's finest music industry professionals. They will have the opportunity to work one-on-one with professional songwriters, publishers, and musicians, and they will attend some powerful, informative workshops that answer specific questions about songwriting and the state of the music industry today. Not only will attendees gain invaluable knowledge and have the opportunity to hone their songwriting skills, but they will get to meet "the right people," to connect with and rub shoulders with successful songwriters, artists, and industry professionals in a highly creative, fun, and inspirational environment, all designed to take their songwriting to the next level.
"The level of response we've had has been nothing short of inspiring! Our songwriters have been inspired, renewed, and re-energized to fulfill their calling to write amazing songs for Jesus and see His kingdom come in powerful new ways through their songs," says John Chisum, NCS Founder and Managing Partner. "I can't wait for the NCS Weekend Intensive this September. It's going to be amazing!"
Featured music industry professionals scheduled to serve at the event will include:
John Chisum - Veteran songwriter and former V.P. of Publishing for Star Song Media and Director of Song Development and Copyright for Integrity Media, and currently Managing Partner for Nashville Christian Songwriters.
Tom Jackson - World renowned Live Music Producer for hundreds of artists including Taylor Swift, Shawn Mendes, Lecrae, Francesca Battistelli, Casting Crowns, and many more. Learn more about Jackson at onstagesuccess.com.
John Mays - Director of A&R for Centricity Music (Lauren Daigle, Johnny Diaz, Andrew Peterson, Jason Gray, and all the great Centricity artists). Learn more about Mays at centricitymusic.com.
Cindy Morgan - Iconic CCM Artist and multi-award winning singer/songwriter. She will perform and share valuable songwriting insights and inspiration in a private attendee-only Friday night event. Learn more about Morgan at cindymorganmusic.com.
"Playing songs for the creative community of Nashville Christian Songwriters is a songwriter's dream gig," Morgan declares. "Their hearts and minds are so open and ready for anything you want to play or talk about. I absolutely love being a part of this community and look forward to being there in September for the NCS Weekend Intensive."
"NCS brings a frame to the picture of your gift with community, coaching, and strong resources," says recording artist Jared Anderson from Desperation Band. The international worship leader encourages aspiring singer-songwriters to 'Take hold of your next adventure with NCS.'"
"John Chisum is one of the best there is," adds multi-talented, Dove Award-winning worship leader, industry executive, songwriter and producer Don Moen. "He's drawing from years of experience as a successful music executive to develop Christian songwriters by providing practical tips and training through his organization, Nashville Christian Songwriters. I highly recommend NCS to anyone wanting to develop their skills as a Christian songwriter."
Attendance at the exclusive three-day NCS Weekend Intensive is limited to 30 persons, and is expected to be a sellout. To register, visit nashvillechristiansongwriters.com/product/ncs-weekend-intensive-sept-27.
To learn more about the NCS Weekend Intensive and Nashville Christian Songwriters, visit
nashvillechristiansongwriters.com.
About Nashville Christian Songwriters:
In early 2015, veteran Christian songwriter and publisher John Chisum launched Nashville Christian Songwriters (NCS), a coaching and resource company dedicated to empowering Christian songwriters worldwide. In a short time, NCS has grown to include its first 12-hour instructional video series, a roster of clients across America and Canada participating in its Mastering the Art & Craft of Christian Songwriting "bootcamp," a burgeoning Facebook presence with a highly active group called Successful Christian Songwriters (with over 5,000 members to date) and over 10,000 fans so far on the NCS Facebook fan page.

Chisum and his team also launched NCS MEMBERSHIP in June 2017 as a high quality,
members-only Christian songwriters community offering exclusive monthly content, song critiques, frequent master classes, and live events geared to fulfill their imperative to equip and inspire Christian songwriters worldwide to fulfill their calling to write world-changing Gospel-centered songs.
The flagship NCS podcast, The Song Revolution Podcast, is available on iTunes, YouTube, SoundCloud, podbay.fm, and on nashvillechristiansongwriters.com. The weekly show features interviews with artists, producers, industry personnel, and Chisum's own brand of teaching and encouragement for aspiring songwriters. Launched April 1, 2017, the show has already garnered over 50,000 downloads and is growing as each new episode is released.

To learn more about Chisum and Nashville Christian Songwriters, visit nashvillechristiansongwriters.com.
About John Chisum:
John Chisum is a veteran Christian music industry executive, internationally acclaimed worship leader and prolific songwriter.
The writer of numerous Top Ten and Number 1 songs, with more than 400 of his own songs appearing on records and in print, Chisum is widely known for his songs recorded by Christian artists including Don Moen, Ron Kenoly, Steve Green, Larnelle Harris, The Gaither Vocal Band, Truth, First Call, Dino Kartsonakis, Bob Fitts, The Cathedrals and on many of Integrity's Hosanna! Music recordings.
A long-time music industry professional in music publishing and artist development, he has served as Director of Song Development and Copyright for Integrity Media, and Vice President of Publishing at Star Song Media. He has also served as producer on over 200 recording projects.
With a heart to encourage believers, Chisum has traveled internationally, more than 1 million miles, leading worship and instructing others in the skills of worship leading and song writing.
A popular clinician in the area of worship for many years, Chisum has taught in a multitude of church settings across major denominational lines, in addition to many premier non-denominational venues such as The Gospel Music Association's Academy of Christian Music Arts, Christian Artists Seminar in the Rockies, Music California, Music Texas, Music Colorado, the Southern Baptist conventions of various states, and many more.
He has toured with Integrity's Seminars4Worship and served as a core instructor for Integrity's Worship Institute at The University of Mobile in Mobile, Alabama, and at Regent University in Virginia Beach, Virginia. He has also been a regular guest speaker at Liberty University for their Center for Worship.
As a recording artist, Chisum has released eight worship recordings distributed through Warner Brothers, Integrity Music, Pamplin Music, Martingale Music, and Firm Foundation Worship Ministries. He studied classical voice at the University of Memphis and holds a B.A. in Interdisciplinary Studies from The University of South Alabama (Mobile) and a Master of Arts in Worship Studies from Liberty University in Lynchburg, Virginia.
Chisum currently serves as Managing Partner of Nashville Christian Songwriters, a coaching and resource company that exists to empower Christian songwriters worldwide. He lives in the Nashville, Tennessee, area with Donna, his wife of 37+ years. To learn more about Chisum and Nashville Christian Songwriters, visit nashvillechristiansongwriters.com.
###