ANNIE MOSES BAND LAUNCHES ITS
EXCEPTIONAL WOMAN BRAND
Trinity Broadcasting Network (TBN) Set to Premiere TV Pilot October 16

NEWS SOURCE: Hoganson Media
October 10, 2018
NASHVILLE, Tenn. – Nashville-based award-winning, Juilliard-educated Annie Moses Band, known for its impeccable artistry and genre-defying music, announces today the launch of its EXCEPTIONAL Woman brand. This new brand will feature the women of Annie Moses Band and their families across multiple platforms, including a resource-filled website and blog, an online community newsletter, social media and a made-for-TV show, each with elements focusing on the importance of family, conversation, cooking, music and more.
Providing a natural platform for the women of Annie Moses Band to share their own unique life experiences of being "modern day" women spanning three generations, the purpose behind the EXCEPTIONAL Woman brand is to help other women find the blueprint of God's divine design for life in their own lives.
"Our music has taken us all over the world, from Carnegie Hall to the Grand Ole Opry," says Annie Dupre—founder, lead vocalist and violinist of Anne Moses Band. "You know us as singers, songwriters, musicians and performers – but in our everyday lives, we are wives, mothers, sisters and grandmothers. Finding the blueprint of God's divine design for life may not be what the world expects from the modern woman, but we want a life that's the exception to the rule. We want the life of an 'exceptional woman.'"
As part of the new brand's launch, Trinity Broadcasting Network (TBN) will premiere the "Exceptional Woman" TV pilot Tuesday, October 16 (4:30 p.m. EDT / 1:30 p.m. PDT), with repeat broadcasts on Wednesday, October 17 (11:00 p.m. EDT / 8:00 p.m. PDT) and Thursday, October 18 (1:00 p.m. EDT / 10:00 a.m. PDT). For local listings and channels, viewers may visit WWW.TBN.ORG/WATCH/CHANNEL-FINDER. More information on the show may be found at https://vimeo.com/289362655/2a59f3cc07 and https://www.tbn.org/programs/exceptional-woman/about.
Synopsis for Exceptional Woman: The show gives an inside look into the home life of Annie Dupre, violinist and lead singer of the Annie Moses Band. Annie, also a wife and mother of three, along with the women of her family, take on the challenges of modern life while exploring a wide variety of issues, including the value of motherhood, the joy of relationship and the art of homemaking. Through colorful vignettes, good food and Biblical wisdom, these women share their experiences with a keen sense of humor and a vibrant faith.
"God is seeking a remnant, a coalition of women who will exercise a maturity that flies beyond their social conceptions, whose hearts are pure and pliable, who will surrender themselves to Him, body, mind, will and emotion," says Annie Moses Band founder and songwriter Robin Wolaver. "He is calling us back to our beginnings, back to the edicts of Eden, back to the ancient paths that lead us home. This is where the journey of 'Exceptional Woman' will take you."
For more information on EXCEPTIONAL Woman and all the latest news from Annie Moses Band, including music, touring, Christmas with the Annie Moses Band Tour, Annie Moses Foundation, etc., visit www.anniemosesband.com, Facebook, Twitter, Instagram and YouTube. Watch for more details on the band's new album, Under the Tree of Life, slated to release spring 2019.
About Annie Moses Band
Genre-defying and unforgettable, the Annie Moses Band has been thrilling audiences for over a decade with a sweeping virtuosity and musical spirit that remains bright and poignant. Named for their great-grandmother, the all-sibling, Juilliard-educated ensemble enchants with electrifying instrumental flair, rich arrangements and shimmering layered vocals. Having graced the stages of Carnegie Hall and the Grand Ole Opry House, the band's Warner Bros. album "American Rhapsody" topped the charts while their popular PBS specials, "Christmas with the Annie Moses Band" and "The Art of the Love Song" have broken records and been nominated for an Emmy. These are true musicians of the highest caliber drawn together by the bonds of family, faith and love for their audience.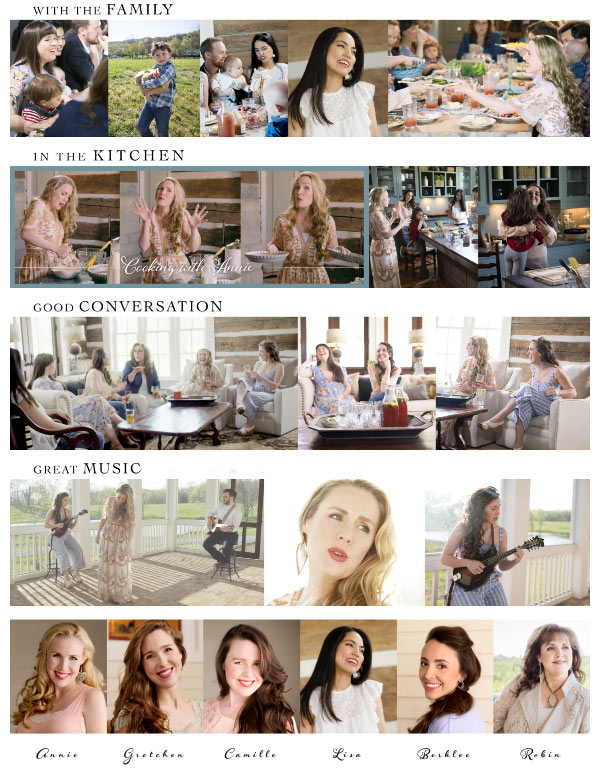 ###