Christian Singer/Songwriter Lauren Béa to Release Debut Album "Wildflower" Oct. 26th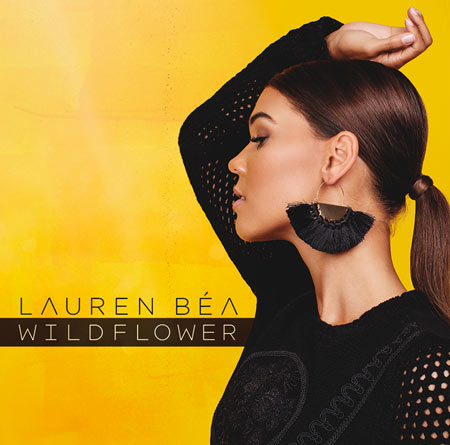 NEWS SOURCE: Bozeman Media
October 19, 2018
Nashville, Tenn. (Oct. 15, 2018) --- Christian singer/songwriter, Lauren Béa (Bay-ah), will release her debut album, Wildflower, Oct. 26th. The project was produced in Nashville by Otto Price (for King & Country, BarlowGirl, GRITS), with Béa co-writing all 11 songs on the record with Price and Krissy Nordhoff. Béa's powerful vocals showcases each song on the project, with lyrics that are written about her life, faith and family. The album was named Wildflower that comes from Luke 12:2, Consider the lilies how they grow: they toil not, they spin not; and yet I say unto you, that Solomon in all his glory was not arrayed like one of these. The album will be available at all digital music outlets on Oct. 26th.
"I'm very excited about releasing my new album, as it has a message for women to believe that they were created perfect in God's image," said Béa. "I grew up in a bi-racial family and was bullied in school, which led to me feeling empty, unworthy and not enough. The most beautiful thing we can do is embrace the fact that we are chosen and loved unconditionally by the creator of the universe. Wildflower is an anthem of truth, and I hope it will bring support and comfort to women everywhere."
Besides being a dynamic entertainer, Béa's intimate songs connect with a wide audience. Women have related to the title track that is an anthem to empower females to know they are beautiful with just how God made them. "Everything" is a deeply personal song for Béa, as she wrote it after losing a child during her pregnancy earlier this year. And then there are the songs with a rap vibe, "Treasure" and "Love Me." Of course, with any of her songs they always glorify Christ through such tunes as "What a Beautiful Name," "Trust in You," and "Sovereign Still."
Béa also uses her voice for Christian women's conferences around the country, where she ministers and performs for the attendees, with recent appearances at the Bloom Women's Conference at Grace Covenant Church in Chantilly, Va., the Set an Example conference for the Women of the NFL in Atlanta, Ga., and Equipped by Faith in Dallas, Texas. Her events have been called "inspiring" as she brings messages of empowerment, identity and diversity.
The Christian faith and music have always been a part of Béa's life, as her father was an evangelist. The artist started singing when she was six years old and was active as a worship team member at area churches throughout most of her life. Born in Phoenix, Ariz. and raised in a small Texas town near Dallas, Béa enrolled at the University of Texas at Austin once she graduated from high school. It was at college where Béa met her future husband, Keenan Robinson, who went on to become an NFL linebacker. After they married, the couple kept Austin, Texas as their home base while they traveled to Robinson's football cities. However, music remained at the center of Béa's career plans, and it was when she was introduced to Otto Price that her first album, Wildflower, was recorded in Nashville. Torn between living in Austin or Nashville, they decided to take the leap and move to Nashville. They now live in Music City with their two-year-old daughter, Kaidence.
For more information on Béa visit her online at website, Facebook, Twitter and Instagram.
Wildflower Track Listing:
Sovereign Still
Undefeated
Wildflower
Everything
Love Me
Treasure
Trust In You
What If We Loved
Nothing Less
What a Beautiful Name
###