Singer/Songwriter Mallary Hope Reveals Heart-Felt Christmas Three-Track Single, To Release Nov. 9
Brand-New Single, "Me," To Come on Heels of Holiday Release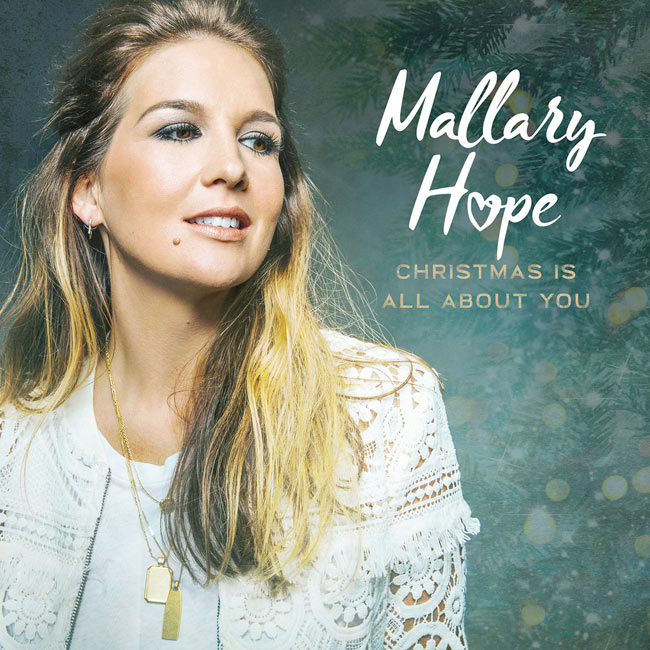 NEWS SOURCE: The Media Collective October 30, 2018

Nashville, Tenn. (Oct. 30, 2018) – Singer/songwriter Mallary Hope has unveiled her heart-felt Christmas three-track Single, Christmas Is All About You. The brand-new title track invites listeners to press pause during the busy holiday season, and to experience the deeper meaning of why we celebrate. An expectant mother of two, the project also includes Hope's deeply personal rendition of the well-known "Just A Baby (Mary's Song)," and the equally moving "Mary, Did You Know."

On the heels of the Christmas release, Hope will also be unveiling a brand-new single, "Me." Inspired by her own desire to abandon the notion of perfection, Hope encourages others to do the same in the uplifting track.

"I wrote 'Me' with the hopes that it could inspire everyone all over the world to see the beauty in who God created them to be," said Hope. "It's a special reminder (even for myself), that I don't have to change who I am or conform to the world to fit in. I am loved and am enough just the way I am."

Set to release digitally on Nov. 16, "Me" will impact radio in early 2019. Complementing the song, Hope has invited fans to share their stories of how "Me" has impacted them personally to be used for her upcoming music video.

About Mallary Hope:
Singer/songwriter Mallary Hope is a Georgia native who began her career writing songs for some of the biggest names in country music including Faith Hill, Lauren Alaina, Danny Gokey and Jana Kramer. It was during her first pregnancy that Mallary had a catalytic moment and felt a calling to use her gifts and her own voice to tell others about God's love. Since then, she has sung her songs for thousands, sharing the stage with some of the biggest names in Christian Music on the Winter Jam Tour this past year.

Get Connected to Mallary Hope:

Facebook: https://www.facebook.com/mallaryhopemusic/
Instagram: @mallary_hope
Twitter: @mallaryhope
Website: https://www.mallaryhopemusic.com/, http://oktobe.me





###

For more info on Mallary Hope, visit the JFH Artists Database.