DREAM Records Announces Addition of Artist HGHTS to DROM Label Imprint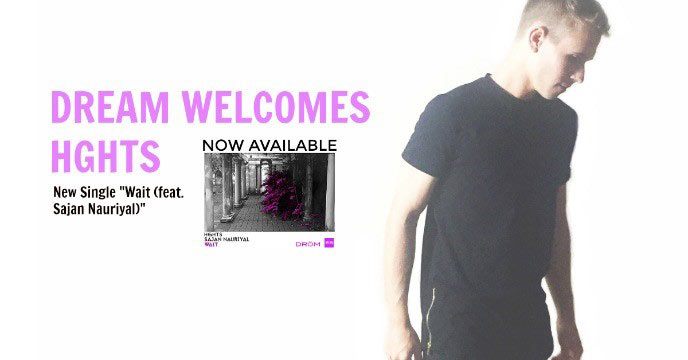 NEWS SOURCE: DREAM Records
November 2, 2018
HGHTS is one of those rare diamonds in the rough that you don't find every day. The label announced today, "We are proud to announce that DREAM LABEL GROUP has signed him to our DRÖM division. His first offering is called "Wait." HGHTS tag teamed with up and coming artist Sajan Nauiryal (who also appeared on Chris Howland's "Way Up") to delivery a fun electric pop track full of reassuring lyrics of hope and faith. Don't miss this one."
You can follow HGHTS on Facebook | Instagram | YouTube | Twitter | Soundcloud
ABOUT HGHTS:
Born into a family of musicians, homeschooled, and growing up all over the U.S., HGHTS quickly learned the importance of expressing emotions through music. As an award winning classical pianist, he began composing at the age of 10 and fell in love with combining classical and jazz progressions with electonic production and pop melodies. Currently, HGHTS serves in the U.S Navy while at the same time running a small record label with his business partner. He is most well known for his remixes of tunes by popular Christian artists. Writing every day, he plans on relocating to Los Angeles in 2019 to pursue his career as a songwriter, artist and producer.
ABOUT DRÖM:

The story of DROM is one built in a pure passion and love for EDM music for years. Founded by Lance Brown, and Dave Hanley, DROM (which is Swedish for "DREAM") launched in early 2014. Creating it's own sub-culture and signing premiere talent (Matthew Parker, David Thulin, Toxic Emotion, Chris Howland, Jeremy James Whitaker and HGHTS), DRÖM is forging ahead with great dance music for everybody to listen to.
###