Comedian and Internet Sensation John Crist Announces New "Human Being Tour" Dates for Spring 2019 Following Wildly Successful Fall 2018 Tour
Tour to Hit Over 30 Markets Coast-to-Coast Including Atlanta, Boston, Las Vegas, Nashville and More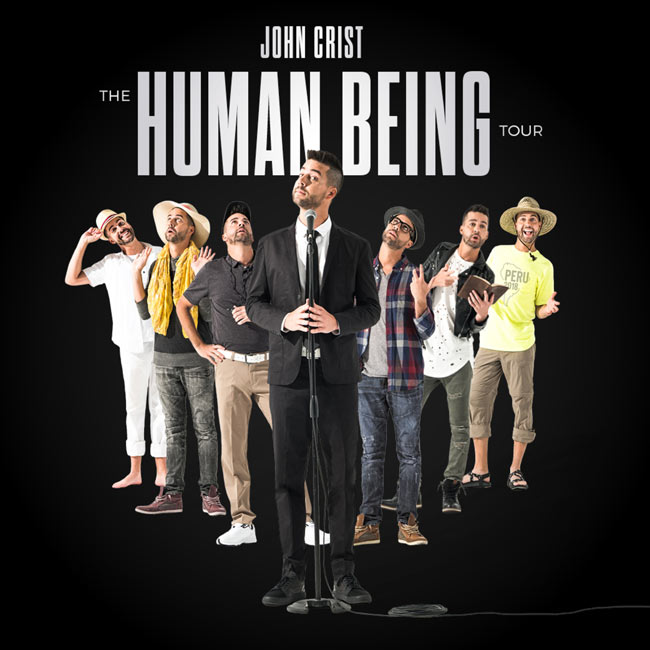 NEWS SOURCE: The Media Collective
November 12, 2018
Nashville, Tenn. (Nov. 12, 2018) - Comedian and internet sensation John Crist has announced the second leg of the "Human Being Tour" for Spring 2019. The tour, in partnership with Premier Productions, is a follow up to Crist's wildly successful Fall 2018 tour, which completely sold out in over 40 markets across the US, and generated the addition of 11 matinees. Each night will feature Crist along with special guest comedians Dustin Nickerson, Mike Goodwin, and Aaron Weber (varies by date). Known for viral videos like "Millennial International," "Lady Who Has a Bible Verse for Every Situation," or "Road Rage in the Church Parking Lot," Crist will be integrating never-before-seen videos and brand-new material for an unforgettable evening.
"I'm so excited to be taking the 'Human Being Tour' on the road again to a ton of brand-new cities! With special guest comedians, new material, and never-before-seen videos, this will be a comedy show unlike anything you've experienced," said Crist. "If you've seen a John Crist show, you're gonna' want to be at this one. And if you've never been or have a friend that's never seen the live show, for SURE invite them!"
The "Human Being Tour" Dates:
*All dates subject to change, openers to vary by date
February
28 – Cincinnati, OH

March
1 – Columbus, OH
2 – Erie, PA
3 – Cleveland, OH
7 – York, PA
8 – Boston, MA
9 – Baltimore, MD
10 – Charlotte, NC
14 – Raleigh, NC
15 – Augusta, GA
16 – Dothan, AL
17 – Evansville, IN
21 – Las Vegas, NV
22 – Bakersfield, CA
23 – Oakland, CA
24 – Santa Barbara, CA
28 – Vancouver, BC
29 – Kelowna, BC
30 – Calgary, AB
31 – Edmonton, AB
April
4 – Fargo, ND
5 – Kansas City, KS
6 – Bentonville, AR
7 – Tulsa, OK
12 – Fort Wayne, IN
13– Nashville, TN
14 – Atlanta, GA
May
2 – Rochester, NY
3 – Saginaw, MI
4 – Indianapolis, IN
5 – Huntington, WV
9 – Lake Charles, LA
10 – Mobile, AL
11 – Valdosta, GA
About John Crist:
With over 500 million video views, comedian and viral sensation John Crist is the next big thing in standup comedy. Whether you know him from viral videos like "Millennial International," "Lady Who Has a Bible Verse for Every Situation," or "Road Rage in the Church Parking Lot," Crist has solidified his comedy prowess with sold out shows from coast to coast, highlighted by recent television appearances on Live at Gotham and Laughs on Fox. Crist's comedy has been featured on ESPN, Sports Illustrated, USA Today, Buzzfeed, and Fox. He's shared the stage with Dave Chappelle, Jeff Foxworthy, Seth Meyers, Adam Carolla, Trevor Noah, Tim Hawkins, and more.
About Premier Productions:
Pollstar Magazine ranks Premier Productions as the largest producer of live Christian events both nationally and internationally. Over 18 million people have attended a Premier event in over 4,000 concerts worldwide. Premier promotes Tours for Hillsong UNITED, Hillsong Worship, Young & Free, Kari Jobe, Jesus Culture, Lecrae, Lauren Daigle, Gaither Homecoming, Sadie Robertson, The Newsboys, comedian John Crist, Rend Collective, as well as their annual Winter Jam Tour Spectacular and OUTCRY Tours. Premier Festivals promotes 10 of the largest Christian Festivals in the U.S., and over 80,000 passengers have sailed with them through their Cruise Company.
###