JOHN WALLER RELEASES FIRST NEW ALBUM IN THREE YEARS,
EXPLOSIONS OF LIGHT, FROM RADIATE MUSIC JAN. 25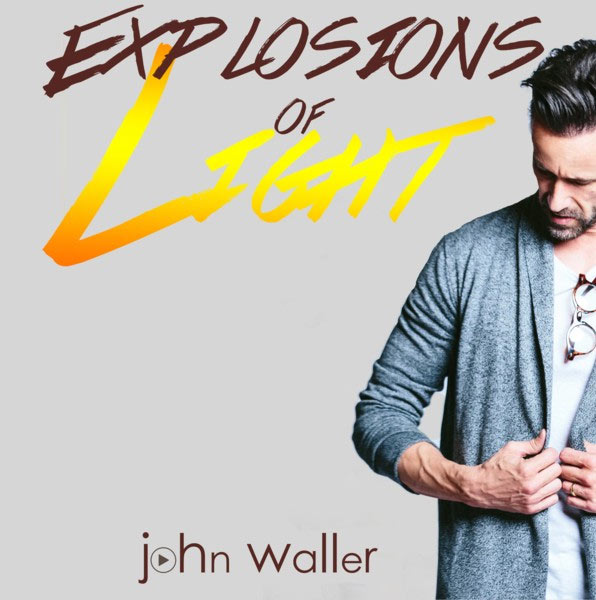 NEWS SOURCE: Hoganson Media
December 17, 2018
Recording artist and songwriter John Waller, known for such inspiring hit singles as "Crazy Faith" (featured in the hit box office film, War Room), "While I'm Waiting" (featured in 2008's No.1 independent film, Fireproof), "As For Me and My House," "The Blessing" and many more, releases his first new album in three years, Explosions of Light, on Radiate Music Jan. 25.
Produced by GRAMMY-nominated, two-time Dove Award-winning "Producer of the Year," Ian Eskelin, the new album comes after a season of renewal for Waller.
"After touring extensively for 10 years straight, I settled into a rut. I began to survive instead of thrive. Everything I said from the stage was something God did in the past, but hardly ever what God was doing NOW," John admits.
Following this period of exhaustion, isolation and even depression, Waller had the opportunity to return to his roots as a worship leader. At the beginning of 2018, he moved with his wife and nine kids (including three adopted children) to Yuba City, CA, accepting a position as worship pastor for the congregation at Hope Point Nazarene.
"This has been a huge change for us, but we could not be more happy," reflects Waller. "'Explosions of Light' was the first song birthed here in California. It was written on my worship team's first writers' retreat. Inspired by something I heard Louie Giglio say once, 'Whenever we say things like 'hallelujah' there is literally an explosion of light into the spirit realm!' I hope this song, somehow through the hand of God, might explode into the church and prepare the way for many worship songs to come!
"I don't take for granted the privilege of getting to make music," continues Waller. "After every album I do, I wonder if it could be the last, so I really make sure I put it all out there, investing my whole heart. This is by far the most upbeat and best album I've ever done."
Explosions of Light features not only the lighthearted hit radio single and video, "Awakening (aka The Coffee Song)," which led Waller to launch Crazy Faith Coffee last year, but also the serious, gut-wrenching songs for which he is best known.
"'Mine' is about my kids and the Father's love for His children," says Waller. "The second verse literally talks about an incident where my 13-year-old daughter had a crush on and was texting with a 16-year-old boy. When I found out, I took that phone away. She doesn't understand the reason I get all like Liam Neeson, but that's a daddy's love for his little girl."
In the upbeat track, "You Say I Am," Waller declares that "because you ARE who You say You are, who I thought I was is blown apart. BECAUSE You are who You say You are, I am who YOU say I am."
The full Explosions of Light track listing follows:
1. You Say I Am
2. Explosions Of Light
3. Awakening
4. Epic
5. Mamas Prayers
6. Mine
7. Comeback
8. When God Says No
9. Good News
10. I Choose You
11. Here's My Yes
From his early days leading the critically acclaimed band, According to John, to his impactful ministry as a solo artist, John Waller has continually used his gifts as a singer and songwriter to inspire, educate and encourage the body of Christ.
"God has definitely taught me to completely live by faith," Waller says. "God always provides. He always comes through, and one of the biggest things I've learned is that God's plan for each one our lives is not going to look like someone else's. He has a unique plan for every individual."
For more information on John Waller and his music, visit johnwalleronline.com, Facebook, Twitter, Instagram and YouTube.
About John Waller:
Georgia native John Waller first caught the attention of the Christian music community as frontman for the band, According to John. When the group disbanded, Waller and his wife Josee moved to Colorado where they helped launch Southlink Church. Though he had given up his aspirations as a recording artist, he began writing songs at Southlink that led to a new chapter in his ministry and signing a record deal with Beach Street Records/Provident Music Group. His major label solo debut, The Blessing, introduced a wider audience to Waller's music, earning a Top 10 "Faces to Watch" nod by Billboard (2007). He followed his debut with While I'm Waiting, which included the poignant title track featured in the Fireproof film, the No. 1 independent film in 2008. The music video to the title track of his 2011 album, As for Me and My House, has received over 4.5 million views on YouTube to date while the title track of his 2015 release, Crazy Faith, was featured in the US News & World Report-lauded film, War Room. While not in the studio working on new music with Ian Eskelin or on tour, Waller can be found with his wife and nine children residing in Yuba City, CA.
About Radiate Music:
Founded by Ian Eskelin, Radiate Music launched summer 2015. Eskelin's 20-plus-year resume in the music business, ranging from being a recording artist to a record executive, gives him a unique perspective in partnering with artists who are passionate about impacting culture with music. Eskelin, who has recorded more than 50 Top 10 singles in the United States alone, including 20 No. 1 songs, and whose songs have been licensed for use by ABC, NBC, CBS, ESPN, and many feature films, is looking to break additional ground with Radiate. In addition to John Waller, Radiate's artist roster includes Natasha Owens, About A Mile, JJ Weeks, Inspiration Worship, Pearl City Worship and Aaron Bucks.
###
For more info on John Waller, visit the JFH Artists Database.