Sidewalk Prophets Wraps Successful Inaugural "Great Big Family Christmas Tour," Raising Thousands Of Dollars And Donating Numerous Gifts For People In Need
An at-capacity "Great Big Family Christmas" tour stop

NEWS SOURCE: Merge PR
December 19, 2018
19 December 2018 - Nashville, Tenn - Sidewalk Prophets just wrapped their inaugural "Great Big Family Christmas Tour," hitting nine markets throughout Ilinois, Ohio, Michigan, Maryland, Pennsylvania and Minnesota, while selling out four of the dates. With such a successful tour, the band is poised to continue this Christmas tour tradition for years to come.
Concertgoers heard holiday classics along with a few of the band's originals from their 2013 release Merry Christmas To You, such as their No. 1 smash "What A Glorious Night" and the top 5 hit "Hey Moon," and the band also performed several of their notable radio hits. Partnering with Olivet Nazarene University, the tour featured student musicians who were dubbed as the "Great Big Family Band," adding even more energy and excitement throughout each night.
When the tour was initially announced in the fall, the band made a promise that each evening on the holiday fun-filled music event would be joyful and interactive, as well as offer the opportunity to give back to someone in need in the area. The tour accomplished that very promise, which turned out to be bigger than anyone expected.
At every show, each concertgoer received a Little Debbie treat while throughout each evening surprise gifts were given out to audience members such as big screen TV's and $500 gift cards. One of those very special surprises was a signed World Series baseball from Kris Bryant of 2016's winning team the Chicago Cubs.
The biggest moment of every night came at the end of the show where the band took up an offering, which would then be given to someone in need within the community. Over the course of the nine shows, the band ended up raising more than $32,000 in donations.
A very special moment was captured during the Bourbonnais, IL tour stop. In partnership with radio station Shine.FM, that evening's offering was for a community member who was a victim of domestic violence, experiencing a very traumatic incident that threatened her life and her entire family. An astounding $8,000 was raised that night for her and her family to help rebuild their lives. The band, along with the entire audience of 1,300 people, surprised her after the show to sing her Christmas carols and deliver the donation in person.
Since the tour wrapped, numerous fan comments have been pouring in about the show, with many sharing it was one of the best concerts they've ever attended. Here are just a few of the comments the band has received:
"Went to the concert in St. Cloud & it was AMAZING!!! Had SO much fun & loved every minute of it!" - Amy
"What an experience...was amazing. God was in the house. I needed it. Am going through a very rough time in my life...you guys gave me hope." - Tina
"I would say it was one of the best concerts I have ever been to...Personally I enjoyed it more than the Trans Siberian Orchestra." - Renee
Dave Frey, lead vocalist for Sidewalk Prophets, concludes, "The first year of this tour has truly set the bar high for future 'Great Big Family Christmas' tour stops. It was an absolute delight to see the smiles on the faces of the audience as we worked hard to make them feel as special as they have made us feel over the years. We can't wait to do this all over again next year and to make many more Christmas touring memories for years to come!"
2018 has been quite a year for Sidewalk Prophets. After a bus trailer fire earlier this year where the band lost all of their gear, they were able to get back on their feet thanks to their dedicated fanbase, which donated more than $100,000 so the band to obtain new equipment and continue touring. They are beyond grateful to their fans and for the unending support they've received these past few months, and were thrilled to be able to continue touring and take their "Great Big Family Christmas Tour" to cities around the country this season. The band will soon head into the studio to record their first album in three years, slated to release in spring of 2019.
About Sidewalk Prophets: Dove Award-winning Sidewalk Prophets are a band who strive diligently for excellence in all things. Formed on the campus of Anderson University and built around vocal powerhouse and pop culture nerd Dave Frey, the band has sold over 500,000 albums, 1.5 million digital singles, played over 2,000 shows translating to being in front of 2.5 million fans, and garnered five number one singles and eight top five radio hits, such as their current hit, "Come To The Table." The band has received over 11 million YouTube views, and been nominated for a Billboard Music Award as well as four Dove Awards, winning one - all over the course of their three Fervent Records albums. Sidewalk Prophets are a band known for spending the majority of their time on the road where they are passionate about connecting with their audience on a personal level.
For further information and tour dates, please visit SidewalkProphets.com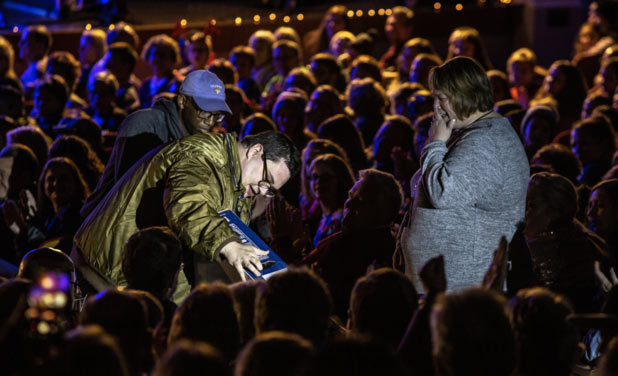 A fan receives a very special surprise given by lead vocalist Dave Frey
###
For more info on Sidewalk Prophets, visit the JFH Artists Database.