ACCLAIMED RECORDING ARTIST & AUTHOR JEAN WATSON PENS TRANSFORMATIONAL DEBUT BOOK, EVERYTHING CAN CHANGE IN FORTY DAYS
Singer/Songwriter/Author Extols Return to Simplicity and Surrender in her Quest for a Closer Walk with Christ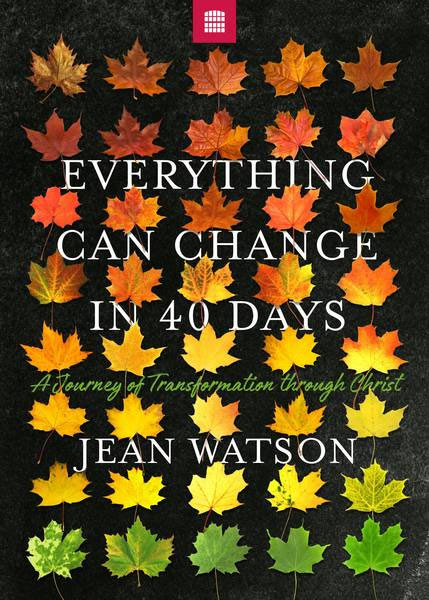 NEWS SOURCE: McCain & Co. PR
January 28, 2019
Nashville, Tenn. (January 28, 2019) - Internationally acclaimed singer/songwriter/recording artist Jean Watson has added author to her list of creative accomplishments. Watson's debut book, Everything Can Change in Forty Days: A Journey of Transformation in Christ, recently released by Franklin, Tennessee, based Seedbed Publishing. Designed to be used as either a personal daily devotional, or as the basis for a small group study, Watson says she wrote the book out of frustration with her own lack of spiritual growth in her Christian life.
"Over the years, I learned that transformation in Christ comes, not as we try harder, but as we learn how to surrender to Him more," says Watson. "As I began to live my life for the Lord and not for me, I saw miracles in my personal life and in my ministry around the world. Last year, I decided to write about what I had seen God do. The result was Everything Can Change in Forty Days. It is my hope that through my testimony and encouragement, many will find hope to believe that through Christ, everything can change!"
The 40-chapter book is conveniently divided into four sections, with the first two focusing on learning how to get "unstuck" in life. "I share my own story of healing and transformation, going from a place of brokenness and despair to one of fulfillment," Watson explains.
The last two sections of the book encourage readers to live a lifestyle of worship, focusing on allowing Christ to live through us (Galatians 2:20). "In these two sections, I share stories of how the Lord has worked through me when I least expected it," adds Watson.
"In Everything Can Change in Forty Days, author Jean Watson leads readers through a deeply personal journey into her Spirit filled life," says Andrew Miller, Director of Publishing for Seedbed. "Over many years, Jean has grown to rely on the Lord in profound ways and has seen Him work miraculously in countless incidents. As you read of her joyous ongoing intimacy with the Spirit, you can easily draw the conclusion that her anointed gifts of music are all part of a the whole of a beautiful life--and an evangelist's heart to lead others into the radiant life she has discovered."
Watson still considers herself first and foremost a musician and notes that writing her first book, though a labor of love, was not something that came easily at first. "I knew I was supposed to write this book," she says, "but it was not an enjoyable process for me. Starting in the middle of January, I sat by the fireside and wrote for about forty days straight. My eyes burned with fatigue, and by the end of the evenings my wrists hurt from typing. Every night I would tell my husband, 'This is like childbirth--I can't go forward, but I can't go back!' There was no stopping until the forty chapters were written. It was one of the most challenging accomplishments of my lifetime, but I am so glad I pressed on and finished it."

Everything Can Change in Forty Days: A Journey of Transformation in Christ is available internationally in trade paperback and all major e-book formats from online retailers such as Seedbed.com, Amazon.com, BN.com, and Kobo.com.

Watson also recently unveiled her newest musical project, SACRED, which was produced by multi-Grammy & Dove Award-nominated contemporary Christian music pioneer Billy Smiley (White Heart, Union of Sinners & Saints, Margaret Becker) for Northern Shore Productions. SACRED includes 10 ancient songs of the Church, brought to life by Watson's ethereal, Celtic-flavored musical stylings, and embellished with guest performances from the likes of guitar maestro Phil Keaggy, cellist Matt Slocum (Sixpence None the Richer), and legendary vocalist Matthew Ward (2nd Chapter of Acts).
For more information on Watson, Everything Can Change in Forty Days, and SACRED, visit jeanwatson.com.
About SACRED:
"I have always dreamed of recording a 'hymns' project, but I never imagined that my dream would be fulfilled in such grand style," says Watson. "Producer Billy Smiley caught my vision to set ancient and modern hymns in a 'Celtic Woman' style, and amazing artists Phil Keaggy, Matt Slocum, and Matthew Ward graciously added their talents. The result was literally SACRED--a powerful worship experience that I can't wait to share with the world!"
"Jean and I have been working together for quite some time, and this has all culminated into one of the most exciting projects I have ever been a part of with her," adds Smilely. "SACRED brings the old and the new together in such a way that everyone can be touched when they hear this special music."
SACRED expands on the ethereal, Celtic-flavored musical direction that has been so prevalent in Watson's previous work, and pushes the boundaries even further to embody the world music sound her fans have been clamoring for. Yet Watson refuses to be boxed in by artificial constraints, and adds a multitude of fresh new sounds that will no doubt surprise and delight longtime fans, and create new ones along the way.
For example, the opening track, "Ubi Caritas/Gather Us In," launches with a haunting, lyrical Gregorian Chant, undergirded by lithe piano and understated strings. It's not a stretch to say most people are familiar with "The Doxology," known by elder generations as the "Old 100th." But it is unlikely anyone is familiar with more than the single verse commonly sung in contemporary worship services. And it is equally unlikely that anyone has heard it with the fresh twist Watson puts on it. "Prepare the Way," with its driving percussion and unmistakable Irish-inflected melody, was inspired by the classic hymn, "Lift Up Your Head, Ye Mighty Gates." Watson re-imagines another centuries-old hymn, "I Heard the Voice of Jesus Say," into a yearning, soaring Celtic aria featuring Cellist Matt Slocum (Sixpence None the Richer). The graceful, lyrical "St. Patrick's Breastplate," based on the well-known Lorica of St. Patrick, expresses Watson's love for the people and land of Ireland. An 18th century poem by Richard Hutchins was the inspiration for the delightfully whimsical "Jesus Christ the Apple Tree," which equates Christ with the Tree of Life.
The unmistakable voice of Matthew Ward (2nd Chapter of Acts) graces an updated version of the beloved hymn, "Joyful, Joyful, We Adore Thee." "Fairest Lord Jesus" takes on a wistful charm as Watson's evocative vocals are enhanced with sweet violins and the unmatched guitar artistry of Phil Keaggy. Celtic whistles and pipes set the mood for Watson's pristine rendition of "Holy, Holy, Holy." Gentle, lilting piano trills encourage listeners to join in as Watson implores, "How Can I Keep from Singing?" The sole entry on the project that doesn't predate the 20th century is the bonus track, an instrumental piece drawn from Leonard Cohen's melancholy contemporary hymn, "Hallelujah."
"I am thrilled to be able to share these wonderful older songs of the Church with a new audience," says Watson. "The words are so rich, and the message so powerful. I hope the music will reach hearts that may not have yet been impacted with their story of grace, love and mercy."
About Jean Watson:
Born into a musical family, internationally acclaimed singer/songwriter and classically trained violinist Jean Watson's classical training began when she was still a young child. Early on, she displayed an affinity for the violin, but as time passed she became equally recognized for her wistful, ethereal vocals.
As an adult, music was set aside for Watson to focus on her responsibilities as a wife and mother. Sadly, her marriage ended in divorce and she found herself in a time of deep depression and hopelessness. At her lowest point, she cried out to God. She experienced a remarkable breakthrough when her landlord gave her rent money back and said she needed to record an album. The rest, as they say, is history.

A fan favorite throughout the UK, Watson can be heard worldwide on UCB Radio Ireland where she hosts a daily inspirational radio program, Jean Watson, which she records from her Michigan home studio. Watson has logged thousands of miles traveling the U.S. and the world to perform in churches, prisons, coffee houses, homeless shelters and concert halls. When she is not on the road, she plays violin in the Kalamazoo Symphony Orchestra.
Watson, who has been honored four times as the Best Female Praise and Worship Artist USA by the U.K. Christian Music Alliance, has performed on CBN's The 700 Club, TBN's Praise, LeSea Broadcasting's The Harvest Show, Cornerstone TV's Real Life, More Than a Song and The Living Room Concert Series, TV 57's Babbie's House, and Life Today TV with Randy Robison, among many others.
Watson's latest music project, SACRED, expands on her adventurous Celtic-flavored world music release, WONDER, and follows her fresh holiday CD, Christmas...Not the Way it Seems.
Watson is married to Mark Roberts, a retired U.S. Air Force chaplain. She lives in Lawton, Michigan, and has four children: Charlie, Andrew, Grace and Katharine. For more information on Watson, visit jeanwatson.com.
About Seedbed Publishing:
Founded on January 6, 2012, Seedbed Publishing is a twenty-first century movement and media platform whose mission is to gather, connect, and resource the people of God to sow for a great awakening.
Seedbed publishes Bible studies, books, small-group studies, training courses, videos, podcasts, conferences, and articles every day. They do print, digital, electronic, online, offline, web-based applications, social media, and good old-fashioned word of mouth messaging. They are out to develop a new class of disciple-making resources in every way they possibly can. For more information on Seedbed, visit www.seedbed.com.
###