Husband/Wife Worshippers Luke + Anna Hellebronth Explore The Great Depth, Cost Of Godís Eternal Love With Debut Album, Motions Of Mercy, Available March 22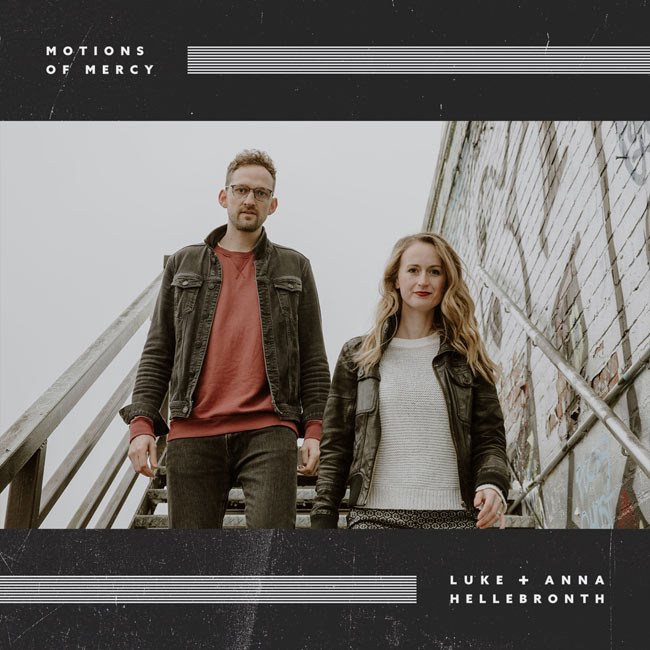 NEWS SOURCE: Integrity Music
March 7, 2019
Integrity Music announces the March 22 global release of Motions Of Mercy, the debut album from Luke + Anna Hellebronth, husband/wife worshippers who lead the international Worship Central resource and training platform and serve at St. Luke's Gas Street in Birmingham, U.K.
Produced by JimmyJames, Motions Of Mercy includes songs penned by the Hellebronths with guest writers including Matt Maher, Nick Herbert, Josh Gauton, Ben Cantelon, Brenton Brown, Eby Corydon (LIFE Worship), Jonas Myrin and St. Luke's Gas Street lead pastor, Tim Hughes.
The project is woven around themes of God's mercy, grace and salvation and "the great depth and cost of the love of God," says Luke Hellebronth, writer of "Spirit Break Out." Anna continues, "Songs such as 'All for Love (Gethsemane),' a picture of Christ's sacrifice, and 'Arrow,' inspired by the writings of 14th century theologian Nicholas Kabasilas ('The Life In Christ'), continue to explore the topic."
"We are overwhelmed and yet deeply affronted by the love of God," explains Anna. "It bears truth, which can pierce our hearts, while giving us freedom. God's love challenges every fibre of our 'humanness'… it leave its mark."
Luke adds that the project takes its title from lyrics of new song "See Me Through" as a direct acknowledgement that "God's mercy is the thread running through the highs and lows of all we encounter."
Alongside these concepts is what the Hellebronths call "a prophetic cry of holy dissatisfaction" found in songs "Revive Us (Heavy Rain)" and "Kingdom of God."
"Our cry and our prayer is that the Holy Spirit would revive and awaken us again to the call of God that He is partnering with us to bring His Kingdom here on earth, His majesty and reign of love," explains Luke. "There are always new depths to discover… never stop looking and never let your passion for Jesus be secondary. Keep stoking the fire," the Hellebronths add.

Integrity releases Motions Of Mercy to retail outlets and sales/streaming platforms beginning March 22 with the album's song/worship resources available through WeAreWorship.com and Integrity's ministry partners. The complete tracklist for the album is:
1. "Up & Alive"
2. "See Me Through"
3. "Abide"
5. "Carried"
7. "Greatness"
8. "Arrow"
9. "All For Love (Gethsemane)"
10."Kingdom of God"


Luke + Anna Hellebronth serve at St. Luke's Gas Street with the Reverend Tim Hughes, himself a renowned songwriter and worship leader. Luke and Anna are sought-after teachers of the practices and theology of worship and are an integral part of Worship Central, which equips and trains worship teams across the globe. The couple draws from their travels and experiences as they witness the Spirit of God at work in different cultures to craft songs that connect humanity to the eternal. Their songs, including "Revive Us (Heavy Rain)," "All For Love (Gethsemane)," "See Me Through" and "Abide," inspire a confidence in Jesus and awaken us to the reality of His Kingdom here on earth.
Integrity Music is part of the David C Cook family, a nonprofit global resource provider serving the Church with life-transforming materials. With offices in Nashville, Tennessee (U.S.) and Brighton (U.K.), Integrity is committed to taking songs of substance to the local church and its leaders around the world. Integrity publishes many of the top songs in the Church, including "Great Are You Lord," "Revelation Song," "Open The Eyes Of My Heart," "In Christ Alone," "10,000 Reasons," "Here I Am To Worship," "The Lion And The Lamb," "Great I Am," and "We Believe," among others. Additional information is available at www.integritymusic.com.
###