Recording Artist Daryl Boyer Ties #1 Spot on Christian Country Chart with Zach Williams and Scott Brown Band
"Running Down Revival" Resonates with Radio and Listeners to Become Boyer's Second #1 Hit Single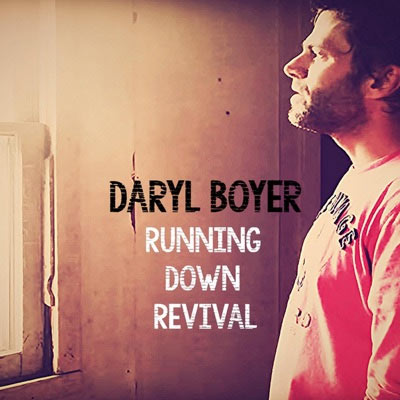 NEWS SOURCE: Providence PR
March 28, 2019
ATLANTA (March 28, 2019) - Chart topping recording artist Daryl Boyer has done it again, with his second song to hit the #1 spot on the Christian Music Weekly Christian Country chart. His new single "Running Down Revival" has just tied the top slot along with Grammy winning artist Zach Williams and Inspirational Country Music Association's nominee for Vocal Group/Band of the Year, the Scott Brown Band.

"I am elated to once again hit #1, this time alongside such greats as Zach Williams and the Scott Brown Band'," states singer/songwriter Daryl Boyer. "It is such an honor for an indie artist to share such illustrious company, and I want to thank the emerging genres of Christian Country Radio and Positive Country for making it happen.This is truly a new day for this style of music, not your grandfather's country, but a new sound for a new generation."

Boyer, whose other #1 hit single "Never Looking Back" graced the top of the CMW Christian Country for 24 weeks in 2017/18.is currently seeking a new record label home for his trademark husky vocals and inimitable style and powerful,straight to the heart lyrics..

The new single which is also aimed at Positive Country/Christian Country/Americana/Southern Rock listeners and stations, comes as a response to the many requests from radio and listeners for another song in the growing Christian country genre.

"Running Down Revival'" is a toe-tapping, powerful song about stepping out of brokenness, pursuing freedom, dropping chains and running into the revival fire of God, and in many ways mirrors Daryl's own testimony of finding freedom in Christ. The chart topping new single is available to Radio on the media giant MPE at thttp://daily.plaympe.com/daryl-boyer-running-down-revival-radio/,

"My goal is to bring a fresh God influx back to country and southern rock. I have been inspired by folks like Zach Williams and veterans like Reba McEntire, Dierks Bentley, Josh Turner, Blake Shelton and many others bring a focus back to God by writing songs about honest, everyday life and the struggles that come with it. Let's face it, we all need to have upbeat, positive and inspiring thoughts going through our heads to function in a better place of joy," muses Boyer.

The Official Music Video can be seen on Youtube at https://www.youtube.com/watch?v=Y7DfwzG7JvA , Fans can also find "Running Down Revival" on iTunes, Spotify and their other favorite popular music sites.

Boyer, whose sound has often been compared to Third Day, Jason Gray and Zach Williams who he now shares the #1 slot with, released his previous 2016 album, The Cleansing to glowing reviews and media coverage in such outlets as Breathecast, Hallels, and UK's Crossrhythms and Never For Nothing.

For more info on Daryl Boyer's ministry,or for booking visit his website at http://www.darylboyer.com,or follow him on Facebook at https://www.facebook.com/Daryl-Boyer-Music-504585416349121/.
ABOUT DARYL BOYER:

Never in all the winding roads of lost opportunity, sorrow, brokenness, and even addiction, did Daryl Boyer ever think he would be in the place having two #1 Christian singles to his credit. Daryl's story begins with years of hurt and hard living, later turning around into a story of redemption, life changing truth, and the discovery of a selfless and genuine purpose for the Lord.

Armed with a new perspective and real truth Daryl's mission moving forward was simple, to share the truth and share his story, raw and real, just as it was.

He has learned to write and sing songs from his life perspective and daily reality, while praying that the words of his music touch the lives of others in a way that draws them closer to the Father and the truth of His word.

In 2016 ,Daryl released his album, The Cleansing, to glowing media reviews and coverage, along with a single and video "King Jesus". He appeared on such radio, TV and internet media outlets as the TCT Network, Hallels, The Shaun Tabatt Show and scheduled for CornerStone TV's Real Life .His new EP, Love Reigns is geared to release in 2019.

The first single off the album, "Never Looking Back" surged to #1 on the CMW Christian Country charts and remained in the Top Ten for 24 weeks in 2017/2018. The next single, "Love Reigns" spoke Boyer own transformation story in a song, and his current single, "Running Down Revival" returns to his hit sound in Christian Country that resonated so deeply with listeners, and recently topped the CMW charts at #1.

Daryl is a husband, father, singer, songwriter, worship leader, executive pastor and resides in New Jersey with his wife and children.
###