WE ARE MESSENGERS DELIVERS HONEST EP 3/29
Ireland Native's Shame-Shattering Message of Courageous Vulnerability Resonates With American Audience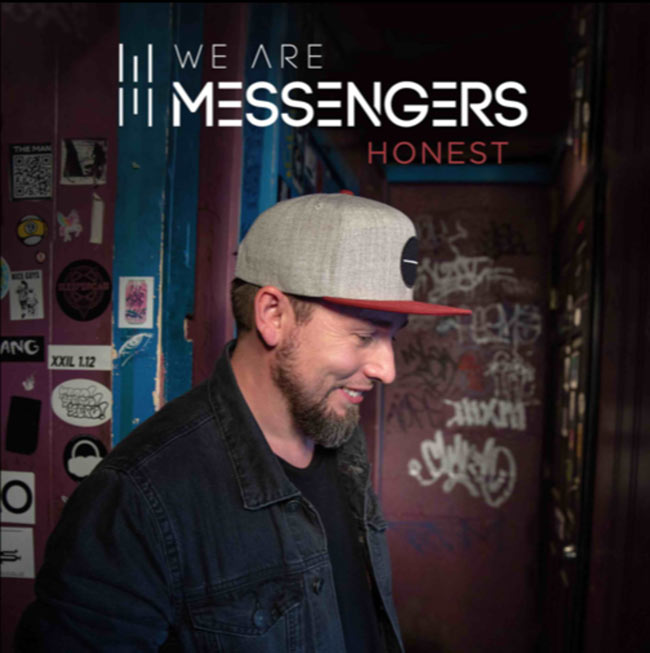 NEWS SOURCE: Marushka PR
March 28, 2019
NASHVILLE, Tenn. (March 28, 2019) — We Are Messengers will release its new EP, Honest, on Friday, March 29 via Curb | Word Entertainment. Hailed as "both carefully genuine and creatively brilliant" by New Release Today, the six-song set — produced by Tedd T. (Francesca Battistelli, Stars Go Dim) and Benjamin Backus (for KING & COUNTRY, Blanca) — marks the Dove Award-nominated act's first new project since its self-titled debut album.
Honest's first single, "Maybe It's Ok" — the band's fastest-rising single — immediately resonated with people from all walks of life with its message of raw transparency and no-holds-barred empathy.

"This is our record that says, 'We get it. I know how you feel. There's no quick solution to any of this, but I'm going to stay with you and I'm going to walk with you,'" shares We Are Messengers frontman Darren Mulligan. "Some heartaches last a lifetime. Some scars don't go away. We're singing songs about being busted, broken and messy and our God meets us in that humanity. We're singing songs about people like me."

Now sitting at No. 3 and rising on the Billboard and Mediabase charts, No. 8 on Billboard's Hot Chart, and with 7.5 million on-demand streams, "Maybe It's Ok" has grown beyond the bounds of music and become a movement of radical self-acceptance. On maybeitsok.com, fans can anonymously share their personal stories and struggles in a safe space and see they're not alone. Over 1,000 entries have been submitted to date, with fans revealing their struggles with issues ranging from grief and loss, to mental illness and addiction, to sexual abuse and human trafficking.

"Honest is the most truthful, raw and personal record we have made," adds Darren. "We've pushed ourselves to be vulnerable, to share our heartache, loneliness and joy so that everyone who listens can have permission to share theirs, too."
Honest track listing:

1. Honest
2. Abide
3. Maybe It's Ok
4. The Devil Is A Liar
5. Wolves
6. Gold And Glory
Catch We Are Messengers on the road on with TobyMac on the 37-city "Hits Deep Tour." For tickets and tour info, visit wearemessengersmusic.com
ABOUT WE ARE MESSENGERS:
We Are Messengers is a band focused on spreading the message of God's love and using songs born from their own struggles to impact the lives of their audiences. Originally from Ireland, lead singer Darren Mulligan and wife Heidi moved to the U.S. and saw their music career explode with their self-titled debut album in 2016. The album earned them their first Dove Award nomination for New Artist of the Year and included Top 5 hits "Everything Comes Alive," "Magnify" and "Point to You." They now return with new music featuring lead single "Maybe It's Ok," already a fan-favorite at We Are Messengers' legendary live shows, which attract a wide range of people searching for hope and meaning. Their live show will reach new fans this year as they head out with TobyMac on the "Hits Deep Tour." The band has also had placements in films and television, including The Shack and MTV's Coupled. For more information, visit www.wearemessengersmusic.com.
Follow We Are Messengers on social media:
Facebook: https://www.facebook.com/wearemessengersmusic/
Twitter: https://twitter.com/messengersmusic
Instagram: https://www.instagram.com/wearemessengers/
YouTube: https://www.youtube.com/wearemessengers
###
For more info on We Are Messengers, visit the JFH Artists Database.