The Glorious Unseen's Ben Crist Launches Campaign for New EP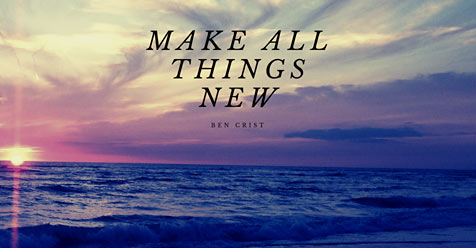 NEWS SOURCE: The Glorious Unseen / JFH
July 19, 2019
The Glorious Unseen was an acclaimed worship act on BEC Recordings, led by Ben Crist, but we haven't heard from either since their 2012 release, Lovesick. However, Crist has taken to Kickstarter to fund a new EP, which has less than 2 weeks left on the campaign.
Click here to view the campaign.
Crist writes, "It's been almost 7 years since I last released new music. The time has come to "MAKE ALL THINGS NEW"! There is no record label involved - no foundation that fronts the money to make this happen. This will happen or not happen based on your support! Please join me in helping to create this project. Thank-you!"
About Ben Crist
Ben Crist started leading worship in 2002, when he helped start The Anchor Fellowship, a church that is still thriving in Nashville, TN. Ben began recording and releasing his own worship music under the name "The Glorious Unseen" in 2007. "Tonight the Stars Speak" was the debut release in 2007, followed by "The Hope That Lies in You" in 2009, and "Lovesick" in 2012. Currently, Ben lives in Columbus, OH and is leading worship at 614 Church.
###
For more info on The Glorious Unseen, visit the JFH Artists Database.