NEW JEREMY CAMP ALBUM "The Story's Not Over"
AVAILABLE FOR PRE-ORDER & PRE-ADD TODAY
SPECIAL FAN STORE LAUNCHED WITH EXCLUSIVE MERCH, DIGITAL DOWNLOAD WITH PURCHASE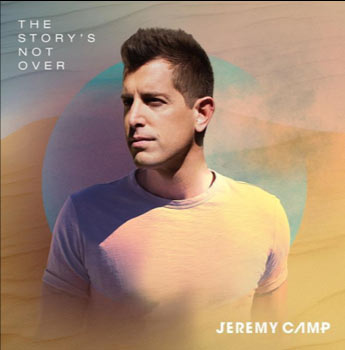 NEWS SOURCE: Icon Media
August 2, 2019
Nashville, Tenn. (August 2, 2019) – GRAMMY®-nominated singer/songwriter Jeremy Camp's new album The Story's Not Over is available for pre-order and pre-add today on Apple Music/iTunes, and across all digital outlets, as well as in an exclusive fan store (www.thestorysnotover.com) featuring limited edition merch and digital downloads of The Story's Not Over with each purchase.

Simultaneously, the lyric video for his next single, "Should've Been Me" premieres today on Camp's official YouTube channel.

The street date for The Story's Not Over is September 20, 2019.

Camp's first single from the album, "Dead Man Walking", has been climbing the charts and is at #12 on the Christian Airplay Chart, with nearly 4.5 million streams since its debut in May. The track has proven to be massive, having set the record for the most first-week adds of Camp's career, with 64 stations supporting out-of-the-box.

With 40 #1 singles over his storied career, this week's release of the lyric video of "Should've Been Me" is another refreshing first-look into Camp's September album release, marked by some of his most vulnerable and transparent music to date.

The track listing for The Story's Not Over is below:
01. Only You Can
02. Still Alive
03. Dead Man Walking
04. Should've Been Me
05. Father
06. Keep Me In The Moment
07. Out Of My Hands
08. The Story's Not Over
09. Indestructible Soul
10. You Don't (feat. Social Club Misfits)
11. Wilderness

Camp recently wrapped the Hits Deep Tour with TobyMac this Spring and is heavily involved with the biopic feature film about his life, I STILL BELIEVE, which chronicles Camp's personal story of love, loss and faith. I STILL BELIEVE is being produced by the Erwin Brothers' (I CAN ONLY IMAGINE, WOODLAWN) newly-formed studio, Kingdom, in association with Lionsgate, and is scheduled for a March 2020 release.

ABOUT JEREMY CAMP: Throughout his 17-year career, Capitol CMG artist Jeremy Camp has established himself with landmark accolades including:
Lifetime consumption of almost 5 million and 325M lifetime streams
Holds title for most #1s among solo artists on the Christian Airplay chart
Billboards #2 artist of the Decade in 2010
40 #1 radio hits across all formats
4 RIAA certified gold albums and 1 gold single
1 Grammy nomination, 3 American Music Award nominations & 4 ASCAP Songwriter of the Year Awards

Connect with Jeremy Camp:
Website // www.jeremycamp.com
Fan Store // www.thestorysnotover.com
Facebook // www.facebook.com/jeremycamp
Twitter // www.twitter.com/jeremycamp
Instagram // www.instagram.com/jeremycampofficial
Messenger // www.jeremycamp.lnk.to/messengerWE
YouTube // www.youtube.com/user/JeremyCampMusic
Movie Website // www.istillbelievemovie.com
###
For more info on Jeremy Camp, visit the JFH Artists Database.