COMPASSION LIVE PRESENTS BEST-SELLING AUTHOR ANNIE F. DOWNS' THE "LOVE BETTER TOUR" IN 2020
A NIGHT FILLED WITH TEACHING, PREACHING, HUMOR AND WORSHIP FEATURING ANNIE F. DOWNS, PASTOR JONATHAN POKLUDA AND WORSHIP BY CROSS POINT MUSIC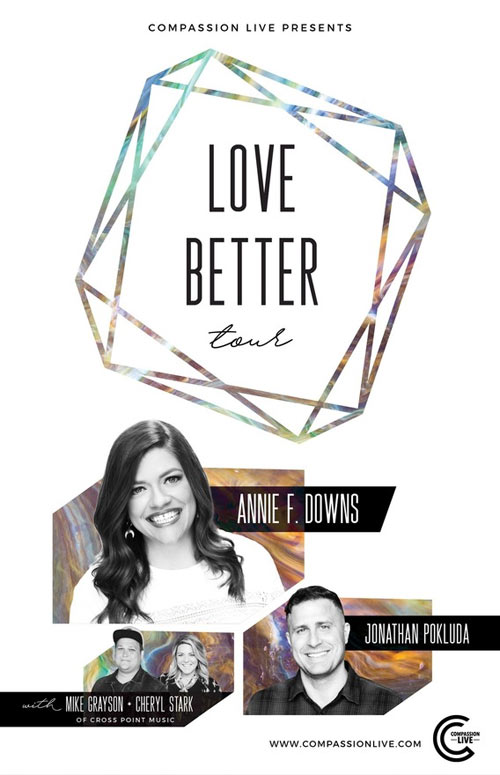 NEWS SOURCE: Merge PR
October 9, 2019
NASHVILLE, TENN. (October 09, 2019) Compassion Live presents best-selling author Annie F. Downs' the "Love Better Tour" beginning February 2020. On this tour guests will enjoy a night of biblical teaching, incredible God stories and amazing worship. Annie F. Downs has enlisted pastor Jonathan (JP) Pokluda and Cross Point Music featuring Mike Grayson and Cheryl Stark as special musical guests leading worship. Tickets will go on sale on October 11th, but can be pre-ordered today at the links below.
"I cannot think of a tour I want to be a part of AND attend more than this," shares Annie F. Downs. "Talking about healthy relationships with God, with others, and with yourself is my favorite topic right now. Anywhere I can share a stage with JP, an absolutely brilliant and hilarious pastor, and having these conversations, and being led in worship by Mike and Cheryl? That's exactly where I want to be - no better place. I cannot WAIT for this tour."
The "Love Better Tour" will focus on the topic of relationships - of all types. Attendees will walk away with a deeper knowledge of what it means to be loved by God and how He enables you to love yourself and others. The tour begins on February 27 in Missouri and will conclude in March in Tennessee. Tour dates and markets are listed below.
February 27 // Fredericktown, MO // Calvary Church //
Tickets
February 28 // Benton, AR // FBC of Benton //
Tickets
February 29 // Austin, TX // LifeAustin //
Tickets
March 1 // Houston, TX // TBD //
Tickets
March 5 // Carmel, IN // Hope City Church //
Tickets
March 6 // Florence, AL // FBC of Florence //
Tickets
March 7 // Smyrna, GA // First United Methodist //
Tickets
March 8 // Chattanooga, TN // City Church //
Tickets
Annie F. Downs: Annie F. Downs is a bestselling author, nationally known speaker, and podcast host based in Nashville, Tennessee. Flawed but funny, she uses her words to highlight the everyday goodness of a real and present God. An author of multiple bestselling books- including Remember God,100 Days to Brave, and Looking For Lovely. Annie loves traveling around the country speaking at conferences, churches, and events. She also hosts the popular "That Sounds Fun" Podcast. Annie is a huge fan of bands with banjos, confetti, her community of friends, boiled peanuts, and soccer. Read more at anniefdowns.com and follow her @anniefdowns.

JP Pokluda: JP and his family recently moved to Waco, TX, where he serves as Lead Pastor of Harris Creek Baptist Church. Prior to this position, JP served as the Teaching Pastor of Watermark Church in Dallas, TX, and the leader of the The Porch, the largest weekly young adult gathering of its kind. JP is the bestselling author of Welcome to Adulting: Navigating Faith, Friendship, Finances and Your Future, and Welcome to Adulting: Survival Guide. He also hosts the "Becoming Something" podcast, helping young adults become all that God desires them to be. Follow him @jpokluda.

Cross Point Music: Cross Point Music is a community of passionate and creative individuals, with a common love ofmusic, pursuing God through worship. A collective of worshippers based out of Cross Point Church in Nashville, TN, we create music meantto overflow with the love, grace and mercy ofJesus. Through our songs, we hope you not only connect with God, but go deeper in yourrelationship with Him. Learn more on Instagram @crosspoint.tvmusic and Facebook @crosspointtv
About Compassion LIVE:
Compassion LIVE, established in 2014 by Compassion International, provides the highest quality events for families to join together and grow with others in faith. Compassion LIVE partners with impact-making leaders, artists and communicators to produce life-changing events that share the message of faith and impact the church for children around the world. For more information, visit www.compassionlive.com. Founded in 1952, Compassion International is a Christian child development organization that works to release children from poverty in Jesus' name. Compassion revolutionized the fight against global poverty by working exclusively with the Church to lift children out of spiritual, economic, social and physical poverty. Compassion partners with more than 6,700 churches in 25 countries to deliver its holistic child development program to over 1.8 million babies, children and young adults. Compassion's child sponsorship program has been validated through independent, empirical research. For more about the ministry, visit compassion.com or follow them on Twitter @compassion.

Stay Connected With Compassion LIVE:
www.compassionlive.com
www.facebook.com/compassionlive
www.instagram.com/compassionlive
###