WORSHIP TEAM HERE BE LIONS AND WORLD-RENOWNED WORSHIP LEADER DARLENE ZSCHECH RELEASE NEW SONG, "I SPEAK JESUS"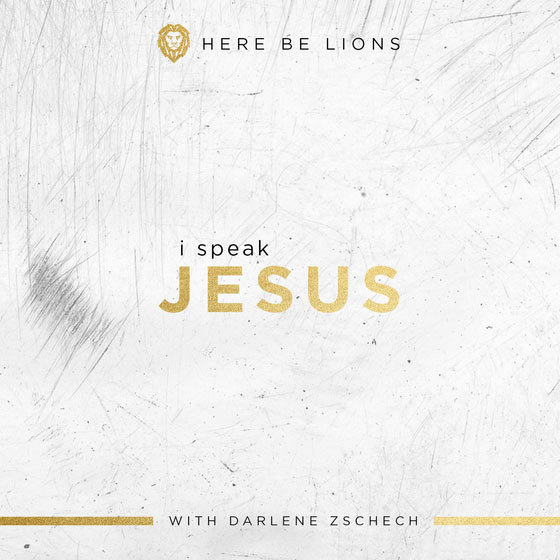 NEWS SOURCE: Merge PR
January 17, 2020
NASHVILLE, TENN. (JANUARY 17, 2020)
Ministry collective and worship team Here Be Lions have teamed up with world-renowned Australian worship leader, Darlene Zschech ("Victor's Crown," "In Jesus' Name, "Shout To The Lord"), to release a new song,
"I Speak Jesus."
The track originally debuted on the 2019 Here Be Lion's EP,
I Speak Jesus,
and has been newly reimagined as a powerful male-female duet. A music video for the song exclusively premiered on CCM Magazine online earlier this week, which can be viewed
here
and below.
"The song came as easy as it sounds," shares Here Be Lion's Dustin Smith ("God Who Moves The Mountains," "Miracles") in regards to the writing of the song. "Jesse Reeves prayed over us before we started writing and just said, 'I just want to speak the name of Jesus over these people.' That was it. The whole prayer. Nothing more. Nothing less. When we went to write I asked if we could write a song based on his prayer. He said, 'all I did was say the name of Jesus.' And that is all I want to say over my congregation, over my family, over my sickness, over depression and anxiety. All we needed was a melody because we already had the most powerful word...Jesus. There is mighty power in the name of Jesus."
The song's new rendition follows an exciting season for both Zschech and Here Be Lions, as Smith and his wife Jeanna recently launched HopeUC Nashville, a greater vision of Darlene Zschech's Hope Unlimited Church (Hope UC) in New South Wales, Australia. Now with churches in 11 major cities throughout Australia, India and the United States, Hope UC continues to shout the resounding truth and freedom that hope is a person, and His name is Jesus.
ABOUT HERE BE LIONS: A ministry collective focused on discipleship, music and community. The collective takes its name from the old mapping tradition in which explorers marked unknown, dangerous territory with a symbol and the phrase "Here Be Lions." Originally meant as a warning, the phrase has become a call for Here Be Lions to advance God's kingdom, authority and order. They do so through three ministry outreaches: Be Fierce, a discipleship resource for families; All About Worship, a resource for churches; and Healing Is Right, a resource for the sick and hurting.
The Here Be Lions worship team, led by pastor and worship leader Dustin Smith, aims to create music that welcomes the power and presence of God in expectation of a supernatural move of the Father to bring salvation, healing and restoration. Smith is a worship leader, songwriter and fourth-generation pastor, following in the footsteps of his father, grandfather and great-grandfather.
Here Be Lions' debut live album, Only A Holy God (Integrity Music), including worship favorite, "Power When We Worship," released in June 2018. In September 2019, they released their sophomore project, I Speak Jesus, which features four new songs that speak of the hope and freedom found only in the name Jesus.
ABOUT DARLENE ZSCHECH: Darlene Zschech is an Australian worship leader, pastor, songwriter, speaker and author who has led millions of Christians in worship. Darlene has written over 100 songs, including "Victor's Crown," "In Jesus' Name," "Worthy Is The Lamb," "At The Cross" and the global anthem "Shout To The Lord," which is sung by an estimated 30 million churchgoers every week. Her most current albums are Revealing Jesus, Here I Am Send Me and The Table: A Christmas Worship Gathering while her books include "Worship Changes Everything," "Extravagant Worship," "The Art of Mentoring" and "The Golden Thread." Following a treasured season of involvement with the worship team at Sydney's Hillsong Church, Darlene and her husband, Mark, now serve as Senior Pastors for Hope Unlimited Church (HopeUC) on the Central Coast of New South Wales.
###
For more info on Darlene Zschech, visit the JFH Artists Database.