GOTEE RECORDS' COURTNIE RAMIREZ'S DEBUT SINGLE "PERFECTLY LOVED" GOES NO. 1 AT BILLBOARD CHRISTIAN HOT AC/CHR
NEW SONG, "WHO WE ARE," RELEASING MAY 8TH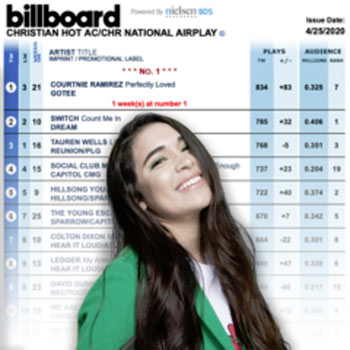 NEWS SOURCE: Merge PR
April 22, 2020
NASHVILLE, TENN. (APRIL 22, 2020) Gotee Records' Courtnie Ramirez receives her first No.1 radio single at Billboard's Christian Hot AC/CHR with her debut song, "Perfectly Loved," which was co-written by labelmate Ryan Stevenson (his fifth No.1 as an artist and songwriter) and Jordan Sapp, producer of the song.
Ramirez impressed radio stations out of the gate with the upbeat, positive message of "Perfectly Loved."
"Perfectly Loved" was perfect timing! Positive Pop with a nice beat and a message BOOST listeners really wanted to hear right now. - Mike Couchman of 99.1 Joy FM in St. Louis
"Perfectly Loved" made a huge splash at Pulse 101.7FM. We love the fresh sound she brings to the airwaves! - Rachel Leigh of KPUL in Des Moines, Iowa
Shortly after the release, Ramirez asked Reach Record's recording artist, Wande, to be featured on a remix version, which provided a well-received, fresh approach to the song. Lasanna "Ace" Harris and Zack Paradis remixed the new version alongside the talents of Jacob "Biz" Morris who mixed the track. Ramirez and Wande also collaborated on a video for the remix that adds to the poised spirt in the lyrical message of the song.
"I hope 'Perfectly Loved' reminds you that you are loved and one of a kind," shares Ramirez about her first No.1 song. "I am so grateful for all of the radio stations that have played this song. Thank you so much for sharing this message with your communities! I am still in shock that it reached number one on the Billboard Christian Hot AC/CHR chart. Thank you to Gotee Records, Chris Hauser and Matt Ingle for taking this message out to radio! I am so proud to be on this team."
Following her No. 1 single and debut song, Ramirez will be releasing "Who We Are" on May 8th; it will impact radio that same day. Co-written by Ramirez, fellow Emack Music Publishing writer, Tyrus Morgan, as well as Coby James and Hunter Leath, it continues her message of authenticity, vulnerability and confidence in who God is and who we are created to be.
Gotee Records announced the signing of Ramirez in 2019 with the debut of "Perfectly Loved." This enthusiastic singer with an effervescent disposition reflects the vibrancy of her Mexican and Guatemalan heritage that America fell in love with on Season 11 of NBC's "The Voice." During the current season of this worldwide pandemic, she has been connecting with her fans through interviews and live concerts on all social media platforms as well as continuing her IGTV series: "Cooking with Coco" and "Morning Talks with Coco." Whether she's in the kitchen trying new recipes or sharing the stage with her husband, who leads worship at Elevation Church, Riverwalk, Ramirez's greatest desire is to steward her talents with confidence and grace.
###
For more info on Courtnie Ramirez, visit the JFH Artists Database.