OHIO CHRISTIAN HIP HOP ARTIST INTELLECT RELEASES NEW ALBUM 'POLISHED ARROWS'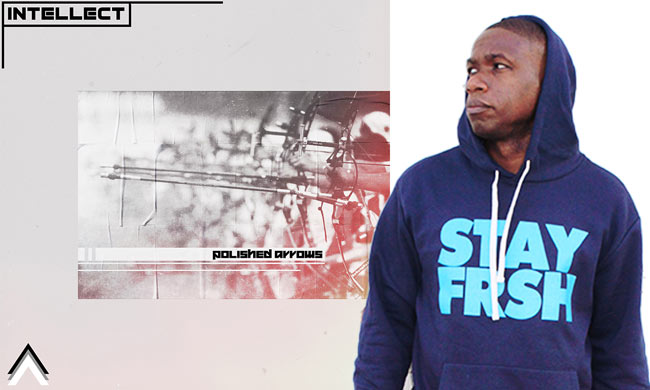 NEWS SOURCE: FiveTwenty Collective
May 29, 2020
Toledo, OH - CHH artist iNTELLECT dropped his last album, 'The Soulution', in 2019. The emcee and producer now returns with a ten-song project titled 'Polished Arrows' on May 29, 2020.
iNTELLECT is known as one of independent CHH's more gifted lyricists. His classic, east-coast influenced style keeps the foundation of hip hop alive and well in an ever changing landscape. With 'Polished Arrows' he is not only sharing his technical ability, but being very intentional with the focus found within the project.
"Every song on this album was meant to be on point; to hit the target that it was aimed at" iNTELLECT explained. "Whether it's getting lyrical or taking things a little deeper, each arrow was meant to hit its target."
'Polished Arrows' includes collaborations with artists such as Philip Anthony, ProCyse, JusJames, DaLomonze, and DJ Sean P along with quality production by notable beatmakers in DJ Sean P, Newselph, and more. iNTELLECT also continues to develop his engineering skill-set as he took charge of the mixing and mastering of the album.
To support 'Polished Arrows' and to get the latest news from iNTELLECT:
Instagram | Facebook | Spotify | Website | Linktree

'Polished Arrows' Tracklist and Credits:
Blast Off (ft. Philip Anthony) - Statis Beats
Polished Arrows (ft. Philip Anthony) - DJ Sean P
First Things First - The Illustrated One
Droppin' Gems (ft. ProCyse, DJ Sean P) - DJ Sean P
Bringing It Back (ft. JusJames) - The Illustrated One
Back Again (ft. DaLomonze) - Newselph
On That Vibe - F-Plus
The Remedy (ft. Philip Anthony) - D-Nast
All Day - F-Plus
Got It? (ft. DJ Sean P) [Bonus Track] - DJ Sean P
All songs mixed and mastered by iNTELLECT, Polished Arrow Music
About iNTELLECT
iNTELLECT is a Christian Hip-Hop emcee and producer from Toledo, OH. With a distinct east coast flow, iNTELLECT has used his gift to spread the message of salvation through faith in Jesus Christ to areas throughout the Midwest. Drawing his inspiration from the Gospel and life experience, iNTELLECT combines biblically sound doctrine with hip-hop beats.
###