ContagionFest 2020: A Virtual Christian Rock Festival To Debut Online This Weekend, June 19-20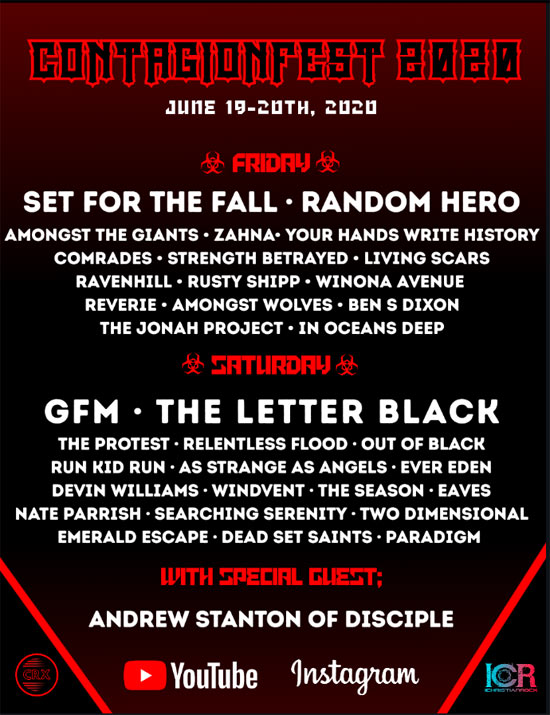 NEWS SOURCE: Larsen PR
June 16, 2020
2020 certainly hasn't been the year that artists were expecting it to be for touring. Due to the COVID-19 pandemic, many shows and tours have been cancelled and/or postponed. In this strange time, artists have been coming up with unique ways to still play for their fans, using various social media outlets to perform live sets and activities of the like. Enter ContagionFest: a 2-day online Christian Rock festival which will be run and hosted by two popular Christian Rock Instagram accounts, Mateo (@christian_rockx), and Cole (@iChristianRock).
As stated in the press conference released by the hosts, the goal of this festival is to "bring a digital concert environment and live music to people who are stuck at home during quarantine, and help independent and small Christian rock artists gain fans and attention". The festival will start on Friday at 6PM EST on Cole's Youtube channel (iChristianRock), and the Saturday performances will be held the next day at 2PM EST on Mateo's Youtube channel (CHRISTIAN ROCK X).
Both days of the festival feature some impressive lineups. On Friday, the headliners are Set For The Fall and Random Hero; who will be playing along with some fantastic rock artists such as Amongst The Giants, Strength Betrayed, Zahna, and others. On Saturday, the headliners will be The Letter Black and GFM; and accompanying artists include Relentless Flood, Out Of Black, The Protest, and plenty of others. An extra bonus is that Andrew Stanton (guitarist for Disciple) will be joining them for some special performances on both days. If you're looking for an online show to attend, ContagionFest is something well worth checking out, as they have a wide variety of solid artists joining them. The best part? It's 100% free, and you can rewatch the shows whenever you would like after the festival is complete. So bring your favorite snacks, set up your desired viewing device, and enjoy two free shows that should be an absolute blast.
Make sure to follow both Cole and Mateo's Youtube channels, and Instagrams, to get updates and important info about the festival:
Cole (@iChristianRock):
https://www.instagram.com/ichristianrock/
https://www.youtube.com/channel/UCJPQK7vNmXzaBAPCD4unc8g
Mateo (@christian_rockx):
###
For more info on many of these artists, visit the JFH Artists Database.