Lecrae, Crowder, For King & Country Join for the Livestream 'Better Together' Concert July 28
Artists Come Together for an 'American Awakening'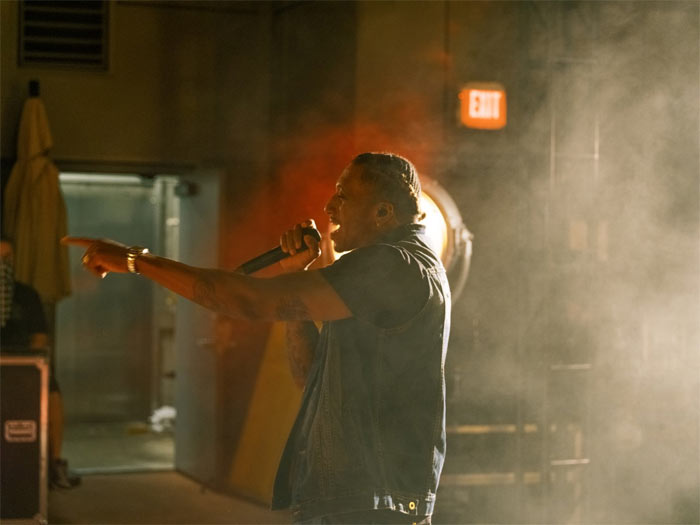 Christian Hip-Hop Artist Lecrae performed recently as part of the "Better Together" concert to be livestreamed globally July 28. See more at www.americanawakening.us

NEWS SOURCE: A. Larry Ross Communications
July 15, 2020
Nashville, July 15, 2020 – The best artists in the music industry gathered in Nashville for a "Better Together" concert to unite voices and hearts across genres, race, and political divides. Hosted by the national organization "American Awakening," the concert will be available via a free livestream for one night on July 28.
American Awakening, a movement that fights cultural division and despair, originally planned this event 18 months ago as a live show. However, the COVID-19 crisis delayed the event even as it created more urgency for its message of unity. American Awakening eventually pivoted and switched the live concert into a live-streamed event so all Americans struggling in this global moment of strife could have access to the American Awakening message.
"The delay actually created a unique opportunity. We were able to use our artist selection to address the racial reckoning in this moment by manifesting 'radical togetherness' through musical diversity," said American Awakening Founder John Kingston. "We invited bands that represented the best of Rock, Hip Hop, and Gospel, and it was gratifying how on board everyone was for coming together in this polarized time."
Lecrae, Crowder, For King & Country, Jonathan McReynolds and The New Respects recorded a rooftop concert in Nashville – 11 stories up in the heart of "Music City" – on June 23. The 90-minute edited production will be livestreamed around the globe for one night on July 28 at 8 p.m. EDT. Registration for the livestream link is available at www.americanawakening.us.
Participating musicians expressed their appreciation for Kingston and the American Awakening movement. "What people will see is people together in the same space who maybe you wouldn't think would do something together at the same time," Crowder said. "That's what I love about what American Awakening is putting together here with this 'Better Together' concert."
Premier Productions -- the largest producer of live faith and family events -- partnered with American Awakening for the "Better Together" concert. "We're excited to join hands with American Awakening to be a part of the 'Better Together' event. With live music being limited right now, Better Together is an amazing way for us to join together and celebrate our faith," said Michael Pugh, CEO of Premier Productions.
"At a time when 80 percent of Americans believe our country is spiraling out of control, 'Better Together' is designed to unite and inspire, and to share God's love and vision for His children, encouraging us all on the way forward – together," Kingston added.
The concert is closely tied to the July 28 release date of the movement's book project, "American Awakening" (Zondervan), which draws on wisdom from history, science, faith, and culture, along with author Kingston's personal experiences, to offer eight principles for discovering purpose, meaning, and true community – for "restoring the soul of America." It is the perfect post-pandemic/racial awakening "bounce back" playbook.
"We have something to say 'for such a time as this.' Now is our time to be light in the darkness – and model radical togetherness through this music and message," Kingston said. "We want to point people to the source of our strength and invite them to join us for a true American awakening."
To learn more about the "Better Together" concert, visit www.americanawakening.us.

About American Awakening
American Awakening is a nation-wide venture including a book, concert production, podcast, docuseries, and inclusive gatherings to bring people together around the nation. Uniting Black, White, Latino, and Asian as well as Democratic, Republican, Independent, and Green voices, the movement was launched before the coronavirus pandemic. However, its message of hope was clearly meant 'for such a time as this" as the nation struggled with racism, death and despair.
The multi-million-dollar effort includes a thrice-weekly Facebook Livestream and podcast, a docuseries, a daily online devotion ("The Daily Dose") and this new concert, with potential future events to be added. This comprehensive and far-reaching initiative convenes key spiritual and thought leaders across generations and traditions, to inspire our nation to come together to heal, unite, and to cherish what we share instead of being fixated on what divides us.

About John Kingston
John Kingston, a lawyer by training and businessman by experience, is a social entrepreneur who has invested his fortune in Awakening America to the values that made her a nation unrivaled in human history. Kingston shot to the attention of the nation in the 2016 and 2018 political cycles with innovative and inclusive campaigns, positioned against the extremes of American politics. Kingston has been active in national arts, culture, and political movements for two decades.
###
For more info on these artists, visit the JFH Artists Database.