GRAMMY AWARD-WINNING DUO for KING & COUNTRY RELEASES A R3HAB REMIX FOR THEIR HIT SINGLE "TOGETHER"
FANS ACROSS THE WORLD DANCE "TOGETHER" IN NEW MUSIC VIDEO RELEASED TODAY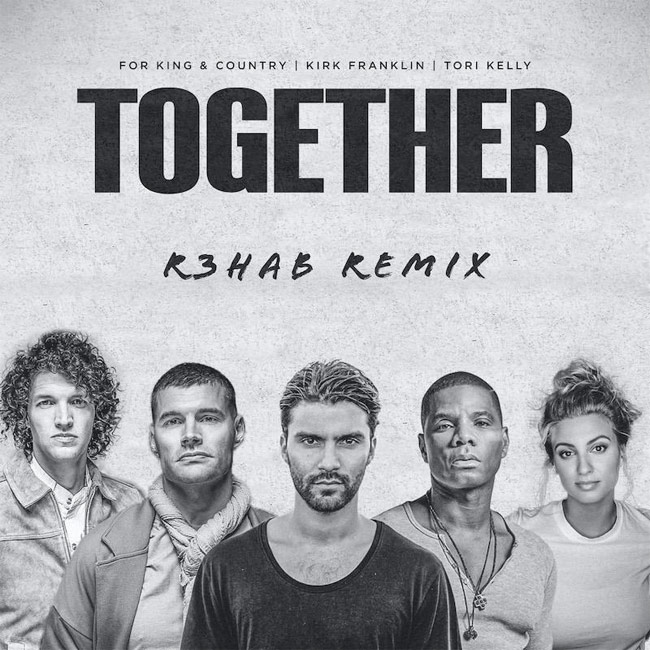 NEWS SOURCE: PFA Media
July 24, 2020
Nashville, TENN. – Four-time GRAMMY® award winner and Curb | Word Entertainment recording artist for KING & COUNTRY is dancing into the weekend with a remix of the duo's latest hit track. "TOGETHER" [R3HAB Remix] (feat. Kirk Franklin & Tori Kelly) is available today on all digital service providers. The spirited remix features R3HAB's unmatched production skills, bringing a club feel to Joel and Luke Smallbone's soaring lead vocals. This remix marks the success of for KING & COUNTRY's single "TOGETHER," which has accumulated over 10 million on-demand streams. Listen to the track
here
.
Joel Smallbone reflects, "In moment of global separation the idea of 'TOGETHERNESS' with Tori, Kirk - and now R3HAB collaborating on 'TOGETHER's' remix feels important to us... and then to take it over the top, having these gifted dancers and crews from literally around the world step in and step up for the 'global dance music video' makes for one of the proudest and collaborative moments of our career."
for KING & COUNTRY has released a music video to commemorate the new release featuring dance groups from all over the world. The duo reached out for fan participation in the video and were overwhelmed by the amount of submissions they received. Groups that made the final cut include Christian Dance Force from Germany, CC Dance Krew from Puerto Rico, The Dawn Project from Kenya, and Colorado Dance Collective from Greely, CO, demonstrating that the concept of "TOGETHERNESS" is a true global phenomenon. You can watch the video
here
.
With the needs and accommodations of all fans in mind, for KING & COUNTRY is offering a mix of livestream and drive-in concerts in the coming weeks. Check out the upcoming dates below, and click
here
for more information.
for KING & COUNTRY Upcoming Dates
July 31 st – Holiday Twin Drive-In – Fort Collins, CO*
August 15 th – Mercer County Fair – Celina, OH*
August 27 th – Stride Bank Center – Enid, OK*
August 28 th – Heart of Oklahoma Expo – Shawnee, OK*
* - drive-in concert
About for KING & COUNTRY:
Four-time GRAMMY® award-winning Australian duo for KING & COUNTRY , comprised of brothers Joel & Luke Smallbone, have released a new chart-topping hit "TOGETHER" - a song about the strength of unity in the face of adversity. Earlier in 2020, in response to the COVID-19 pandemic, the duo hosted the critically acclaimed livestream event "TOGETHER: A Night of Hope" to over 2.5 million viewers across all social media platforms. After collaborating with renowned entertainer Dolly Parton to release a version of the duo's 11-week No. 1 hit "God Only Knows" in 2019, the duo won two 2020 GRAMMY® awards. "God Only Knows" (with Dolly Parton) won in the Contemporary Christian Music Performance/Song category, and their 3rd studio album, burn the ships, won a GRAMMY® in the Contemporary Christian Music Album category. for KING & COUNTRY graced the CMA stage to perform "God Only Knows" with the incomparable Dolly Parton at the CMA awards, and they performed their unique and powerful rendition of "Little Drummer Boy" at CMA Country Christmas, receiving national critical praise for both. They have garnered six No. 1 hits, nine Top 10 hits, six GRAMMY® nominations, three Billboard Music Award Nominations, an American Music Award nomination, and had songs featured on the Emmys, Super Bowl, Sunday Night Football and other high-profile events. National television performances include Good Morning America, The Tonight Show, TODAY , Jimmy Kimmel Live!, The View, CMA Awards, and CMA Country Christmas. The duo's burn the ships | world tour has SOLD-OUT over 40 shows across the world including USA, Australia, Germany, Netherlands, and New Zealand. In total, for KING & COUNTRY has accumulated nearly 1 Billion on-demand streams.
About Curb | Word Entertainment
In 2016, Curb Records acquired Word Entertainment, combining two of the music industry's most respected brands, and more than a century of collective experience. Today, Curb and Word are two of the world's leading independent music companies. Owned and operated by Mike Curb, the Curb | Word family includes the labels Curb, Word, Squint, Fervent, Sidewalk, MCC and IVAV, as well as Curb Publishing, Word Publishing, 25 Live, Curb Films, Word Films, Word Entertainment, and Curb Sports, representing top artists and entertainers in Country, Christian, Pop, Rock, and Hip-Hop. For more information, visit
www.curb.com
.
###
For more info on for KING & COUNTRY, visit the JFH Artists Database.