Good Morning America to Feature Grammy®-Nominated Singer Matt Hammitt and Family on Son Bowen's 10th Birthday, Tomorrow, September 9
"Ten years ago, we told World News our hope was that purpose would come from our pain. We're excited to share on GMA, ten years later, how our hopes and prayers have come true."- Matt Hammitt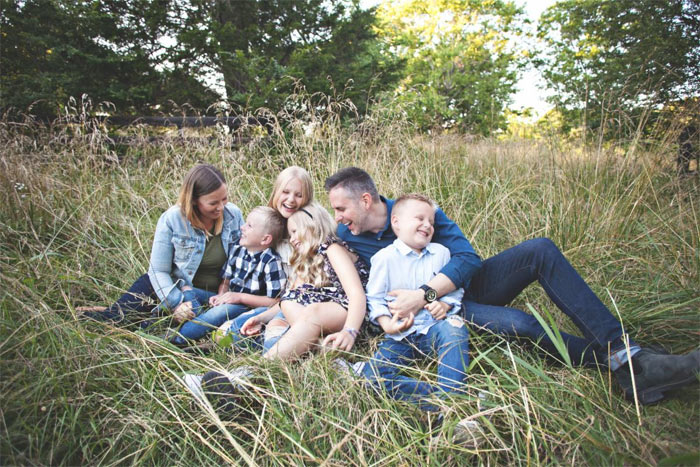 Pictured: Sarah, Matt, Emmy (14), Claire (12), Bowen (10), Lewis (7)
Photo courtesy of Phindy Studios

NEWS SOURCE: TKO Marketing
September 8, 2020
NASHVILLE, TN. (September 8, 2020) - Matt Hammitt, Grammy®-nominated Christian singer and former front man of the band Sanctus Real, will appear alongside of his family, tomorrow, Wednesday September 9, in the second hour of Good Morning America.
ABC producers featured Matt and Sarah Hammitt's story about son, Bowen, in November of 2010. After months of complications in the hospital following Bowen's first open heart surgery, World News celebrated Bowen's heartwarming homecoming just before Thanksgiving.
Tomorrow, GMA will feature ten-year-old Bowen's progress and highlight the Hammitt family's new feature length documentary, "Bowen's Heart," which will premiere at the Nashville Film Festival the first week of October and is releasing soon.
"We're grateful for the opportunity to share our story about finding hope and purpose through adversity," says Matt. "We believe it's a message the world really needs right now."
Bowen Hammitt was born in 2010 with a life-threatening heart disease, HLHS (hypoplastic left heart syndrome), which means that he lives with only half of his heart. Roughly one in five children with Bowen's condition live until the age of eighteen, causing his family to face the reality that at any moment life could change. From their experience, Matt and Sarah Hammitt launched a non-profit, Whole Hearts Foundation, to help other families who have been affected by congenital heart disease.
Matt's timely new single, "Try," about doubts and fears through difficult seasons, is currently impacting Christian AC and Christian Hot AC radio. The song is from his new independent pop album, Treetop, releasing September 25, 2020 by his own label, Showtalker Media, which also released Bowen's EP, Safe Right Here, in 2019.
For more information about "Bowen's Heart":
Instagram: @bowensheart
Stay in touch with the Hammitts:
Website: matthammitt.com
Facebook: @MattHammitt
Instagram: @MattHammitt
Twitter: @MattHammitt
About Matt Hammitt
Matt Hammitt is an American singer, songwriter and author. Matt was the lead singer and songwriter for the band Sanctus Real from 1996-2016. He has been the recipient of three Dove® Awards, has been nominated for two Grammy® Awards for his work with Sanctus Real and has been awarded for his chart topping songs, performed by both Sanctus Real and other popular Christian music artists.
###
For more info on Matt Hammitt, visit the JFH Artists Database.