CHRISTIAN HIP HOP ARTIST D. R33D RELEASES NEW EP 'PEACE'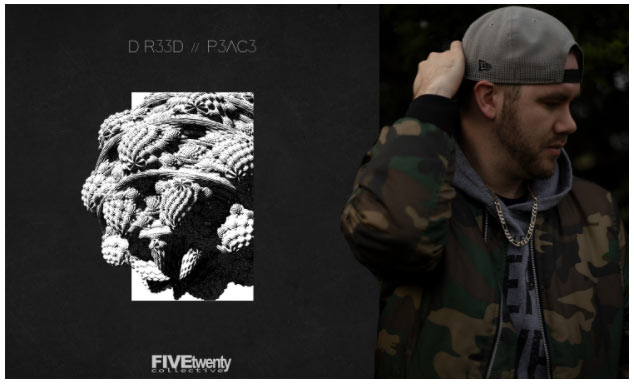 NEWS SOURCE: FiveTwenty Collective
September 9, 2020
Oklahoma - After the release of four singles ("Moment", "The Humble See Grace Abound", "I Still Got My Soul", and "Free") so far in 2020, D. R33D has dropped his newest project, the eight-song EP 'Peace'.
'Peace' includes the singles "Free" and "I Still Got My Soul", the latter received a perfect "10" score on Rapzilla's Friday critique show and features fellow Oklahoma artist Coop (2019 FiveTwenty Collective Rookie of the Year).
As D. R33D has focused on elevating his sound and performance, 'Peace' is a presentation of that focus as well as an opportunity to work through the crazy reality that we as a people now face.
As D. R33D explains, "We all need peace."
"Sometimes we even get to realize peace in our lives. It takes work, but true peace cannot be attained by ourselves. We need help. The Gospel of Jesus offers a way to be at peace with God. Without peace with God, we can't be at peace with others and with ourselves."
'Peace" hit digital retailers on Saturday, September 5, 2020.
Project Details
Title: Peace
Artist: D. R33D
Release Date: September 5, 2020
Artwork: Eric N. Boston
Listen: songwhip.com/d-r33d/peace
Follow and support D. R33D on Twitter @theDR33D
###