GRAMMY® AWARD-WINNER, TAMELA MANN, NAACP IMAGE® AWARD-WINNER, COMEDIAN DAVID MANN, AND FAMILY, GET REAL ON THEIR NEW DIGITAL SHOW, "MANN FAMILY DINNER"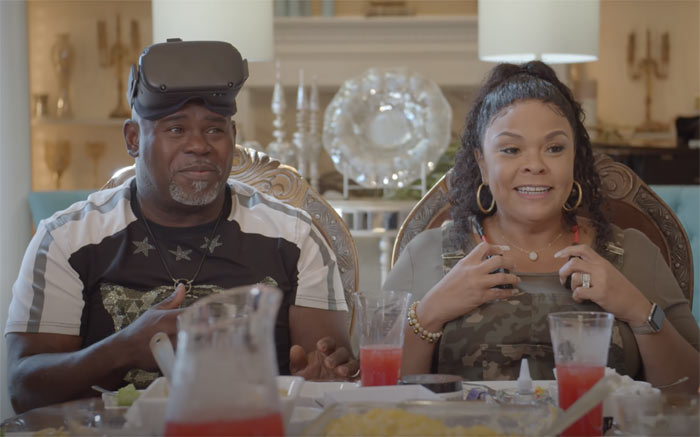 Photo Credit: Mann Family Dinner, Tillymann Entertainment

NEWS SOURCE: TKO Marketing
December 15, 2020
The Mann family candidly covers topics like relationships, marriage, blended families, black stereotypes, COVID-19, gun ownership, love and sex, all in a round-table, 'muckbang' format, a trending livestream video style where someone prepares a meal and/or eats on camera. The show is the latest series produced by the Manns' production company, Tillymann Entertainment.
"We talk and laugh. A lot. And we do it over our family meals all the time. No topic is ever off limits or taboo," says David Mann. "After hearing from the fans that they wanted to see us back on TV, we decided to do this new show just for them."
During the pandemic, Tamela has also been recording her new 2021 album release. The first single, "Touch From You," meant to spread love, hope, and compassion to a hurting people left with fears, questions, and anxiety about what's happening in the world, recently topped Billboard's Gospel Radio Chart and is the singer's seventh No. 1 single.
If fans ever wanted to be a fly on the wall and listen in during the Manns' hilarious and heart-to-heart moments, this is their chance. New Mann Family Dinner episodes are available on the MannTV channel on YouTube.
Stay in touch with the Manns:
About Tamela Mann
Tamela Mann is a Grammy® Award Winner, BET® Award Winner, Billboard® Music Award Winner, NAACP Image® Award Winner, Gospel Music Stellar® Award Winner, actress, songwriter, producer, and businesswoman. She has scored seven Billboard Gospel Radio Chart No. 1 singles. Her Billboard No. 1 album Best Days includes the No. 1 Platinum single "Take Me to The King" and received Billboard's "Album of the Decade" for 2010-2019, in the Gospel category. Tamela's Billboard No. 1 album, One Way, garnered two No. 1 singles, including "Change Me" and "God Provides," which earned the singer her first Grammy® Award in 2017. In 2018, Tamela and her husband, NAACP Image® Award winning actor David Mann, released their first book and joint album, Us Against the World. The book won an NAACP Image® Award for Outstanding Literary Work and the album continues to garner top-charting singles including the Urban AC track, "Ups & Downs." Tamela joined the WW® (formerly known as Weight Watchers) family in spring 2019, and as a WW® Ambassador continues to find success on her journey to better health and wellness. Tamela and David together helm Tillymann Entertainment. They starred in the NAACP Image® Award-winning docu-series "The Manns," the hit comedy "Mann & Wife," along with other fan-favorite films and television shows. Most recently, Tamela launched an athleisure apparel line, the Tamela Mann Collection, which is available at TamelaMann.com and in select retail stores. She is currently working on her new album, set to release in 2021.
About David Mann
Ingeniously funny and extraordinarily talented are understatements when it comes to David Mann, the multi-faceted, two-time NAACP Award-winning actor and comedian. A native of Texas, David masterfully showcases his God-given talents in a most dynamic and distinguished way. His musical and theatrical talents brilliantly epitomize ingenuity at its best. Along with his wife, Gospel singing sensation Tamela Mann, David co-stars in the hilarious TV comedy, "Mann & Wife," and their family docu-series, "The Manns." When David is not on set shooting, producing or directing, he brings his live comedy show to venues around the country playing to capacity crowds. David, together with Tamela, head up their independent entertainment company Tillymann Entertainment.
###