PORTER'S CALL CELEBRATES SERVING ARTISTS FOR 20 YEARS
Middle Tennessee Non-Profit Has Provided More Than 55,000 Hours Of Free Counseling Services To Artists; Announces Music Industry Leader Matt Signore As New Board President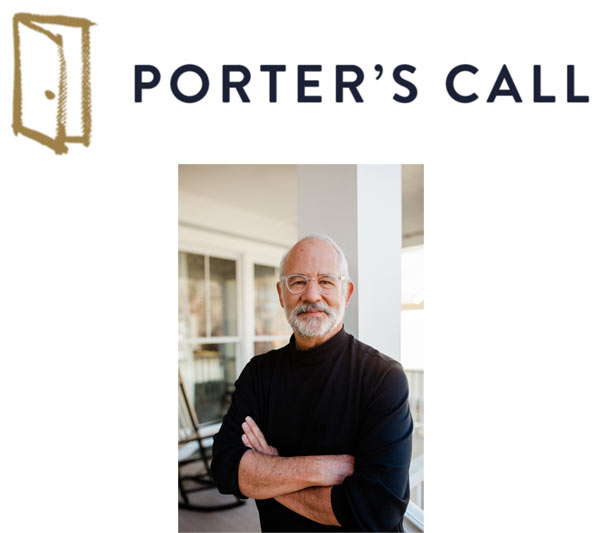 Al Andrews, Porter's Call Founder and Executive Director

NEWS SOURCE: Merge PR
January 26, 2021
26 January 2021 - Franklin, TN - Porter's Call, a non-profit based in Franklin, Tennessee, is celebrating 20 years of offering counsel and support to touring recording artists. "I had no idea where this would go when we first opened our door back in 2001," said Al Andrews, Founder and Executive Director of Porter's Call. "I only knew that artists were struggling with the emotional toll that life on the road brings and that they needed a safe and confidential place to go for help. I'm honored that Porter's Call has become a haven for so many. It's been a privilege to come alongside them for all these years."
Since its beginning, Porter's Call has been there for artists from all genres, providing 55,000+ hours of counseling services. Now with their staff of five, an average of 40-50 individuals are invited each week into the welcoming space located in historic downtown Franklin to get the help they need.
Most importantly, all of the services at Porter's Call are offered at no charge. Porter's Call is supported financially by those who benefit from healthy artists. To find out more about investing in the work of Porter's Call, please visit
PortersCall.com
.
NEW YEAR, NEW TEAM MEMBER: As they start the new year, the Porter's Call Board of Directors is excited to announce that Matt Signore is the next President of the Board. Signore, a 30-year music industry executive, is well-loved and respected throughout the music industry community. His connection to Nashville was a four-year stint as COO of Warner Music Nashville which concluded in December, following his previous 15 years at Warner Music Group. In addition to taking on the honor of this appointment, Signore is launching Sempre Cosi, an independent venture focused on mentoring executives and artists, while helping companies develop their people strategy. He officially kicked off his role as Porter's Call Board Chair earlier this week during their virtual board meeting.
"When I met Matt four years ago, we became instant pals," Al Andrews shares. "During the course of our friendship, I saw his deep love and concern for artists. As he assumes the role of Board President, he arrives at a time where his years of experience of leadership in the music industry and his heart for artists coincides with our need to grow. In order to meet the growing number of artists needing help during these difficult and unprecedented months, we are honored to have him lead the way. In addition, we will be having more Italian meals at board functions."
Matt Signore says, "I am so blessed to have the opportunity to further support Porter's Call. Al is a true angel as he and the Porter's Call team have been changing artist's lives for twenty years. Partnering with my dear friend at this moment is an honor. I know very well that my entire career, and frankly the career of every music executive, is made possible by the creativity, work, and sacrifice of artists. We should all approach supporting them and their health, in every way possible, as an obligation."
Porter's Call is located in downtown historic Franklin, Tennessee. To find out more, please visit their website,
PortersCall.com
Words From Artists About Porter's Call:
"We lost my grandfather and countless other musicians who couldn't find a sturdy place to land. Because of Porter's Call, lives are changing, marriages are rising from the ashes, children are experiencing a more stable home, addictions are being broken, and most importantly the artists and musicians are able to soar." - recording artist/singer/songwriter Holly Williams and daughter of Hank Williams, Jr., granddaughter of Hank Williams, Sr.

"Porter's Call feels like a home for those of us who travel all over the place and feel a little homeless some days. It has been like a lighthouse for us when we've felt lost in the dark, a safe place to rest and be known, listened to, and loved. The resounding anthem of this haven for artists is that we are not alone. It's a place to go where you are poured into after pouring out so much as an artist." - husband and wife & touring artists/songwriters Drew & Ellie Holcomb
To read more from other artists about their experiences at Porter's Call, click here.
###