SONGWRITING UNIVERSITY & PARTNERS, THE SCOTT HAMILTON CARES FOUNDATION & GIBSON GIVES, ANNOUNCE WINNERS OF FIRST ANNUAL CHRISTMAS SONGWRITING CONTEST
The Three Powerhouse Organizations Join Forces to Discover the Next Generation of Songwriters & Provide Critically-Needed Support for Cancer Patients, Families, & Research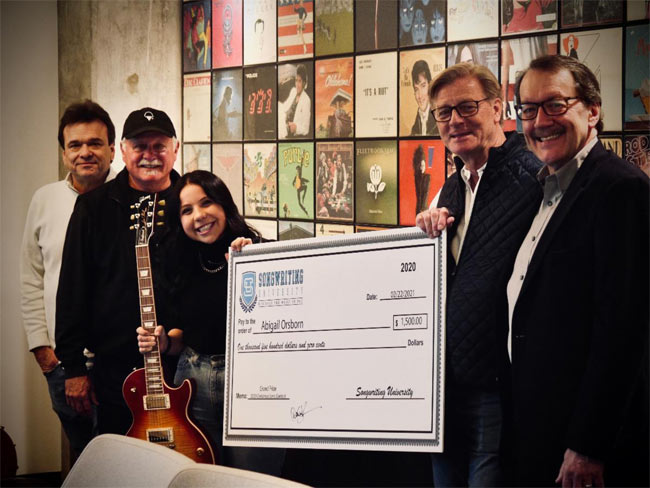 Songwriting University's co-founders, Joe Beck, Billy Sprague, Michael Blanton, and Gary Glover (L-R), present grand prize winner, Abigail Orsborn, her $1,500 winnings. (Man of War Creative Studios photo)

NEWS SOURCE: McCain & Co. PR
March 9, 2021
NASHVILLE, TN. (March 9, 2021) - Nashville's innovative Songwriting University (SU), in partnership with the Scott Hamilton CARES Foundation and Gibson Gives—the charitable arm of
Gibson
guitars—has announced the winners of their first annual Christmas Songwriting Contest.
The three powerhouse organizations joined forces to not only discover the next generation of songwriters, but to provide critically-needed support for cancer patients, families, and research. Five dollars of every contest entry supported the work of the Scott Hamilton CARES Foundation, founded by Olympic gold medalist and cancer survivor Scott Hamilton. His foundation is dedicated to funding advanced, innovative research that treats the cancer and spares the patient. The grand prize winner received a Gibson Les Paul guitar, courtesy of Gibson Gives.
Songwriting University, whose unique services and world-class staff have been profiled in Forbes Magazine, among other media outlets, provided a distinguished panel of songwriters, artists, producers, and music professionals, including award-winning songwriters Buddy Greene ("Mary Did You Know") and Wayne Kirkpatrick ("Change the World"), along with trail-blazing music industry manager and record executive Michael Blanton (Amy Grant, Michael W. Smith, Reunion Records), to select the ten outstanding finalists who were awarded thousands of dollars in cash and prizes, including a check for $1,500 in addition to the Gibson Les Paul guitar for the grand prize winner.
Given the extraordinary circumstances of 2020, the contest offered a unique platform for songwriters to express their creativity, inspire others through their art and do it all for a good cause.
"We were so honored to partner with Scott Hamilton and his foundation for this contest," says Michael Blanton, one of Songwriting University's founders. "To be able to provide some levity and light at the end of such a dark year was an honor and a testament to the healing power of song."
This year's grand prize winner, who walked away with $1,500 and a brand new Gibson Les Paul guitar, is Abigail Orsborn for her song, "Two Christmases." In 2nd place, receiving $500 and a brand new Gibson Les Paul guitar, is H. Jack Williams with "One Little Boy."
The remaining finalists are listed below. The third, fourth, and fifth place winners will receive a two-hour songwriting session with a hit songwriter ($499 value), and the sixth through tenth place finalists will receive a one-year subscription to SU/MasterClass ($90 value).
3rd - "The Only Thing I Want More" by Cam Monroe
4th - "Why Christmastime" by Derek Toomey
5th - "Angels In the Snow by Julie Broschard
6th - "A Much More Silent Night" by Lori Lee Loving
7th - "Peace for Your Christmastime" by David Powers
8th - "Highly Favored" by Dave Lemieux
9th - "It's a Santa Claus Thing" by Darrell John
10th - "Christmas Cookies" by Jennifer Smestad
Per the terms of the contest, winners were chosen in an anonymous, blind judging process, with the names, bios, and addresses of the songwriters hidden from the judges.
Winning songs were selected for originality, melody, lyrics and composition/structure. Performance and recording quality were not considered.
About Songwriting University:
A veritable pantheon of music industry elite, Songwriting University is a collective of award-winning songwriters, producers, and artists helping aspiring songwriters worldwide hone their craft. Co-founded by music industry icons Michael Blanton, Gary Glover, Billy Sprague, and Joe Beck, the University offers songwriters the unique opportunity to co-write with a hit co-songwriter from their illustrious staff.
With over 3,000 major cuts in Country, Pop, Christian, and Foreign music, contributions to over 50 GRAMMY-nominated and winning songs, and over 100 No. 1 songs, the Songwriting University staff includes the likes of Randy Thomas ("Butterfly Kisses"), Brian White ("Watching You"), Steve Siler ("I Will Follow Christ"), Bill Shore ("Wild Horses"), Bobby E. Boyd ("Bless the Broken Road"), Wayne Tester ("The Change"), Dennis Kurtilla ("He Will Carry Me"), and Ed Nicholson ("The Stone Was Rolled Away"), among other lauded songwriters. In addition to songwriting sessions, Songwriting University offers Master Classes with featured songwriters including Gordon Kennedy ("Change the World") and Mike Reid ("I Can't Make You Love Me"), as well as Online Videos and Lessons, Podcasts, Interviews, and more.
About The Scott Hamilton CARES Foundation:
The Scott Hamilton CARES Foundation, founded by Olympic gold medalist Scott Hamilton in 2014, is dedicated to changing the future of cancer by funding advanced, innovative research that treats the cancer while sparing the patient.
Hamilton, who brought home the gold medal for figure skating from the 1984 Winter Olympics, dreams of a day where there is no more suffering because of cancer.
At 38, Hamilton's life took a tragic turn when he was diagnosed with testicular cancer, followed by three brain tumors. Since recovering his health, Scott set out to inspire others with his inescapable optimism, and created the Scott Hamilton CARES Foundation in order to "help those who are down get back up again." From figure skating to life, Scott knew that a fall couldn't keep him down.
"I see a day where everyone survives cancer and no one suffers their way through treatments and cancer does no harm," says Hamilton.
CARES stands for Cancer Alliance for Research Education and Survivorship. The Foundation seeks to be a neutral convener between organizations, researchers, academic scientists, drug developers and others to accelerate the advancement of less toxic treatments for isolated cancers and tumors. Breakthroughs in our understanding of cancer are driving new options with less devastating side effects from highly toxic cancer treatments.
About Gibson Gives:
For over 127 years,
Gibson
, the iconic American guitar brand, has been shaping sound across generations and genres through their guitars. Gibson and its charitable arm, Gibson Gives, believe in the power of music, and that getting instruments into the hands of those with a desire to make music is a truly life-changing event.
Gibson Gives—a 501(c)(3) committed to introduce, inspire, and amplify the power of music through guitars—believes that now more than ever we must band together to support programs for music students.
Gibson Gives is committed to making the world a better place through music by creating, developing, supporting programs, and working with other non-profit organizations in their efforts to advance youth-focused and healing music initiatives. 100% of all donations to and from Gibson Gives go towards giving the gift of music.
###